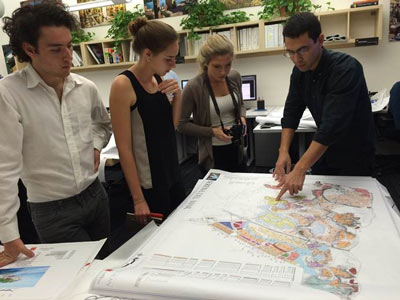 Recently, sophomore LA students took a field trip to Miami/Ft. Lauderdale and visited the office of EDSA (pictured above).
Friends honor Ed Stone at inaugural event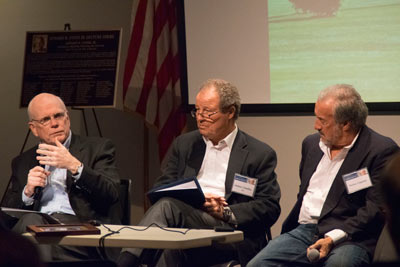 Friends and family of Edward D. Stone, Jr. gathered in Gainesville on Feb. 20 to honor Stone at the inaugural event in the Edward D. Stone, Jr. Lecture Series. The event, located at the Harn Museum of Art, included a panel discussion and reception. The panel was moderated by Peggy Carr, DCP Associate Dean and Professor, and the panelists included, Peter Capone, Architect and President of Ed Stone Jr. father's renowned architecture firm EDSA, James J. Chaffin, Jr., Co-founder and President of Chaffin/Light Management, David P. Howerton, ASLA, AICP, Chairman of Hart Howerton, and Peter S. Rummell, Former President of Disney Development Company and CEO of St. Joe Company. Stone was a colleague, mentor, partner and advisor, but to all, he was a friend.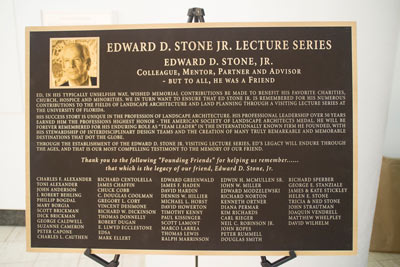 During the event, DCP unveiled a plaque to honor Stone that will be displayed at the college.
> View the image gallery
> View the recorded panel discussion
HP Program works with The Gainesville Orchestra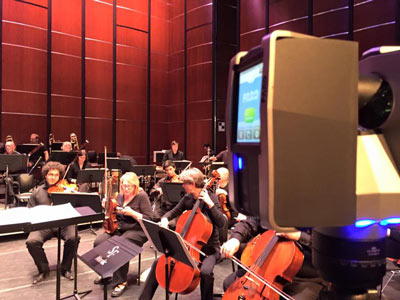 The UF HP Program collaborated with The Gainesville Orchestra to 3D laser scan the orchestra's Spring concert. The goal of the 3D laser scan was to create a virtual walk through of the orchestra. This was the first scan of a live performance by the UF HP team.
> Read the feature in The Gainesville Sun
Upcoming Events
BCN Tampa Golf Tournament
April 16
> View flyer

BCN Orlando Golf Tournament
April 23
> View flyer

LA Awards Ceremony
April 24

DCP Spring Commencement
Saturday, May 2 at 3 p.m.
Phillips Center for the Performing Arts

Rinker School 80th Anniversary Luncheon
May 6
Miami/Ft. Lauderdale at YOLO

DCP Dean's Reception
May 7
Ft. Lauderdale, Fla. at Riverside Hotel
5 - 7:30 p.m.

Rinker School 80th Anniversary Luncheon
May 8
West Palm Beach, Fla. at Bear Lakes Country Club


Collaborative student, faculty team working on Solar Living House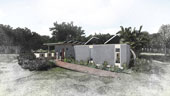 The UF, Santa Fe College and the National University of Singapore 2015 Solar Decathlon team, a competition that challenges collegiate teams to design, build and operate solar-powered houses that are cost-effective and energy-efficient, are months away from competing at the Solar Decathlon in Irvine, Calif. The team has been working diligently to design the house and are now in the works to begin construction.
To learn more about the team and competition, visit their website here.
Alumni News
Jason E. Faulkner, AIA, BDes 1994 and MArch 1996, principal at Studio9 Architecture in Jacksonville, Fla., is the lead designer and architect on several renovation and revitalization projects in downtown Jacksonville. Faulkner is tasked to provide space planning and interior design for the relocation of 240,000 s.f. of office space for Citizens Property Insurance Operations Center to EverBank Center in downtown Jacksonville. Faulkner is also the lead architect on 220 Riverside in Jacksonville, which is a mixed-use development comprised of urban residential apartments, a limited service hotel, retail space and the Unity Plaza Public Park and amphitheater. Jim Frey, BDes 2001, MArch 2011, also a principal at Studio9, is serving as project manager on the 220 project.
Have some news to share with fellow alumni? We want to hear from you! Share your news with us for a future issue of Perspective Online.
College of
Design, Construction & Planning
331 Architecture Building
P.O. Box 115701
Gainesville, FL 32611
TEL (352) 392-4836
www.dcp.ufl.edu
perspective@dcp.ufl.edu

Christopher Silver, Dean
Margaret Carr, Associate Dean
William Tilson, Assistant Dean
Andrew Wehle, Assistant Dean
Ann Baker, Director of Development

Managing Editor: Julie Frey
Editor: Katelyn Weber
Design: Chris Barnett, and Tonya Gibbs

DCP Public Relations Committee:
Candy Carmel-Gilfilen,
Tina Gurucharri,
Edward Minchin, Kim Stanley,
Bradley Walters and Ann Baker