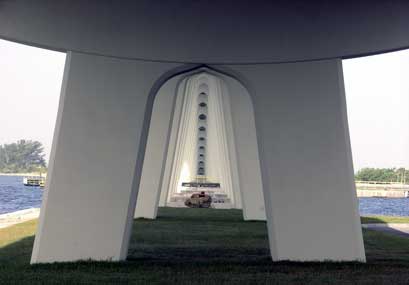 UF alumnus and friend of DCP William M. Wing submitted this photo of his project, the Sanibel Bridge & Causeway. It was the first CM@Risk DOT project in the state, winning several national awards and recognitions. The project team met some challenges along the way, including enduring six hurricanes.

Join Haskell Company in Supporting UF Solar Decathlon Team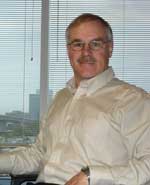 Tim Good, BCN 1972
"The Solar Decathlon embodies the concept of integrated design-build, which is the way Haskell delivers projects to our clients. We feel it is so important to teach students what design-build really is. It requires a completely different level of cooperation between the design side and the construction side. It is an excellent opportunity for us to support this great team effort."
– Tim Good, BCN 1972
Vice President, Haskell Company
The Haskell Company has donated time, expertise and $8,000 worth of materials to the UF Solar Decathlon Team. Special thanks to Chris Holmes, ARC 1974, Project Design Principal, Boyd Worsham, Vice President, and Steve Gibson, Haskell Steel Fabrication.
The UF Solar Decathlon Team is scheduled to compete in Madrid, Spain, as part of the inaugural Solar Decathlon Europe competition. Out of 20 universities from around the world, UF is one of two U.S. universities competing to design and build a self-sufficient home, using solar energy as the only energy source.
You can be part of this effort. Join the team of supporters today by donating online or contacting Development Director Lynne Capece at 352-392-4836, ext. 314, or lcapece@dcp.ufl.edu.
DCP Top 3: ASLA Honors
This month, some members of The Gator Nation were honored at the American Society of Landscape Architects' Annual Conference.
Glenn Acomb, LAE lecturer: Inducted into ASLA Council of Fellows


Rick Parisi, LAE 1986: Inducted into ASLA Council of Fellows


Senator Bob Graham, UF alumnus: Selected as honorary member


DCP In Your Town: Orlando, FL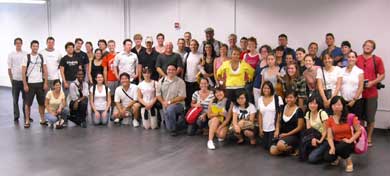 School of Architecture faculty and architecture graduate students at Citylab-Orlando. This semester, the Advanced Graduate Design 1 studios are working on the Bridge District Project in Orlando.
It's here – the day DCP puts down roots in Orlando. The college is joining the University of Central Florida's Center for Emerging Media. The center is celebrating this expansion and partnership between UCF and UF on Oct. 26. For more information, contact Leanna Varner at 352-392-4836, ext. 466 or lvarner@dcp.ufl.edu.

Fan Us On Facebook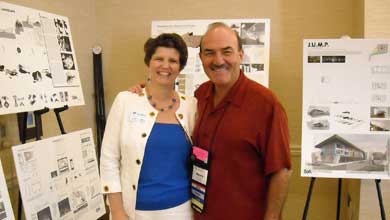 Catching up with old friends -- DCP Development Director Lynne Capece meets up with long-time friend and DCP alum Henry A. Woodroffe, M.Arch 1976, ARC 1972, at the AIA Florida conference. Capece and Woodroffe first met in the early '90s in Tampa through Kiwanis.

Catch up with old friends on Facebook – Fan the DCP page to see this and other photos and to find out what faculty, students and your fellow alumni are doing.
When Did You Become A Florida Gator?
DCP alumni share their stories of when they first became part of The Gator Nation.
Kurt Crist, LAE 1988
"I am a Gator by birth, born at Shands and lived in northeast Gainesville until I was 13 and moved to Sarasota. Nothing could stop me from getting back up to Gainesville for my education. Things sure did change from the time I left in 1976 until I returned in 1984 but I was glad to be back. Since my father worked at Shands and I attended PK Yonge, I was always around campus usually walking over to Shands or the Engineering Dept. Buildings where a neighbor and schoolmate's father worked to get a ride home. Shands sure changed also. When I returned I couldn't quite remember which entry I came into or where it was to get to my Dad's office. Boy, those were great times running through campus. I still have friends living in Gainesville and I do get back whenever I can."
Jason Fisher, M.Arch 2004, ARC 2001
"I officially became a Florida Gator on Jan. 1, 1994, at the Sugar Bowl in New Orleans. Family friends, proud members of The Gator Nation had invited us to come along to watch our first Gator game. After being heckled the days leading up to the game by the overconfident Mountaineers, upset they weren't playing for the national title, but instead disrespected and playing #8 Florida, game time finally came and West Virginia quickly scored the first points. One vicious hit on Mountaineer QB Darren Studstill by Gator DB Monty Grow and 41 unanswered points later, I was officially a Florida Gator and would apply two years later and enroll in the summer of 1996."
You can share your memory at Inside The Gator Nation. Already posted your story or want your story shared in this newsletter? Please let us know.
EVENTS
Oct. 2
Tampa Bay BCN Gators 2nd Annual Fishing Tournament
Oct. 12
Architecture Lecture Series: Juhani Pallasmaa
Oct. 13
Building Construction Career Fair
Oct. 17
BCN Homecoming BBQ
Oct. 22
Architecture Lecture Series: Heinz Tesar
Oct. 23
Southwest Florida Gator BCN Club 2009 Golf Classic
For more information about these events, please visit the DCP Web site.
ALUMNI NEWS
Check out what your fellow alumni are doing. We want to hear from you! Share your news with us for a future issue of Perspective Online.
J. Michael Holliday, ARC 1981, was featured in the August 2009 issue of the Design Firm Management and Administration Report. The report featured how Holliday recently transitioned from a 25-member architectural firm in Santa Barbara, Calif., to start a firm of his own, JM Holliday Associates.
Jeffrey Kohl, MBC 2006, ARC 2002, celebrated his marriage to Elizabeth Keschman in May. Kohl is a project engineer at Matthews Construction in Tampa.
Scott Mingonet, LAE 1989, has recently relocated to Charlotte, N.C. to strengthen the presence of Kimley-Horn & Associates in a new "south end" office. Throughout his 19-plus years with Kimley-Horn, he has been integral in developing the firm's Urban Resource Group land planning and landscape architecture division.
Michael Robey, MBC 2003, BCN 1996, received accreditation as a LEED AP in Dec. 2008.
John Scherer, BCN 2000, is the new president and owner of the Fort Lauderdale-based Gulf Building Corporation.
Brad Tomecek, M.Arch 1998, ARC 1996, recently received LEED certification for one of his Studio H:T design projects. The 32nd Street modular consists of two factory built boxes that fit on a 25' wide urban lot. The project was recognized both by "Builder Magazine" and Colorado AIA and will be published in a monograph by Abrahms due out in April, tentatively titled 'Prefabulous and Sustainable.'
College of
Design, Construction & Planning
331 Architecture Building
P.O. Box 115701
Gainesville, FL 32611
TEL (352) 392-4836
Web site
E-mail: perspective@dcp.ufl.edu

Christopher Silver, Dean
Margaret Carr, Associate Dean
Paul D. Zwick, Associate Dean
William Tilson, Assistant Dean
Lynne Capece, Director of Development and Alumni Relations
Editor: Julie Frey
Assistant Editor: Kaitlin O'Farrill

DCP Public Relations Committee:
Lynne Capece, Tina Gurucharri, Joseli Macedo, Edward Minchin, Nam-Kyu Park, Kim Stanley and Bradley Walters