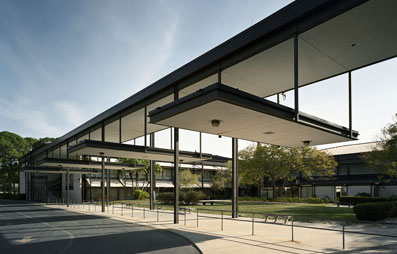 Riverview High School (1958-2009) in Sarasota, Fla., designed by Paul Rudolph. Photo Credit: World Monuments Fund/Andrew Moore Photographer 2009
DCP In Your Town: New York

Join Morris Hylton, III, UF interior design assistant professor and author of the exhibition catalog and text, in New York for the Feb. 17 opening of Modernism at Risk: Modern Solutions for Saving Modern Landmarks. The exhibit will open at the American Institute of Architects Center for Architecture and will run through May 1.
A project of the World Monuments Fund Modernism at Risk program and sponsored by Knoll, Inc., the exhibition consists of large-scale photographs by noted photographer Andrew Moore and interpretative panels with five case studies that explore the role designers play in preserving Modern landmarks.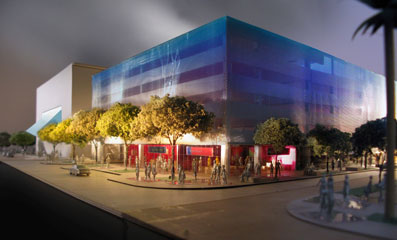 DCP Alumni Katherine Crespin, BCN 1981, and Vick Crespin, LEED AP, BCN 1979, MBC 1980, principals of KVC Constructors, Inc., shared their latest project, the new Miami Beach parking facility designed by world-renowned architect Frank Gehry and located adjacent to the New World Symphony's new campus in the heart of Miami Beach. Read More
Alumni News

Check out what your fellow alumni are doing. We want to hear from you! Share your news with us for a future issue of Perspective Online.
Robert J. Bitterli, ARC 1975 and M.Arch 1977, began Ivy Group Consultants, Inc., in 2005, to strictly focus on building sciences and forensic architecture providing expert services to insurers, attorneys and plaintiffs/defendants in building-claims-related matters. The Ivy Group has offices in St. Petersburg, Miami, Fort Myers and Atlanta. As an offshoot, the Ivy Group is now providing LEED AP and Renewable Energy Planning Services for existing buildings.
Hunter Booth, LAE 1995, and Philip Graham, IV, LAE 1994, have joined Phil Graham, Jr., in principal roles and co-ownership of Graham-Booth Landscape Architecture, formerly known as Phil Graham Studio. Located in downtown St. Petersburg, Fla., the firm has been successful for 42 years.
Keeja Browder, MID 2003, became LEED AP certified this year and NCIDQ certified last year. She is currently working at AECOM Design in Virginia.
Jay Goldstein, BCN 1998, recently joined CB Richard Ellis's Atlanta office as project manager. Along with other projects, he will focus on the company's NCR and Cox accounts. Goldstein is a member of the U.S. Green Building Council and is a LEED AP.
David "Brad" Hester, ARC 1987, is an attorney living in Winter Park, Fla. He received his MBA from UF in 1990 and a JD from UNC/Chapel Hill in 2000, before starting his own law firm, Miller, Hester & Eisele, P.L., in July 2009. The firm's primary practice areas are commercial real estate transactions, development and finance, commercial litigation, construction litigation and lender representation. Hester utilized his architecture degree in designing the layout of his new, contemporary office space.
William Lyle, ARC 1964, retired from his position as professional architect for the City of Jacksonville on Oct. 1. Since 1997, he worked in the Building Inspection Division office as supervisor of a staff of plans examiners where he reviewed plans for code compliance and issued building permits. Lyle is enjoying retirement and doing consulting work as available.
Robert MacLeod, ARC 1982, has been appointed director and professor of the School of Architecture and Community Design at the University of South Florida. He was on the faculty of the UF School of Architecture for 20 years prior to taking up the directorship at USF.
Vinnie Moreschi, MBC 2006, was recently named 2009 Builder of the Year by the Builders Association of North Central Florida. Moreschi has been working for Charles Perry Construction since 1996, and has concentrated much of his work on medical facilities and prisons.
Aaron Neubert, ARC 1994, was recently featured in the "Los Angeles Times" for building a contemporary home for his family. The unique Los Angeles home connects to the outdoors through large windows and the use of light.
Quilian Riano, ARC 2004, graduated from the Harvard Graduate School of Design in June 2009, and has since founded DSGN AGNC, an activist design practice with GSD alum Dk Osseo-Asare. They have already been awarded a Boston Society of Architect's grant to work on a project in Bogota, Colombia. Riano will begin teaching as an adjunct studio instructor at Wentworth Institute of Technology in Boston, beginning in the spring of 2010. He also will be co-teaching a studio with Teddy Cruz at City College of New York.
R. Wade Ricketson, IND 1990, joined creative talents with Closet Master, Florida's premier closet design firm which provides personalized storage solutions and wardrobe systems to fit various lifestyle and living environments. Closet Master specializes in designing, manufacturing and installing elegant and functional organizational systems for the closet, pantry, garage, home or office.
Nancy Sanders, ARC 1990, has been appointed associate professor of architecture at the University of South Florida. From 1997 to 2009, she was a faculty member at the UF School of Architecture.
Neil Shoter, ARC 1983 and M.Arch 1985, is a partner and transactional real estate attorney in the West Palm Beach office of Shutts & Bowen LLP, concentrating his practice in commercial office, retail and industrial property leasing and construction and design contract negotiation. Shoter received the LEED AP accreditation and recently lectured on "What Every Leasing Lawyer Should Know about Green and Sustainable Buildings."
Shaila "Kamath" Sorenson, ARC 1980, was recently selected by Secretary of State Linda McCulloch to represent the Montana art community as the "Treasured" Montana Artist for fall 2009. This honorable distinction entitles Sorenson to prominently display her artwork in the front lobby of the Secretary of State's office in the historical State Capitol Building in Helena, Mont. Sorenson was chosen for creating unique visual mediums that have strong ties to the Treasure State, and was treated as the guest-of-honor at an official unveiling ceremony on Sept. 9.
Brad Tomecek, ARC 1996 and M.Arch 1998, and Christopher Herr, M.Arch 1999, of Studio H:T were awarded the 2009 AIA Colorado Innovative Practice Honor Award for their work in panelized, modular and prefabricated projects. Tomecek also received the 2009 Western Mountain Region Young Architect Award which recognizes individuals who have shown exceptional leadership in design, education and service at an early stage of their architectural career.
Michael Walsh, BCN 1986, a Brigadier General with the U.S. Army Corps of Engineers, worked on rebuilding Iraq when he commanded the Gulf Region Division. Now back in the U.S., he commands the Mississippi Valley Division and has been working to rebuild New Orleans and the Gulf Coast from the effects of Hurricane Katrina.
EXTREME MAKEOVER: HOME EDITION GAINESVILLE BUILD
Don't miss this episode on Feb. 21 at 8 p.m. EST on ABC.
Read about the final day of the build on the college blog, Columns.
PLANNING DAY
Join the Department of Urban and Regional Planning for Planning Day 2010 on March 26 at Citylab-Orlando. Learn More
EVENTS
For information about these events, visit DCP Online
Feb. 17 & 18
DCP Research Showcase
Feb. 25
Scott M. Stroh, III
HP Lecture Series
March 1
John Ochsendorf
SoA Lecture Series
March 4
Nellie Longsworth
HP Lecture Series
March 25
Dean's Alumni Reception
Steelcase Showroom of Atlanta
March 26
Dean's Alumni Reception
UF's Citylab in downtown Orlando
FAN US ON FACEBOOK
Catch up with old friends on Facebook – Fan the DCP page to see this and other photos and to find out what faculty, students and your fellow alumni are doing.
College of
Design, Construction & Planning
331 Architecture Building
P.O. Box 115701
Gainesville, FL 32611
TEL (352) 392-4836
Web site
E-mail: perspective@dcp.ufl.edu

Christopher Silver, Dean
Margaret Carr, Associate Dean
Paul D. Zwick, Associate Dean
William Tilson, Assistant Dean
Lynne Capece, Director of Development and Alumni Relations
Editor: Julie Frey
Assistant Editor: Allie Layos

DCP Public Relations Committee:
Lynne Capece, Tina Gurucharri, Joseli Macedo, Edward Minchin, Nam-Kyu Park, Kim Stanley and Bradley Walters