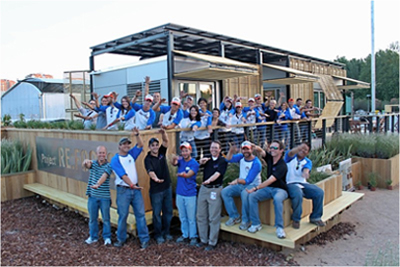 Congratulations to the UF Solar Decathlon 2010 Team!

8th place finish overall
Winner of the Public Choice Award, Web
1st place in Communications and Social Awareness category
2nd place in Energy Balance category
Read Dean Christopher Silver's Message from Madrid.
Also, look for a complete wrap-up in the next issue of Perspective.
Vicenza: Then and Now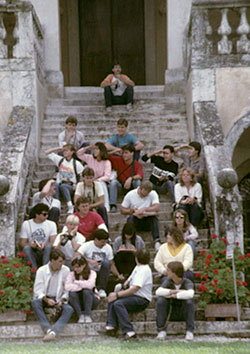 Vicenza Institute of Architecture, 1986. Photo courtesy of Michael Spitzer.
When Francesco Cappellari felt that the University of Florida needed a study abroad program, he decided to start one by taking students to his birthplace – Italy.
The Vicenza Institute of Architecture became a summer of both fun and learning in a different culture. Students studied Italian architecture, refined their design skills and created lifelong friendships.
That was more than 25 years ago. Since then, the program has expanded into a yearlong experience.

DCP says farewell to one of its own: Diana Bitz


The University of Florida said a tearful goodbye to Diana Bitz, who passed away on June 17 at age 62, surrounded by family and friends.
Bitz was an associate professor of architecture and an expert on the life and works of Giambattista Vico, and his followers, Carlo Lodoli, Andrea Memmo and Giustiniana Wynne. A legendary lecturer and advisor, she was widely known for her ability to make the classics relevant by explaining ideas through stories. She won several teaching awards, and was beloved by her students and colleagues for her intellectual generosity and elegant style.
>> Visit the facebook group created in her memory

Landscape Architecture Open House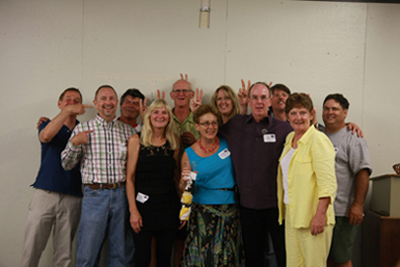 More than 120 people joined us for the Landscape Architecture Studio Open House on July 24.
>> See more photos from the event

Thank You to Retiring Faculty
As the new school year begins, we want to thank the DCP faculty who retired in the past couple years. They leave us with a great legacy.
Francesco Cappellari
Mary "Jo" Hasell
Rocke Hill
Pete Prugh
Chuck Smeby
Bob Stroh
Karl Thorne
Tony White
Won An Award?
Have you won an award for one of your projects? Email us a photo of the project, along with the project and award details. In November, we will be featuring award-winning alumni projects. Send your photos and details to perspective@dcp.ufl.edu.
DCP Blog
Five architecture students designed and built a kiosk for a Gainesville non-profit this summer. Read about it in the college's blog, Columns.
Alumni News
Check out what your fellow alumni are doing. We want to hear from you! Share your news with us for a future issue of Perspective Online.
Jason Hart, ARC 2000, recently had an op-ed published in "The Architect's Newspaper." The piece proposed that saving Richard Neutra's Cyclorama Center in Gettysburg, Pa., is about more than just a modern landmark. Hart is co-founder of the Boston-based CUBE design and research.
Randolph C. Henning, AIA, ARC 1976, was recently awarded a Merit Award for design excellence by the Winston-Salem section of the North Carolina American Institute of Architects for his design of the sanctuary addition and modifications to Temple Emanuel located in Winston-Salem, N.C. Henning resides in Lewisville, N.C.
David Bradley Hester, ARC 1987, has formed the law firm of Miller, Hester & Eisele, P.L., in Orlando, Fla. The firm's practice areas include real estate development and finance, lender representation, commercial and residential real estate transactions, commercial leasing, construction and commercial litigation, agri-business and agricultural lending. Brad lives with his wife, Sloane Hester, and two children, Bailey, 18, and Dayton, 14, in Winter Park, Fla.
Timothy Jackson, BCN 1989, and Frank Kendrick, BCN 1989, were featured on the March cover of "Black Enterprise" magazine. The article "How We Grew Our Business Using Technology" is the feature of the issue.
Yongseok Jang, Ph.D. 2009, was recently selected for a post-doc fellowship at UF's Warrington College of Business Administration.
Bill Joslin, ARC 1981, has returned to the United States after spending more than 17 years abroad, 15 of those in Berlin, Germany. He is now a studio director at McMillan Pazdan Smith Architecture in Spartanburg, S.C.
Raymond Jungles, LAE 1981, and his firm, Raymond Jungles, Inc., were recently honored with two Florida Chapter of the American Society of Landscape Architects (FLASLA) awards in the Institutional and Residential Design Categories.
Crystal Lester, ARC 2004, M.Arch 2005, received an award from the Lakeland Chapter of Girls Inc. Since graduation, Lester joined Furr & Wegman Architects in Lakeland and achieved certification as a Leadership in Energy and Environmental Design Accredited Professional.
Bill Martin, ARC 1997 and M.Arch 1999, has been promoted to an Associate Principal with the design firm of SchenkelShultz Architecture, based in Orlando, Fla. While with SchenkelShultz, Bill has focused on winning, designing and delivering projects in their Higher Education and K-12 markets.
Maria Masque, MAURP 1994, led the city of El Mirage to adopt the first fully sustainable general plan in the state of Arizona. Masque serves as principal of Community and Regional Planning for the city.
Jennifer (Smith) McAlister, BCN 2000, project manager with NDC Construction Company in Bradenton, Fla., recently completed construction on the new $18 million Palmetto Elementary School in Manatee County, Fla. The architect on the project was a fellow DCP alumnus Todd Willise, M.Arch 1990, with Hoffman Architects, PA of Tarpon Springs, Fla.
Joanna (Lenz) Mulhall, IND 1993, recently joined DOTI Global Sourcing in Ponte Vedra Beach, Fla. The company specializes in residential design and FF&E sourcing, installation and project management services.
Katherine Zollinger, IND 1998, recently accepted a Facilities Associate position at Northwestern Medical Faculty Foundation in Chicago.
College of
Design, Construction & Planning
331 Architecture Building
P.O. Box 115701
Gainesville, FL 32611
TEL (352) 392-4836
www.dcp.ufl.edu
perspective@dcp.ufl.edu

Christopher Silver, Dean
Margaret Carr, Associate Dean
Paul D. Zwick, Associate Dean
William Tilson, Assistant Dean
Lynne Capece, Director of Development
Managing Editor: Julie Frey
Editor: Alexandra Layos
Design: Chris Barnett and Tonya Gibbs

DCP Public Relations Committee:
Tina Gurucharri, Joseli Macedo, Edward Minchin, Nam-Kyu Park and Kim Stanley