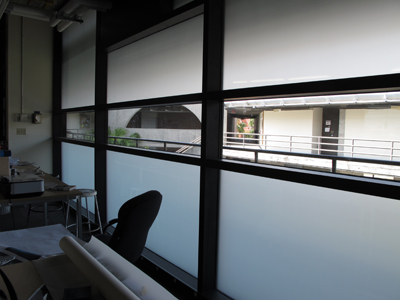 A New Look for DCP
The Architecture Building received a facelift this summer, replacing walls with glass to give students working in studio a view of the building's atrium. With additional support, more changes are planned for the near future.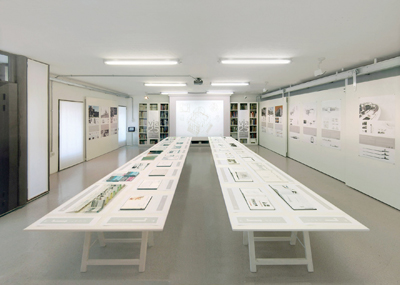 Photo by: Alfonso Perez-Mendez/University of Florida

Vicenza Exhibit
The new Seminar and Review Room at the UF Vicenza Institute of Architecture was inaugurated with the 25th Anniversary Exhibit, which took place Sept. 4. More than 125 people enjoyed the celebration, which also included an exhibit of student work and research.

>> See photos from the event
Did you miss last month's article on Vicenza's 25th Anniversary?

>> Read Vicenza: Then and Now

DCP Top 3: A conversation with Michael Spitzer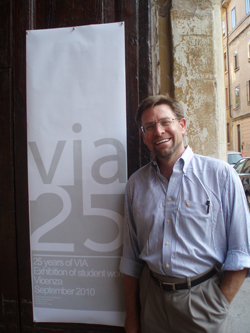 Photo by: Lynne Capece
Michael Spitzer, ARC 1984 and M.Arch 1986, was raised in Trieste, Italy and returned to the States to attend UF's School of Architecture. At the end of his graduate school years, he participated in one of the first Vicenza Institute of Architecture programs.
He is currently the senior aviation architect with RS&H, INC., a Jacksonville, Fla., based architectural, engineering and planning consulting firm, and serves as the Aviation Program Building Service Group Leader for the Northwest Regional Office in Denver, Colo. He recently returned to Italy for the VIA 25th anniversary celebration, and his memories of his time there are still fresh.
1. What do you remember about your first experience in Vicenza?
In the summer of 1986, having just obtained my master's degree, I participated as assistant to program founder Francesco Cappellari. Working with Francesco was great. His fast pace and intuitive approach kept me busy all the time. Being fluent in Italian allowed me to help out in many facets, including student interpreter, researcher and travel agent. But living in downtown Vicenza offered an even better experience. During the few months, the group of students had the chance of really getting to know each other and the city in a personal way.
2. How have the program and town changed since your first visit?
The program was in its infancy at that time … As for the educational program conducted in the studio, it has evolved tremendously; now it is much more in-depth and structured, very much thanks to folks like Martin Gold, Franca Stocco and of course Francesco Cappellari. The new location has really served them well. It offers students an appropriate, secure environment to work out of. It's almost a studio away from studio, if you know what I mean.
3. What do you think is the benefit of the VIA program?
For an architect in the making, attending an educational program abroad is clearly an opportunity of a lifetime … The fabric of architecture that they're surrounded with is so very different from anything they've seen in the U.S. It opens their minds to a world of opportunity, and architects – in my view – need to be aware of worldly aspects. The VIA program does that.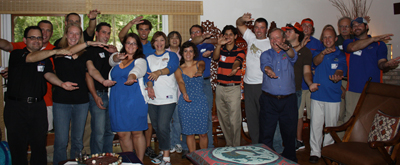 Members of the UF Solar Decathlon Team thanked their sponsors at a reception on Sept. 25. View Team Sponsors.


A Salute to Solar Decathalon
If it takes a village to raise a child, it takes an entire community to build a house – at least when that house is a special energy-efficient model, designed to compete in the Solar Decathlon Europe competition.
How was the house's solar energy design created?
Remembering John Alexander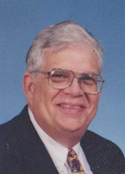 Photo by: Olan Mills
The University of Florida lost a long-time supporter when John Franklin Alexander, Jr., died Nov. 6, 2009 at the Shands Cancer Hospital in Gainesville. He had been diagnosed with Aplastic Anemia.
Alexander, 66, was a Gainesville resident and a much loved husband, father, grandfather and friend. A well-known teacher and researcher, his ties to UF go all the way back to his student days.
EVENTS
BCN Career Fair
Oct. 12: The Career Fair will be held at the O'Connell Center from 9 a.m. to 1:30 p.m.
BCN Homecoming BBQ
Oct. 16: The Gators are scheduled to play Mississippi State University. Stop at Rinker Hall at 3 p.m. for some great food, a tour of Rinker Hall and the Charles R. Perry Construction Yard and to visit with fellow alumni. The Construction Hall of Fame induction will take place at 4 p.m. The BBQ will be held from 4:30 to 6 p.m.
Tampa Bay BCN Gators 3rd Annual Fishing Tournament
Oct. 22: Join other alumni at Hula Bay Bar & Grill in Tampa for a day of friendly competition. All proceeds benefit the M.E. Rinker, Sr. School of Building Construction. For more information, contact Chris Lucas.
WON AN AWARD?
Have you won an award for one of your projects? Email us a photo of the project, along with the project and award details. In November, we will be featuring award-winning alumni projects. Send your photos and details to perspective@dcp.ufl.edu.


DCP BLOG
Read about the VIA 25th anniversary celebration in the college's blog, Columns.
FAN US ON FACEBOOK
Catch up with old friends on Facebook – Fan the DCP page to find out what faculty, students and your fellow alumni are doing.

ALUMNI NEWS
Check out what your fellow alumni are doing. We want to hear from you! Share your news with us for a future issue of Perspective Online.
Heriberto J. Brito, ARC 1975 and M.Arch 1977, was recently named dean of the Savannah College of Art and Design. Britos's appointment marks his return to SCAD; he taught there from 1979-1985, developing the curricula for the architecture, historic preservation and interior design programs of study.
Judi Shade Monk, M.Arch 2001, has accepted a Fall 2010 appointment at the Tulane University School of Architecture where she'll be leading a third-year design studio and working to establish a Sukkah design/build program in conjunction with Tulane Hillel, similar to the model at UF.
Ron Ward, ARC 1977 and M.Arch 1979, has established Ward Waterman Connell Architects, LLC, as a Veteran Owned Small Business in addition to his partnership in Ai Group Architects of Atlanta.
DID YOU KNOW?
In May 2010, DCP graduated its first Bachelor of Science in Sustainability and the Built Environment graduates.
College of
Design, Construction & Planning
331 Architecture Building
P.O. Box 115701
Gainesville, FL 32611
TEL (352) 392-4836
www.dcp.ufl.edu
perspective@dcp.ufl.edu

Christopher Silver, Dean
Margaret Carr, Associate Dean
Paul D. Zwick, Associate Dean
William Tilson, Assistant Dean
Lynne Capece, Director of Development
Managing Editor: Julie Frey
Editor: Alexandra Layos
Design: Chris Barnett, Tonya Gibbs and Kerry McCollough

DCP Public Relations Committee:
Tina Gurucharri, Joseli Macedo, Edward Minchin, Nam-Kyu Park and Kim Stanley