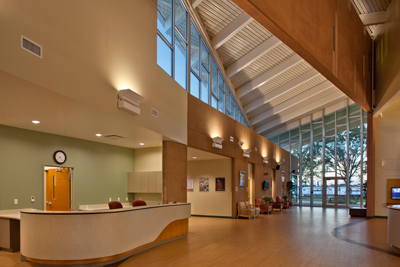 Matt Clement, M.Arch 2003, Sergio DeSanto, ARC 2001 and Jason Jensen, ARC 1999 and M.Arch 2001 of Wannemacher Jensen Architects Inc., in St. Petersburg, Fla., recently designed the first LEED Platinum Community Center in the country, located in Largo, Fla. Energy saving techniques include photovoltaic cells, solar water heating, mechanical energy recovery units and more. The resulting project saves 42% of the energy and water needed to operate the building.
DCP Research Showcase
February 17 & 18, 2011
Join us for the fourth annual DCP Research Showcase. This two-day event is your opportunity to visit UF when parking is easier to find and so are hotel rooms. Come hear UF DCP faculty and graduate students' research in the areas of climate change, housing, acoustics, sustainable design and construction and more. Connect with your fellow alumni, classmates, professors and students at the alumni reception on Friday evening.

The showcase includes a poster session of student research, faculty presentations and panel discussions, providing an opportunity for alumni and professionals to engage in discussions with faculty and students about the state of research conducted in the college and how it impacts the professions.

>> Register.

>> View the schedule.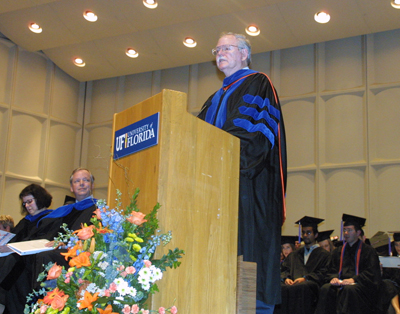 Remembering Dr. Brown
(Dec. 3, 1930 – Nov. 15, 2010)
Some people recall his sense of humor. A light-up tie or mug. April Fool's Day jokes. Some remember his intensely organized office – the paper you had to sign to "check out" a book or document – or how he served as a walking historical record of the program's history. But when asked about Dr. Brisbane H. "Bris" Brown, Jr., there is one thing that everyone remembers: his passion for the college, especially building construction, and all the years of service he gave to the school.

>> Read more.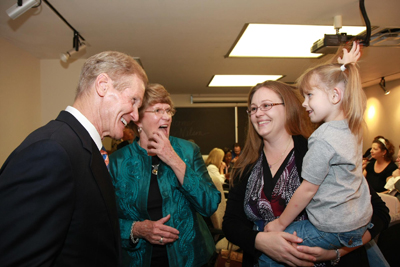 Senator Bill Nelson speaks with three generations of Bartley's. From left to right: Senator Nelson, Susan Bartley Miller, Deborah Miller McGinley and Neila McGinley.

DCP Top Three
On Nov. 19, U.S. Sen. Bill Nelson, D-Fla., visited UF as part of the Ernest R. Bartley Memorial Lecture Series, which honors the late Ernest "Bart" Bartley, professor emeritus of the Department of Urban and Regional Planning. Nelson is a former student of Bartley's. During his speech, he gave an insider's perspective on what happens in the Senate.

1) View photos of the event in the gallery.
2) Watch the video of his speech online.
3) Read about his visit in the College's blog, Columns.


Lighting Vicenza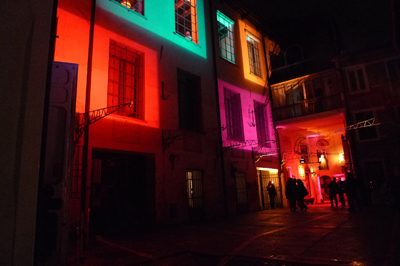 On November 6 at 8:30 p.m., Vicenza Institute of Architecture opened a light installation in the interior of the "Corte dei Miracoli" ("the miraculous courtyard," the name of the space that leads to the school) located in contrà Santi Apostoli a Vicenza.

The installation was one of the results of the lighting workshop graduate seminar conducted this Fall semester at VIA, taught by Professor Giovanni Traverso, Italian architect and recognized lighting designer of the firm Traverso-Vighy.
DCP alumnus Al Parker receives Lifetime Achievement Award from
AIA Miami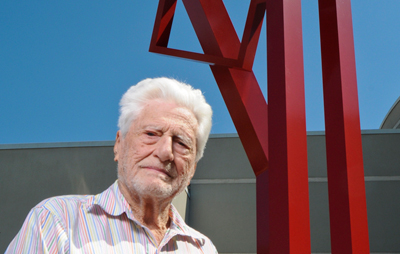 Alfred Browning Parker, ARC 1938, received the Lifetime Achievement Award from the AIA Miami during a ceremony on Nov. 9.

Established by the AIA Miami Board of Directors, the award was created to honor an individual for his or her lifetime contributions to architecture and the community, enriching the culture through design and elevating the profession of architecture.

Parker began practicing architecture in the early 1940's in South Florida and his work quickly gained popularity for his modernist style. His work was highly influenced by Frank Lloyd Wright's organic architecture, and it was Wright who recommended Parker as an AIA Fellow.

His work was chosen four times as "The Pace Setter" house in House Beautiful, the primary architecture magazine during the 1950's and 1960's. In 2006, Wall Paper* magazine chose his Miami Woodsong residence for their "Top 10 Houses of the World;" it was the only house chosen from all of North America.

Now at 94 years of age, he once again resides in Gainesville, teaching a weekly class at UF, and working on his six books. He looks back on his accomplishments fondly.

"In my life I have had a marvelous experience, and much of it has revolved around this particular area – Gainesville, Florida," Parker said. "It has been a great trip, and it isn't over yet."
DCP Awards Gallery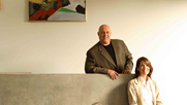 Lawrence Scarpa, ARC 1981 and M.Arch 1987, with his partner Angela Brooks. Their Santa Monica, Calif., firm, Brooks + Scarpa, received the 2010 AIA National Firm of the Year award.

In the November issue of Perspective, you were encouraged to visit our new DCP Awards Gallery to view a collection of award-winning projects by DCP graduates and supporters. Since then we've added even more projects to the gallery.

>>Check out the updates here.
Fan us on Facebook
Catch up with old friends on Facebook – Fan the DCP page to find out what faculty, students and your fellow alumni are doing.

Alumni News
Check out what your fellow alumni are doing. We want to hear from you! Share your news with us for a future issue of Perspective Online.

Scott R. Moss, BSBC 1996, assumed the position of President of Moss & Associates on January 1, 2011 as the initial phase in a multi-year transition plan. The Moss & Associates headquarters are located in Fort Lauderdale, but with regional offices throughout the state and in South Carolina, it is one of the largest construction management companies in the southeastern United States, with annual revenues topping $649 million. It is Florida's seventh-largest contractor and the Southeast's eighth-largest green builder. Moss is a Florida Certified Building Contractor and General Contractor.

Cristina Villanueva-Meyer, March 2008, became a Licensed Architect in Peru in Oct. 2010. Due to the recent construction boom in Peru, there are great opportunities for the architectural section.
College of
Design, Construction & Planning
331 Architecture Building
P.O. Box 115701
Gainesville, FL 32611
TEL (352) 392-4836
www.dcp.ufl.edu
perspective@dcp.ufl.edu

Christopher Silver, Dean
Margaret Carr, Associate Dean
Paul D. Zwick, Associate Dean
William Tilson, Assistant Dean
Lynne Capece, Director of Development
Managing Editor: Julie Frey
Editor: Alexandra Layos
Design: Chris Barnett, Tonya Gibbs and Kerry McCollough

DCP Public Relations Committee:
Tina Gurucharri, Joseli Macedo, Edward Minchin, Nam-Kyu Park and Kim Stanley