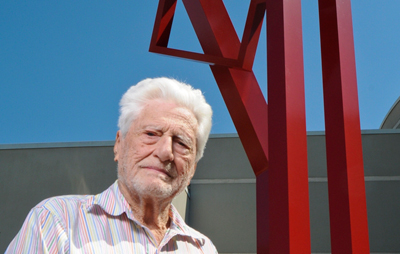 The Legacy of Alfred Browning Parker, FAIA
(September 24, 1916 – March 11, 2011)
Alfred Browning Parker, ARC 1938, began practicing architecture in the early 1940's in South Florida and his work quickly gained popularity for his modernist style. His work was highly influenced by Frank Lloyd Wright's organic architecture, and it was Wright who recommended Parker as an AIA Fellow.

Among many other achievements, Parker received the Distinguished Architecture Alumni Award in 1993, was named UF Distinguished Alumnus in 2001 and was recently honored with the AIA Miami Lifetime Achievement Award.

>> Read More

>> Read a personal obituary written by Parker
Do you remember Alfred Browning Parker or his work? Please e-mail us with your thoughts; we'd love to share your memories in an upcoming issue.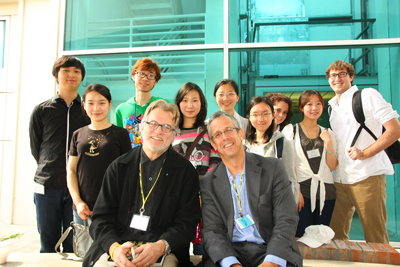 Research Showcase 2011:
Blending Tradition with Modern Technology
Change can be scary, but for DCP's annual Research Showcase Feb 17-18, change meant success.

The addition of a juried poster session for master's and doctoral students and discussion panels on timely industry topics made the showcase of interest to an even wider audience - approximately 150 participants registered to attend.

Presentation rooms were filled with an audience eager to ask questions of the faculty and doctoral students as they presented their research and to hear from industry professionals and alumni who participated in the various panel discussions. All attendees also had the opportunity to mingle over a delicious barbecue lunch.

Another new addition this year was the ability to follow the showcase on Twitter and the college blog. Forty-three Tweets and three blog posts throughout the two day span allowed those who could not attend to keep up-to-date on the events in real time.

>> Read about the poster session winners.

>> Watch the video of keynote speaker John Randolph
Thank you to our sponsors, Bilzin Sumberg Attorneys at Law and Mauriello Planning Group!
DCP In Your Town: Lee County
Dawn Jourdan, Director of the Center for Building Better Communities, and Gene Boles, Senior Fellow of the Center, were instrumental in the formation of a Feb. 11 symposium, "Lee County in the Year 2035: Back to the Future."

The event, which took place at the Harborside Event Center in the Fort Myers River District, brought together experts from DCP, Florida Gulf Coast University and Edison State College, as well as Florida Transportation Commissioner and former Cape Coral Mayor Dr. Joseph Mazurkiewicz, renowned economist Dr. Henry Fishkind, former Appraisal Institute Past-President Woody Hanson, Lee County School Board Chairman Thomas Scott, Florida Department of Community Affairs former Secretary Linda Shelley and other local and state experts. Attendees shared their predictions of what the Lee County community will look like in the year 2035.

Jourdan presented a lecture titled, "The Land Use Implications of Current Federal Policy: Sustaining the Momentum."

>> Watch video from the event.

Remembering Diana Hibbard Bitz
(May 5, 1948 – June 17, 2010)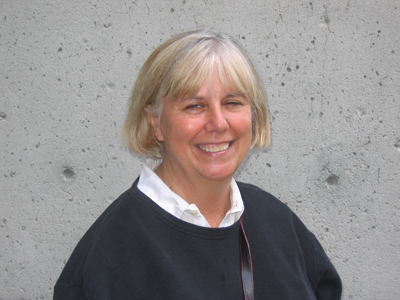 Diana Bitz arrived at the University of Florida in 1991 and served as associate professor of architecture. She published many papers and won numerous teaching awards, but it was her indomitable spirit, friendship and caring that assured her a permanent place in the hearts of all who knew her.

Articulate students and a dynamic faculty: an interior design accreditation success story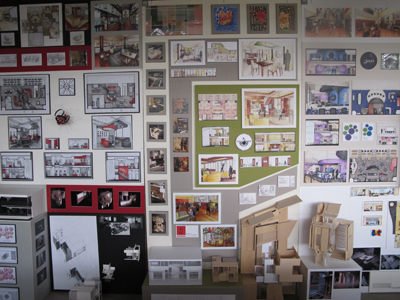 The last time the accreditation team visited DCP's interior design program, all work was in the form of hard copies and physical models.

According to interior design chair Meg Portillo, when the team arrived this January – six years later – the accreditation process was a real hybrid, where at least a third of the work was digital.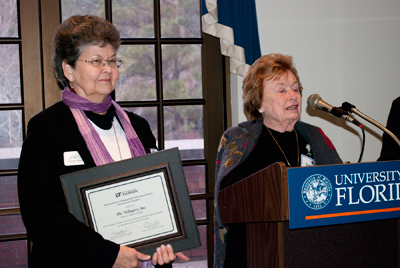 Linda Hertz, president of The Villagers, Inc., (left) and Sallye Jude, one of the founders of the Villagers and a long-time community preservationist, accept the University of Florida College of Design, Construction and Planning 2011 Beinecke-Reeves Distinguished Achievement Award. Jude and The Villagers Inc., a community preservation group, were recognized in February with the award, which is given to an individual or group with a connection to the state of Florida who exemplifies the spirit of historic preservation and has demonstrated exceptional dedication to the field.

Mateu Wins Competition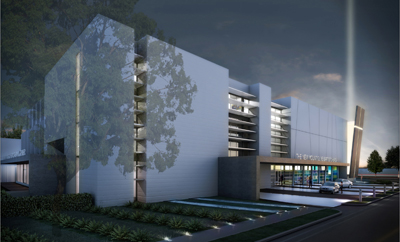 UF School of Architecture Professional Liaison Committee Member Roney J. Mateu of Mateu Architecture, Inc., recently won an invited competition for the design of a new Worship Center and Life Center for the New Mount Olive Baptist Church in Ft. Lauderdale, Fla.

The church, located just west of downtown Ft. Lauderdale, at 400 NW 9th Avenue, is one of the oldest African American churches in South Florida. With a storied past dating to its humble beginnings on November 25, 1918, the church campus today contains a structure which is included in the National Register of Historic Places, along with the current four-story worship facility built in 1979, and boasting a membership of more than 10,000 congregants. The winning design concept includes a new Worship Sanctuary with over 1,950 seats, a bookstore, café area, Sunday School classrooms, choir facilities, administrative and pastoral offices, a 200-seat chapel and parking facilities, proposed to be built as Phase I of a two-phase building program and adding approximately 40,000 square feet to the existing facilities in a seamless architectural expression that unifies the entire campus. Phase II will be the repurposing of the existing worship facility into a Family Life Center that will include, among other spaces, a gymnasium, workout facilities, fellowship/dining hall and meeting spaces.
School of Architecture announces University of Florida Architecture Awards
The School of Architecture is pleased to announce the recipients of this year's University of Florida Architecture Awards. Angela Brooks, ARC 1987, of Brooks + Scarpa Architects received the Distinguished Architect Alumni Award, Jonathan Mallie, ARC 1996, of SHoP Architects received the Young Architect Design Award, John Ehrig, B.Arch 1973, of Helman Hurley Charvat Peacock Architects received the Distinguished Service Award, and the award-winning film director Shane Acker, ARC 1994, received the Design Excellence Award.

In 2010, Charles Waldheim, ARC 1986, received the Distinguished Alumni Award, Dara Huang, ARC 2004, received the Young Architects Design Award, William Morgan received the Distinguished Service Award, and Rene Gonzalez, ARC 1986 received the Design Excellence Award.
UF Solar Decathlon Team receives 2010 AIA Design Award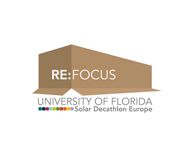 Associate Professors Robert Ries, Mark McGlothlin and Maruja Torres-Antonini, Assistant Professors Bradley Walters and James Sullivan, and Lecturer Russell Walters were recognized with an AIA Gainesville Honor Award in the Residential Category for "Project RE:FOCUS," completed for the Solar Decathlon Europe Competition in Madrid, Spain.

>>Read about the design.
Fan us on Facebook
Catch up with old friends on Facebook – Fan the DCP page to find out what faculty, students and your fellow alumni are doing.

Position Opening in Orlando
The UF School of Architecture is looking for the perfect candidate to lead the school's Citylab-Orlando.

>>Read the posting.
Alumni News
Check out what your fellow alumni are doing. We want to hear from you! Share your news with us for a future issue of Perspective Online.

On March 15, 2010, Javier Castano, BCN 2006, MAIB 2007, was sworn-in as a Foreign Service Officer at the U.S. Agency for International Development in the Office of Acquisition and Assistance. As a Foreign Service Officer, and more specifically a Contracting Officer, Castano is responsible for contracts, grants and cooperative agreements to support economic development and humanitarian assistance projects throughout the world. He is currently serving a tour in Washington, D.C. and will rotate into his next diplomatic assignment in 2011 at the U.S. Embassy in Kabul, Afghanistan where he will focus on construction and A/E contracting. Prior to joining USAID, Castano was a consultant in the Real Estate and Construction Advisory division of KPMG in New York City, where he specialized in contract compliance and construction fraud investigations, and with Holder Construction in Atlanta, where he worked as a pre-construction engineer. Castano is a Certified Fraud Examiner and is currently pursuing his Ph.D. in Technology Management/Construction Management from Indiana State University.

Since graduation, Donald Conway, ARC 1961, has been the Director of Research Programs at AIA National, established the School of Architecture at Woodbury University in Calif., (where he is currently Professor Emeritus) received a Loeb Fellowship at Harvard University and directed a research study for the UN (UNESCO) in Paris, France. He is now retired but is working with a non-profit organization on the design and construction of schools and Women's Health Centers in Darfur, Sudan, and would be happy to hear any news of his classmates.

Martin Gold, ARC 1991, M.Arch 1994, and the Florida Community Design Center received an AIA Gainesville Honor Award in the Unbuilt Category for "Eco Meadow, Shared Ecology Housing Development" in Sanibel, Florida.

Randolph C. Henning, ARC 1976, has written two books that will be published in 2011 – "Frank Lloyd Wright's Taliesin: Illustrated by Vintage Postcards," by the University of Wisconsin Press (March 2011) and "The Architecture of Alfred Browning Parker: Miami's Maverick Modernist," by the University Press of Florida (September 2011). His first book, "At Taliesin: Newspaper Columns by Frank Lloyd Wright and the Taliesin Fellowship, 1934-1937," was published in 1992 by the Southern Illinois University Press.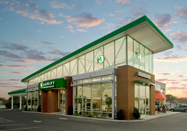 Tim Hoeft, ARC 2004, M.Arch 2006, and Lakeland-based Straughn Trout Architects, LLC, recently received a second place award for their design of the South Lakeland Branch Magnify Credit Union. The award was given by the Sustainable Building Industry Council as part of its 2010 Beyond Green High-Performance Building Awards. The contractor for the project is Folsom Construction, Inc., also of Lakeland, and includes two additional UF alums: Larry Folsom, BCN 1974, and Glenn Folsom, BSBA 1975. The 4,151-square-foot credit union also received two "Building of the Year" awards from local U.S. Green Building Council regional chapters. In addition, the New York Times ran a feature written by Joey Peters of ClimateWire.

Tom Smith, M.Arch 2005, received an AIA Gainesville Merit Award in the Residential Category for "Curvy House: Lodging for 6 Hens & 2 Roosters."

Max Strang, ARC 1994, was recently featured on the cover of the AIA Miami Design Book Winter issue. The eight-page article is titled, "Environmental Modernism: At Home with Max Strang."
College of
Design, Construction & Planning
331 Architecture Building
P.O. Box 115701
Gainesville, FL 32611
TEL (352) 392-4836
www.dcp.ufl.edu
perspective@dcp.ufl.edu

Christopher Silver, Dean
Margaret Carr, Associate Dean
Paul D. Zwick, Associate Dean
William Tilson, Assistant Dean
Lynne Capece, Director of Development
Managing Editor: Julie Frey
Editor: Alexandra Layos
Design: Chris Barnett, Tonya Gibbs and Kerry McCollough

DCP Public Relations Committee:
Tina Gurucharri, Joseli Macedo, Edward Minchin, Nam-Kyu Park and Kim Stanley