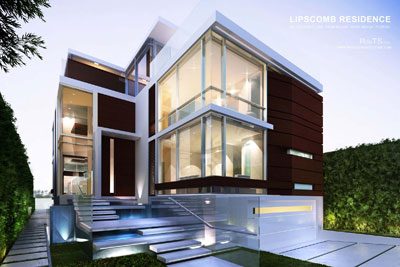 DCP Awards Gallery
This year proved to be successful for DCP graduates and supporters. View the gallery to check out examples of award-winning projects from the past year.

> Add to the gallery by emailing your award-winning project.

Childre Endowment donates property in St. Augustine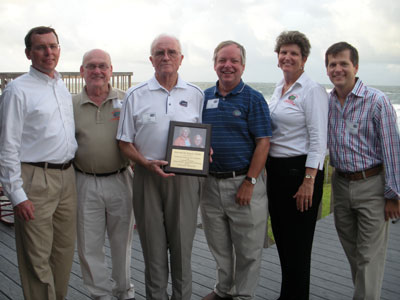 From left, Robert Ries, interim director of the Rinker School of Building Construction, Roy Graham, Beinecke-Reeves Distinguished Professor in DCP's Historic Preservation Program, Jesse Childre, BCN 1950, Dean Christopher Silver, Lynne Capece, development director, and Marty Hylton, acting director of historic preservation program and director of PI:N, stand on property donated by Childre in Valino Beach, Brevard County.
Faculty working in St. Augustine can rest a little easier knowing they'll have a place to stay.

Jesse W. and Ida Marie Rogero Childre Endowment for Affordable Housing recently gave a piece of land - with a beach house - to assist College of Design, Construction and Planning faculty doing research on historical property in St. Augustine.

Jesse Childre, BCN 1950, who has worked on various fundraising endeavors for DCP over the last couple of decades, noticed a few years ago that the college sends faculty to St. Augustine for research fairly often.

"I am mostly looking for savings for the college," said Childre, who was inducted into the Rinker School of Building Construction's Construction Hall of Fame in 2003. "Savings from traveling, and from renting hotel rooms, and this also provides good relaxation. The main thing is that if the college can use it, great, they've got it. And if they don't, great, sell it, and put the money to work."

> Read more.

Endowment honors founder of historic preservation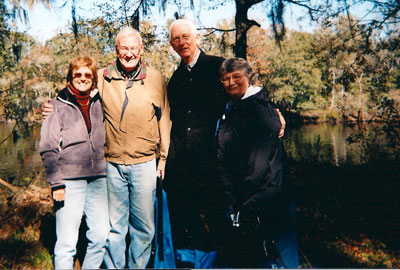 From left, Buff Gordon, author of Florida's Colonial Architectural Heritage, F. Blair Reeves, Roy Hunt, and Mary Nell Reeves stand in front of the Suwannee River in Old Town, Fla., in December 2003.

Thirty-five years ago, University of Florida law professor Roy Hunt had no idea his career path was about to be changed forever.

He remembers the day when F. Blair Reeves, founder of the University of Florida's historic preservation program, approached him about offering a joint seminar in historic preservation law.

Now, more than three decades later, Hunt, who is a distinguished service professor emeritus of law at UF, has created an endowment to honor Reeves, and his wife, Mary Nell.

> Read more.


ARC professor makes coolest beach homes list

Two houses designed by Guy Peterson, ARC 1978, adjunct associate professor at the School of Architecture, recently made the Top Ten Coolest Beach Homes for Sale in America. To read more, click here.

No. 1 (located in Sarasota, Fla.):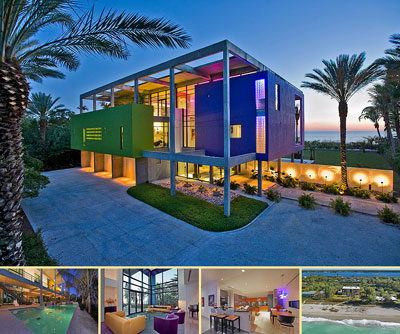 No. 9 (located in Nokomis, Fla):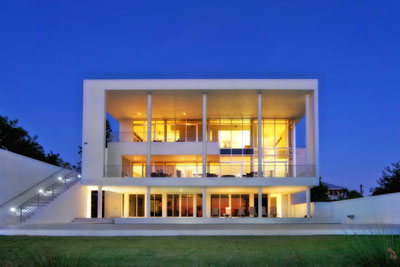 Wallis-Baker LAE collection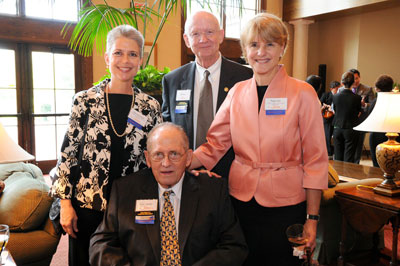 From left, Tom Wallis (seated), Tina Gurucharri, Bill Baker and Peggy Carr celebrate Wallis-Baker's gift of their landscape architecture collection of work to the University of Florida at the "Because of You" event in Orlando, Fla. Click here for more information about this collection.

ARC students win design competition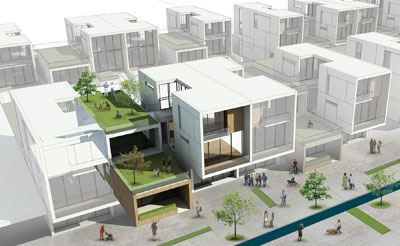 Award-winning "Connecting Living" design by architecture master's students won first place in the AARP/American Institute of Architecture Students 2011 Livable Communities Phase 2: Building Student Design Competition.
Four architecture master's students won first place in the AARP /American Institute of Architecture Students 2011 Livable Communities Phase 2: Building Student Design Competition.

The students, Andrew Hazen-Hamilton, Songchai Asawaprecha, Joo Seung Lee, and Jourdona LaFate, designed a project titled "Connected Living" that centered on a pedestrian-friendly design bridging Orlando's urban core and new train and bus stations with the adjacent residential area across the interstate.

Students were asked to use the features present in the community master plans submitted to last year's AARP competition and to further investigate the designs for ways to improve on and grow the ideas of the livable community. The AARP and the AIAS were looking for "attractive, flexible and user-friendly housing designs that utilize the basic ideas of sustainability, accessibility, livability and visitability."
Happy Holidays!
The faculty and staff of the College of Design, Construction and Planning wish you and your family a wonderful holiday season and a prosperous and Happy New Year!
ARC junior inaugural winner of national scholarship

Lauren Friedrich, junior in the School of Architecture, is the first recipient of the Sean F. Mellon Memorial Architectural Scholarship.
This national award was announced at The New York Council of the Society of American Registered Architects' gala luncheon at the UN Millennium Plaza Hotel in October.
Through her academic achievements, recommendations from peers and faculty, and body of work, Friedrich was selected from a distinguished field of applicants from around the nation, according to the council. > Read more
Student planner of the year

Jacob Kain, a URP graduate student, was recently named the Florida Chapter of the American Planning Association's Student Planner of the Year for 2011.
"I can think of no student who is more deserving of this award than Jacob," said Ruth Steiner, associate professor of urban and regional planning. "Jacob is enthusiastic, organized, motivated, serious, detail-oriented, an effective communicator, a hard-worker and among the most intelligent students who have gone through our planning program. While he is solid in the classroom, he is also successful in professional practice."
Job Opportunities
Please let us know if you or your company has an employment opportunity, and we will share it in the next issue of Perspective. Contact Debbie Herman.
Alumni News
Tony Rosabal, ARC 1990, AIA, LEED AP, principal at LIVS Associates in Coral Gables, Fla., has just completed a $23 million facility for the USDA at Miami International Airport. In addition to being featured in various publications, this facility recently was recognized by the IIDA with a Design Excellence Award for interior design. Rosabal also was elected last month to serve on next year's board of directors for the American Institute of Architects (AIA) Miami chapter.

Domenic Scorpio, ARC 1994 and BCN 1998, was featured in the "40 Under 40" in HOME Magazine (p. 91).

Brad Tomecek, ARC 1996 and M.Arch 1998, was named the 2011 AIA Denver Young Architect.

Ken Treister, ARC 1953, received the "Lifetime Achievement Award" from the Miami, American Institute of Architects, at their Gala at Gusman Hall in November.

Barnes Architecture, Inc., has been selected to represent Alaska in the upcoming book "50 US Architects". Jeffrey L. Barnes, ARC 1974, AIA is the principal architect and president of Barnes Architecture, Inc.
College of
Design, Construction & Planning
331 Architecture Building
P.O. Box 115701
Gainesville, FL 32611
TEL (352) 392-4836
www.dcp.ufl.edu
perspective@dcp.ufl.edu

Christopher Silver, Dean
Margaret Carr, Associate Dean
Paul D. Zwick, Associate Dean
William Tilson, Assistant Dean

Managing Editor: Julie Frey
Editor: Ginny Lawrimore
Design: Chris Barnett, Tonya Gibbs and Kerry McCollough

DCP Public Relations Committee:
Candy Carmel-Gilfilen, Tina Gurucharri, Ferdinand Lewis, Edward Minchin, Kim Stanley and Bradley Walters