New banners adorn the atrium
The Architecture Building's atrium has a brand new look for the New Year.

A colorful set of new banners - one for each academic unit - now hang on the length of the columns in the atrium.

"I think the banners emphasize our diversity and yet exemplify our common focus on the built environment," said Margaret Carr, DCP's associate dean for undergraduate students and academic affairs.

The project came to fruition after a student charrette in spring 2009, when several student teams developed and proposed different types of projects for the college.


DCP Research Showcase
February 24, 2012

Now is the time for sustainability and innovation at the University of Florida. The 2012 Research Showcase is the perfect opportunity to check out the latest classroom innovations at the College of Design, Construction and Planning, such as our co-Lab, Fab Lab and BIM Lab.

Come hear UF DCP faculty's research in the areas of sustainable design, technology, social space design and more. Connect with your fellow alumni, classmates, professors and students at the reception on Friday evening.

The showcase includes a poster session of student and faculty research, faculty presentations and panel discussions, which provides an opportunity for alumni and professionals to engage in discussions with faculty and students about the state of research conducted in the college and how it impacts the professions.

This year's keynote speaker is Frederick Steiner, dean and professor of the School of Architecture at the University of Texas at Austin.

> Alumni registration

> View the schedule

> Become a sponsor

Please email Debbie Herman for more information.

New Citylab-Orlando director named
Frank Bosworth, a veteran architecture professor and administrator, recently joined the college as assistant director in the School of Architecture.

In this role, he will develop the school's program at Citylab-Orlando, including recruiting and coordinating the first class of students for the Orlando-based UF Master of Architecture program.

"Dr. Bosworth brings a unique balance of academic and community engagement ideally suited for the Citylab-Orlando mission," said Martin Gold, director of the UF School of Architecture, noting the position is being supported initially by a grant from Dr. Phillips Charities in Orlando. "The Citylab serves as an urban laboratory for our students, and at the same time, provides a venue for collaborating with local design professionals, stakeholders and city leaders."

> Read more.

DCP in your town: White Springs, Fla.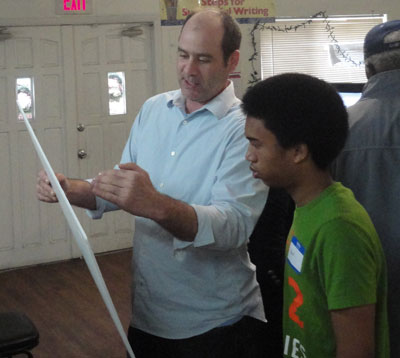 Third-year landscape architecture student Chris Stidham (left) receives input on his proposed neighborhood design from Wardell Lofton, a White Springs, Fla., community member.
Last fall, landscape architecture students in DCP's Site Planning and Design studio completed a site analysis and produced development concepts for White Spring's historic Carver neighborhood. The semester-long design project titled a "New Florida Community" was presented to the mayor, council officers and community members of White Springs in December.

> Read more.

Friends we will miss
The College of Design, Construction and Planning says goodbye to our alumni and friends who have passed away between September 2009 and November 2011.

> Friends we will miss
Jade Guzzo
The college was met with grief in November with the tragic news that architecture student Jade Guzzo lost her life returning to UF from Thanksgiving break. DCP faculty and classmates exhibited Jade's work on the second floor of Fine Arts C and held a candlelight vigil in her memory.

> Read story by the Alligator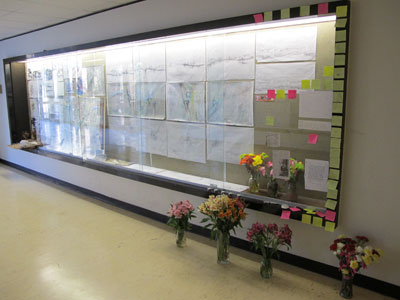 Jade Guzzo's work hangs on the second floor of Fine Arts C, along with flowers and memorial notes from friends and classmates.
Richard Steinmetz
In December, the college lost Richard H. Steinmetz, former assistant in architecture of photography and digital imaging coursework in the School of Architecture. Steinmetz also ran photography workshops at the Preservation Institute: Nantucket Summer Field School in Historic Preservation. He will be missed, but remembered by the generations of students he inspired to see the world through different eyes and his many faculty colleagues and friends.
Events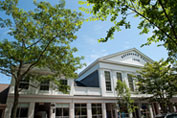 The year 2012 marks the 40th anniversary of Preservation Institute: Nantucket. Please join the University of Florida in celebrating this momentous occasion.
> Read more.
Continuity and Change:
40 Years of PI:N Exhibition
Feb. 10
UF Architecture Building Gallery
6 to 8 p.m.
PI:N Gala Dinner with Tribute to Founders Walter Beinecke, Jr. and Blair Reeves
Feb. 11
Historic Thomas Center
6:30 p.m. cocktails;
8 p.m. dinner and ceremony
> Register for gala dinner
> More PI:N events
Research Showcase
Feb. 24
> For more information
Alumni News
Adam Bolton, BCN 1997, president of the Builders Association of North Central Florida and president of Robinshore, Inc., was named local Builder of the Year.
> Read the article

Aaron Davis, LAE 2007, recently completed a Master of Science in Regional and Urban Planning from the London School of Economics. Additionally, Davis started working for the European Bank for Reconstruction and Development (EBRD) as an Environmental Planner in Russia and Central Asia.

Larry Scarpa, ARC 1981, M.Arch 1987, was profiled in the Fall 2011 issue of Lifestyles Magazine.
College of
Design, Construction & Planning
331 Architecture Building
P.O. Box 115701
Gainesville, FL 32611
TEL (352) 392-4836
www.dcp.ufl.edu
perspective@dcp.ufl.edu

Christopher Silver, Dean
Margaret Carr, Associate Dean
Paul D. Zwick, Associate Dean
William Tilson, Assistant Dean

Managing Editor: Julie Frey
Editor: Ginny Lawrimore
Design: Chris Barnett, Tonya Gibbs and Kerry McCollough

DCP Public Relations Committee:
Candy Carmel-Gilfilen, Tina Gurucharri, Ferdinand Lewis, Edward Minchin, Kim Stanley and Bradley Walters