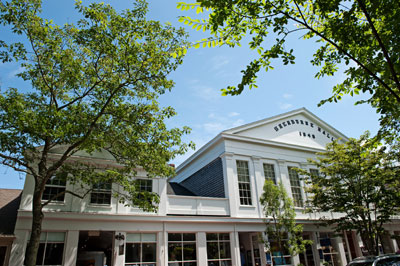 Photograph by Paul Privette, Footstone Photography.
Alumni and friends gather for PI:N's 40th
What do Gainesville, Fla., and Nantucket, Mass., have in common? The University of Florida.

This year marks four decades of Preservation Institute: Nantucket, the oldest university-run historic preservation field school in the nation.

The celebration of PI:N's 40th anniversary kicked off this month with a gallery exhibition titled "Continuity and Change: 40 Years of PI:N" on Feb. 10 and a gala dinner honoring the program's founders on Feb. 11.

"Preservation Institute: Nantucket was established at a time when there was a pronounced need for hands-on learning in historic preservation," said Marty Hylton, director of both PI:N and the DCP Historic Preservation Program. "The program played a vital role in helping educate a generation of preservationists and preservation-minded professionals working in allied disciplines."

> Check out previous Perspective articles on PI:N's founders

2012 Research Showcase focuses on innovation

DCP kicked off its 2012 Research Showcase on Feb. 24 with an opening address by UF President Bernie Machen and Dean Christopher Silver.

As part of the fifth annual showcase, visitors toured the latest classroom innovations at the college, such as the co-Lab, Fab Lab and BIM Lab. The event was also an opportunity for current and prospective students to learn about the research conducted in the college and for DCP professionals to hear new ideas that are driving the field.

> See image galleries and media coverage of the event

Award-winning architect receives honorary UF degree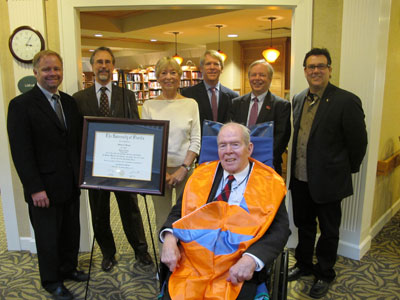 (From left) Tom Norman, president of the American Institute of Architects Jacksonville; William Bishop, vice president of the Jacksonville City Council; Bunny Morgan, wife of William Morgan; Dylan Morgan, son of Bunny and William Morgan; William Morgan (seated); Christopher Silver, dean of the college; and Martin Gold, director of the School of Architecture.
William Morgan, award-winning architect and pioneer in researching the origins of architectural creativity, received an honorary degree, Doctor of Arts, from the University of Florida during a ceremony in Jacksonville, Fla., on Feb. 17.

"William Morgan, a native Floridian, is among the most distinguished and honored architects of his generation, an individual who made so many lasting and celebrated contributions to the built environment of this state," said DCP Dean Christopher Silver, who nominated Morgan for the award.

During the honorary degree ceremony, others also spoke of Morgan's accomplishments, including Martin Gold, director of the School of Architecture; William Bishop, vice president, Jacksonville City Council and Tom Norman, president of the American Institute of Architects Jacksonville.

> Read more

> View the gallery

Students present ideas on East Alachua County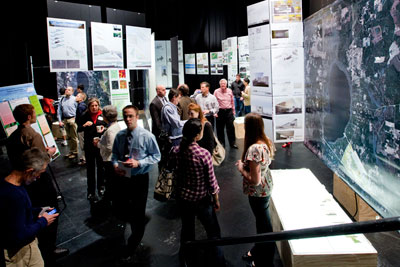 Photograph by Colin Hackley Photography.
DCP graduate student James Cody Baldwin captivated the audience.

A group that included conservationists, educators, business owners and local citizens listened intently as the architecture major explained how the cinema complex he envisioned and designed would be powered by piezoelectric technology.

Baldwin, who is completing his final year of study at DCP, explained that simply walking into a theatre to see a movie would create electricity for the venue.

"A group of materials that can acquire an electrical charge would be bonded to the floor of the cinema to generate power from the impact of people walking," Baldwin said. "I want to take advantage of the direct pattern of traffic that you get at a cinema, so the piezoelectric sensors would be concentrated in high foot traffic areas, like the center aisles and stairs to create energy."

Baldwin's concept is one of many innovative design ideas he and his classmates developed using sustainable design and agricultural urbanism for a real-life place – Plum Creek's 17,000 acres of land in east Alachua County, Fla.

> Read more
UF launches online URP master's program
Students interested in urban and regional planning can now earn a master's degree online with a choice of two specializations: Sustainability or Geographic Information Systems.
> Read more
Alumni News
George M. Kramer, MAURP 2007, has started the land planning consulting firm of KRAMER & LITTLE in Orlando. KRAMER & LITTLE will focus primarily on private sector representation of entitlement efforts such as Comprehensive Plan amendments and rezonings for large master-planned communities, as well as smaller, urban infill projects.
Carter McDowell, MAURP 1979, Land Use & Government Relations Partner at Bilzin Sumberg, served as a panelist at the American Institute of Architects (AIA) Miami membership meeting on Jan. 19 at the Coral Gables Museum titled "Florida's New Growth Management Law: Are We Prepared?" Carter lectures regularly on growth management concurrency, impact fees and exactions, land use and environmental law for the Florida Chamber of Commerce and other organizations.

Howard Nelson, MAURP 1986, partner at Bilzin Sumberg, served as a guest lecturer on Jan. 13 at a continuing legal education course at St. Thomas University titled "Expanding Inverse Condemnation: Condemnation Blight and the Consequences of Environmental Planning." A frequent author and lecturer on environmental law topics, Nelson has more than 16 years of experience in environmental and land use law and more than 20 years of experience in zoning and regional planning.

Brad Tomecek, ARC 1996 & M.Arch 1998, was selected for the 2012 AIA National Young Architect Award. Tomecek co-founded the firm Studio H:T in 2003 with Christopher Herr, M.Arch 1999, in Boulder, Colo.
College of
Design, Construction & Planning
331 Architecture Building
P.O. Box 115701
Gainesville, FL 32611
TEL (352) 392-4836
www.dcp.ufl.edu
perspective@dcp.ufl.edu

Christopher Silver, Dean
Margaret Carr, Associate Dean
Paul D. Zwick, Associate Dean
William Tilson, Assistant Dean

Managing Editor: Julie Frey
Editor: Ginny Lawrimore
Design: Chris Barnett, Tonya Gibbs and Kerry McCollough

DCP Public Relations Committee:
Candy Carmel-Gilfilen, Tina Gurucharri, Ferdinand Lewis, Edward Minchin, Kim Stanley and Bradley Walters