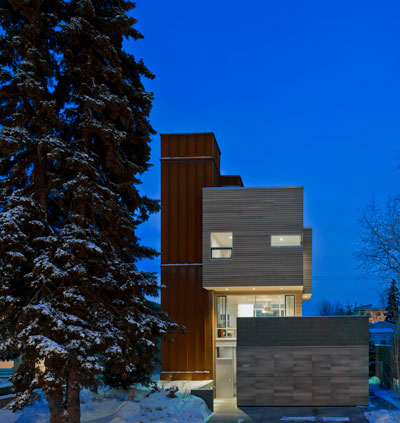 Photo courtesy of Ken Graham Photography
DCP represented from Alaska to Florida
Jeffrey L. Barnes, ARC 1974, and Guy Peterson, M.Arch 1978, adjunct professor for the School of Architecture, are featured in the newly released hardcover book 50 US Architects: Residential & Planning, which highlights the residential and planning work of talented architects practicing throughout the United States.

Barnes Architecture, Inc., (image above) was selected to represent Alaska in the book, and Guy Peterson | Office for Architecture (image below) was selected to represent Florida. Peterson serves as president and principal architect of Guy Peterson | Office for Architecture, Inc., and Barnes is principal architect and president of Barnes Architecture, Inc.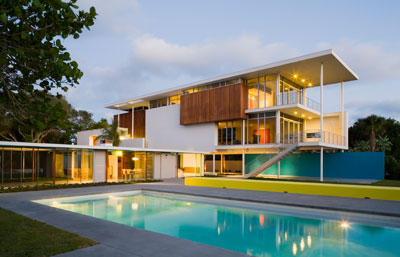 Photo courtesy of Steven Brooke Studios

DCP mourns the loss of F. Blair Reeves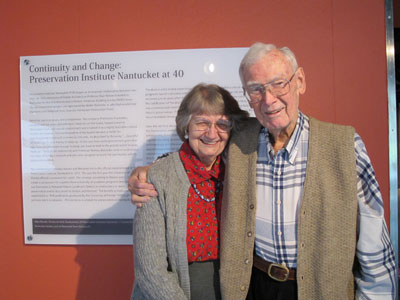 F. Blair Reeves and his wife, Mary Nell Reeves, visit the Preservation Institute: Nantucket 40th anniversary exhibition on Feb. 7.
The College of Design, Construction and Planning is saddened by the loss of F. Blair Reeves, Professor Emeritus of Architecture, who passed away on March 12 at age 89.

Reeves served as a faculty member at UF from 1949 to 1987. A pioneer in the area of architectural preservation, he documented more than 17,000 historic sites through the Historic American Building Survey (HABS). As an architect specializing in education and preservation, Reeves established architectural preservation programs and, with Walter Beinecke, Jr., co-founded the Preservation Institute: Nantucket (PI:N), now in its 40th year. His work at UF and PI:N touched the lives of countless professionals throughout the United States and for his work he received the highest honor awarded for historic preservation, the Louise du Pont Crowninshield Award.

Do you remember F. Blair Reeves or his work? Please e-mail us with your thoughts; we'd love to share your memories.

> Read more

DCP Research Showcase focuses on innovation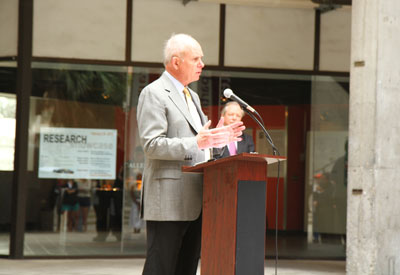 UF President Bernie Machen addresses the audience during the 2012 DCP Research Showcase.
DCP kicked off its 2012 Research Showcase on Feb. 24 with an opening address by UF President Bernie Machen and Dean Christopher Silver to a crowd of visitors gathered in the Architecture Building Atrium.

"You and your college are uniquely positioned, I think, to lead our state, our nation and the globe toward a smarter, more sustainable shape and structure in the 21st century," Machen said. "You have three new labs to arm graduates with knowledge and experience of the most up-to-date technology and the spirit of collaboration and creation, which is so vital in today's world."

As part of the fifth annual showcase, visitors toured the latest classroom innovations at the college, such as the co-Lab, Fab Lab and BIM Lab. The event was also an opportunity for current and prospective students to learn about the research conducted in the college and for DCP professionals to hear new ideas that are driving the field.

> See image galleries and media coverage of the event

> Read The Gainesville Sun story

UF launches online URP master's program
Students interested in urban and regional planning can now earn a master's degree online with a choice of two specializations: Sustainability or Geographic Information Systems. Structured to provide an engaging and creative learning experience, both specializations begin with foundation and core courses before branching off into more advanced courses, providing focused paths of study.

The flexibility of online course delivery allows working planners to pursue a graduate degree without interrupting their current careers while also providing a solid foundation for those entering the field for the first time.

> Learn more

BCN holds Spring 2012 Career Fair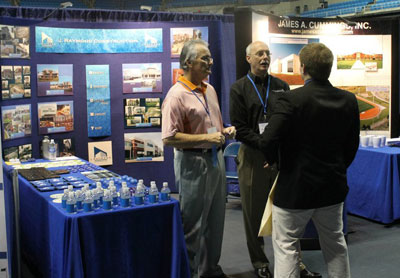 Paul Graham (left), director of business development and recruiting liaison for J. Raymond Construction, and John Sofarelli, BCN 1981, president of J. Raymond Construction, talk to BCN senior Carsen Stefanelli during the Rinker School of Building Construction's Spring 2012 Career Fair on Feb. 28 at the Stephen C. O'Connell Center. The career fair was attended by nearly 50 companies and approximately 230 students and visitors.



Continuing education course
in Rome offered
Learn more about a unique six-day study tour of technologically advanced buildings in Rome.

> For more info

> Course brochure
Meneely wins IND
national award
Jason Meneely, assistant professor of interior design, was honored March 21 for a national award in interior design education. Meneely, who was recognized for "demonstrating innovative approaches to blending technology with freehand drawing, real-time critique, and collaborative team work," won first place nationally in CIDA's Innovation in Interior Design Education Award.

> Read more
Events
Architecture Lecture Series
April 2 at 6:15 p.m.
McCarty C, Room 100
Roney Mateu, Mateu Architecture Incorporated

DCP Commencement
May 5 at 3 p.m.
Phillips Center for Performing Arts

> For more information
Alumni News
M. Kathryn Edwards (Blasser), ARC 2002, M.Arch 2004, was named chair of the Historic Resources Committee of AIA Milwaukee, and is currently an architect at PACE Architects in Milwaukee, Wis.

Matthew Edwards, M.Arch 2004, was elected AIA Milwaukee President for 2012, and is currently an architect at Engberg Anderson, Inc. in Milwaukee, Wis.

John Paul Weesner, LAE 1998, a Ph.D. student in DCP's Department of Landscape Architecture, was recently appointed to the Alachua County Historical Commission, the county agency concerned with heritage and history.
College of
Design, Construction & Planning
331 Architecture Building
P.O. Box 115701
Gainesville, FL 32611
TEL (352) 392-4836
www.dcp.ufl.edu
perspective@dcp.ufl.edu

Christopher Silver, Dean
Margaret Carr, Associate Dean
Paul D. Zwick, Associate Dean
William Tilson, Assistant Dean

Managing Editor: Julie Frey
Editor: Ginny Lawrimore
Design: Chris Barnett, Tonya Gibbs and Kerry McCollough

DCP Public Relations Committee:
Candy Carmel-Gilfilen, Tina Gurucharri, Ferdinand Lewis, Edward Minchin, Kim Stanley and Bradley Walters