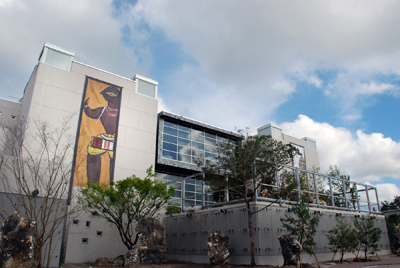 Photo courtesy of the Samuel P. Harn Museum of Art.
Cofrin Asian Art Wing opens at Harn
The Samuel P. Harn Museum of Art at the University of Florida recently opened its 26,000-square-foot Cofrin Asian Art Wing to the public. Many DCP alumni were behind its formation, including: Kha Le-Huu, ARC 1980, M.Arch 1982, architect; Domenic Scorpio, ARC 1994, MSBC 1998, project executive; Brandon Tinckham, BCN 2010, senior project manager; Andrew Greener, BCN 2008, assistant project manager; Rob Edmunds, MSBC 2010; Joshua McInnis, UF 2006, assistant superintendent; Bill Wilkins, BCN 1980, BIM coordinator; and David Wood, ARC 1974, MBC 1977, director of preconstruction services.


2012 Witters competition focuses on
sustainable housing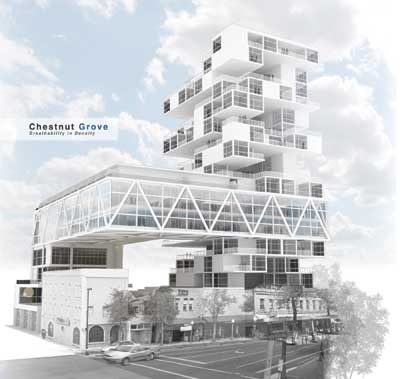 The winning team of the Witters Competition created this design, titled "Chestnut Grove," which aimed to urbanize, activate and enrich public and private life through densification.
The students' mission, should they choose to accept it, was to produce a complete design project in only 24 hours.

The more than 40 students who took part in the 2012 Witters Competition – a design charrette in which student teams compete for a $3,500 prize – did not disappoint. A total of eight teams produced a wide variety of mixed-use, high density, sustainable housing designs for downtown Gainesville.

Teams received the project details at 6 p.m. at the gallery on April 6. From that point on, they had only 24 hours to complete and submit their projects before pinning up their work and presenting to the judges at 6 p.m. the next evening.

> Read more

> View the gallery

Results of AIA "Top 100" contest
The results of the "Top 100" buildings in Florida contest are in!

Congrats to Don Singer, ARC 1960, founder of SingerArchitects! City Park Municipal Garage, which was designed by Singer, won 9th Place overall in the contest and was also the top building in the Public Use category.

A distinctive UF building also made the cut: Baughman Center placed third overall in the "Top 100" buildings in Florida contest.

> Read The Gainesville Sun story

Congrats to all of the winners in the "Top 10" and to all of the DCP alumni behind the buildings nominated for the "Top 100."

Herschel Shepard wins de Avilés Award
Herschel Shepard, Professor Emeritus of Architecture, became the 30th recipient of the prestigious de Avilés Award after the St. Augustine City Commission presented him with the award on March 26.

"The University of Florida College of Design, Construction and Planning is pleased that Professor Emeritus Shepard has been recognized with this prestigious award from the City of St. Augustine," said Marty Hylton, director of the historic preservation program and Preservation Institute: Nantucket. "His research, teaching and work has contributed immensely to preserving many of Florida's and the nation's most significant historical resources."

> Read more

DCP leading the way in sea level rise planning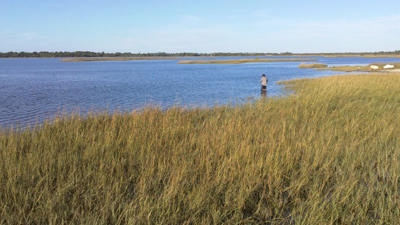 Coast of rural Levy County, Photo courtesy of Kathryn Frank.
The College of Design, Construction and Planning is rapidly becoming a leader in the area of sea level rise and climate change adaptation planning.

DCP faculty are taking the lead in three sea level rise adaptation planning projects that build on existing and previous UF research. The projects received funding from the National Oceanic and Atmospheric Administration (NOAA) through the Florida and Mississippi-Alabama Sea Grant programs.

"With a concentration of five large research grants in sea level rise and climate change planning, the College of Design, Construction and Planning is exceptionally situated to lead the research of adaption planning," said Zhong-Ren Peng, professor of urban and regional planning.

> Read more
Events
DCP Commencement
May 5 at 3 p.m.
Phillips Center for Performing Arts

> For more info

Florida Trust's 34th Annual Preservation Conference
May 17-19
Gainesville, FL

> For more info
Continuing education course
in Rome offered
Learn more about a unique six-day study tour of technologically advanced buildings in Rome.

> For more info

> Course brochure
LAE student wins national scholarship
Viviana Castro, a junior in the Department of Landscape Architecture, has been selected as one of two ASLA Council of Fellows Scholarship recipients for 2012.

> Read more
Carmel-Gilfilen wins national teaching award
Candy Carmel-Gilfilen, assistant professor of interior design and undergraduate coordinator, won the national Interior Design Educator Council's 2012 Teaching Excellence Award.

> Read more
Alumni News
Gresham, Smith and Partners, a leading multi-disciplinary design and consulting firm for the built environment, was honored as one of the top three entries out of 108 entries worldwide in Kaiser Permanente's "Small Hospital, Big Idea" design competition. On the design team were: Michael Compton, IND 2001, M.Arch 2008, project designer; Jim Kolb, ARC 1980, M.Arch 1982, principal designer; and Skip Yauger, M.Arch 1976, project manager.

Lani Terry, MBC 1998, is now a telecommunications project management consultant for the Atlanta-based consulting firm, REM Enterprise Solutions, onsite at AT&T.
College of
Design, Construction & Planning
331 Architecture Building
P.O. Box 115701
Gainesville, FL 32611
TEL (352) 392-4836
www.dcp.ufl.edu
perspective@dcp.ufl.edu

Christopher Silver, Dean
Margaret Carr, Associate Dean
Paul D. Zwick, Associate Dean
William Tilson, Assistant Dean

Managing Editor: Julie Frey
Editor: Ginny Lawrimore
Design: Chris Barnett, Tonya Gibbs and Kerry McCollough

DCP Public Relations Committee:
Candy Carmel-Gilfilen, Tina Gurucharri, Ferdinand Lewis, Edward Minchin, Kim Stanley and Bradley Walters