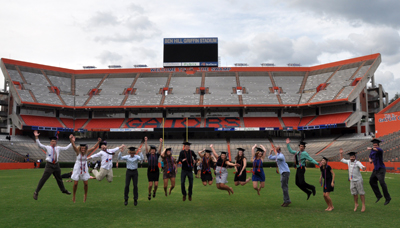 2012 landscape architecture graduates celebrate in Ben Hill Griffin Stadium after commencement.
Nearly 250 graduate from DCP
DCP alumni across The Gator Nation have a new crop of graduates to welcome.
Nearly 250 graduates walked across the stage at the College of Design, Construction and Planning's spring commencement on May 5 at the Phillips Center for the Performing Arts.
"I believe there is no better time than today to be entering the design professions," said Jacinta McCann, executive vice president with AECOM, during the commencement address. McCann is AECOM's Global Leader for the Design + Planning and Economics practice line, in which she directs 1,700 staff throughout the Americas, Europe, Asia, the Middle East and Australia.
McCann was introduced by David Barth, LAE 1978, principal of AECOM, a Fortune 500 global provider of professional technical and management support services to a broad range of markets.

> Read more


Distinguished alumni, friends honored by DCP
During the Spring 2012 semester, the college's schools and departments each held award ceremonies to honor and recognize faculty, students, alumni and friends. Many honors were bestowed, including the distinguished alumni awards listed below:

Martin Gundersen, Jr., Architecture Distinguished Alumnus
Gary Siebein, Architecture Distinguished Alumnus
Jeff Nelson, Building Construction Distinguished Alumnus
Tad Templeton, Landscape Architecture Distinguished Alumnus
Tracy Crowe, Urban and Regional Planning Distinguished Alumnus

> Read more


Continuing education course offered in Rome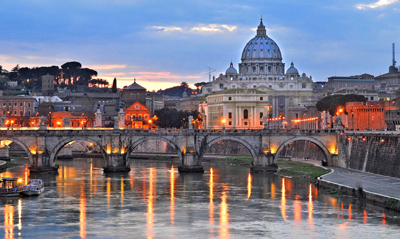 Mark your calendars: A unique six-day study-tour of technologically advanced buildings in Rome will be offered this September.

Through a mix of new projects and renovations, the tour will expose participants not only to new architecture but also to the architectural wealth of historical Rome. The tour's schedule is balanced so that participants have most afternoons free for exploration of the city, and participants will reside at the Radisson Blu es, the most architecturally recognized new hotel in Rome in a century, an important study subject, and home base for the course.


> For more information
> Course brochure




Ann Baker joins DCP as development director
The College of Design, Construction and Planning is pleased to welcome Ann Baker as the new director of development.

Baker joins DCP after serving for the last five years as assistant director of regional development at the University of Florida Foundation's South Florida Regional Office in Miami.
"Being an alumnus of the University of Florida is a great source of pride for me," Baker said. "I love meeting other Gators and hearing their stories about how UF impacted their lives."

> Read more

BCN professor warns about counterfeiting
Edward Minchin, associate professor of building construction, and his UF research team found that substandard items ranging from bolts and fasteners to heavy equipment like scaffolds and cranes are finding their way onto American job sites at an alarming rate. The 2011 report was prepared by a team from the University of Florida working with researchers from Tsinghua University in Beijing.

> Read more
Dr. Edward Minchin, associate professor of building construction, wheels a load of legitimate parts alongside corresponding knock-offs inside Rinker Hall. Photo credit: Eric Zamora/UF Photography
Dad runs from
"Art to Architecture"
Proud dad of recent architecture grad Leslie Wheeler runs to support his daughter's education.

> Read More
URP student first
Thomas J. O'Bryant Fellow
Amy Cavaretta, a graduate student in urban and regional planning, will be the first Thomas J. O'Bryant Fellow with the Eno Center for Transportation.

> Read more
LAE student wins
'People's Choice Award'
Jaime Russ, LAE 2012, received the "People's Choice Award" for the Gulf Coast Green 2012 Student Competition. Gulf Coast Green Symposium seeks to exhibit the work of students and recent graduates in the region, showcasing the latest ideas in sustainable design.
Alumni News
Check out what your fellow alumni are doing. We want to hear from you! Share your news with us for a future issue of Perspective Online.

Process Architecture, LLC, received an Award of Honor in Unbuilt Design for the Mills 50 Bus Stop Shelter Prototype at the AIA Orlando annual Awards for Design Excellence Gala. Accompanying Wes Featherston, M.Arch 2004, and James Cornetet of Process Architecture were Commissioner Patty Sheehan, District 4 and Joanne Grant, Director of the Mills 50 Main Street District. The Mills 50 Bus Stop Shelter Prototype was one of only four projects out of more than 50 submitted to receive an Award of Honor for Excellence in Design. Jury Members included, Robert MacLeod, ARC 1982, director of the University of South Florida School of Architecture and Community Design, Guy W. Peterson, M.Arch 1978, of Guy Peterson Office for Architecture, and Kirsten R. Murray, of Olson Kundig Architects in Seattle.

Patrick Suermann, Ph.D. 2009, is nearing the end of his tour as the 821 Support Squadron (SPTS) Commander at Thule Air Base, Greenland, which supports 500 military, Department of Defense civilians, and contractors stationed at Thule AB. This summer, Suermann is returning to be the Construction Division Chair of the Air Force Academy's Department of Civil and Environmental Engineering, where he will teach architectural design, construction project management and building information modeling.

"I want to express my sincere gratitude to the University of Florida, the Rinker Scholar program, and the faculty and staff of the College of Design, Construction and Planning for giving me so many opportunities!" Suermann said. "Thank you and go Gators!"
College of
Design, Construction & Planning
331 Architecture Building
P.O. Box 115701
Gainesville, FL 32611
TEL (352) 392-4836
www.dcp.ufl.edu
perspective@dcp.ufl.edu

Christopher Silver, Dean
Margaret Carr, Associate Dean
Paul D. Zwick, Associate Dean
William Tilson, Assistant Dean
Ann Baker, Director of Development

Managing Editor: Julie Frey
Editor: Ginny Lawrimore
Design: Chris Barnett and Tonya Gibbs

DCP Public Relations Committee:
Candy Carmel-Gilfilen, Tina Gurucharri, Ferdinand Lewis, Edward Minchin, Kim Stanley and Bradley Walters