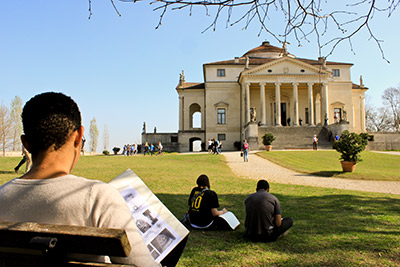 Architecture students studying abroad in Italy this spring visited the building above titled Villa Rotonda by Andrea Palladio. According to the Metropolitan Museum of Art, the house in Vicenza, in the Veneto region of Italy, is an emblematic building for architects, as it "demonstrates Palladio's mastery in crystallizing classical ideals of geometric form, absolute symmetry and harmonic proportion in plain, dignified designs." (Photo by Luis Sanchez, ARC 2012)

DCP and friends remember F. Blair Reeves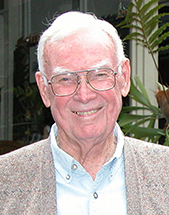 The College of Design, Construction and Planning was humbled by the outpouring of response from alumni and friends sharing memories of F. Blair Reeves, Professor Emeritus of Architecture, who passed away in March.
"Blair will be missed by his family and many friends and especially his wife, Mary Nell, who was as much a part of UF's historic preservation activities as Blair was," said Dean Christopher Silver. "Reeves' legacy lives on, not only in a vibrant summer institute on Nantucket, but also in a Master of Historic Preservation program at UF that continues to populate the profession."
"Professor Emeritus Reeves helped forge the modern discipline of historic preservation and educate a generation of professionals," said Marty Hylton, director of the DCP Historic Preservation Program and Preservation Institute: Nantucket. "It is our sincere hope that the historic preservation program continues his legacy of innovation and quality education."
Please visit the memorial page below to see how closely he touched the lives of so many alumni and friends.

> Tributes to Blair Reeves

Do you remember Blair Reeves or his work? Please e-mail us with your thoughts; we'd love to share more of your memories.

DCP students redesign location of Burrito Brothers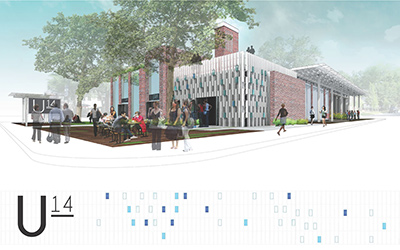 Nine teams of University of Florida architecture students and recent graduates took part in a design competition last month in which they got a chance to redesign an area known to just about everyone in the UF community: the building where Burrito Brothers is currently located.
For anyone unfamiliar with it, Burrito Brothers is a longtime campus tradition – alumni even have their burritos shipped to them all over the country.
Burrito Brothers is currently a tenant in the building that houses the Presbyterian and Disciples of Christ Student Center, located at 1402 W. University Ave., which is no longer in use by the church. Local development company SC Ventures I LLC is planning to extensively renovate and expand the existing building into a socially vibrant retail center.
That's where UF architecture students come in, said David Selznick, BABA 1999, JD 2003, MS 2003, partner at SC Ventures.

DCP holds 24th Annual Dean's Reception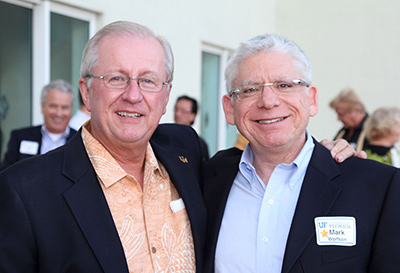 Jeff Falkanger, president of Falkanger, Snyder, Martineau & Yates, (left) with Mark Wolfson, partner at Wolfson & Associates, P.A. The 24th Annual Dean's Reception was held on May 10 at the Riverside Hotel in Ft. Lauderdale.
PI:N celebrates
40th anniversary on Nantucket
The year 2012 marks the 40th anniversary of Preservation Institute: Nantucket. Please join us July 27-28 on Nantucket to celebrate this momentous occasion. Click here for more information, and please RSVP for any events you plan to attend.
Historic Preservation receives grant for mortar research
DCP's Historic Preservation Program has received a $12,500 grant from the National Center for Preservation Technology and Training to support research on replacement mortars for historic buildings.

> Read more
ARC students win
design award
Three DCP architecture students have been announced as winners of the 2012 Gresham Smith and Partners Student Design Award sponsored by Gresham Smith and Partners, in Tampa, Fla.

This year's winners are: Chad Horton for "Electric Park," first place ($500); Aaron DeMayo for "Manatee School," co-runner up ($250); and Jenna Lychako for "Blocks," co-runner up ($250).
Alumni News
Have some news to share with fellow alumni? We want to hear from you! Share your news with us for a future issue of Perspective Online.
College of
Design, Construction & Planning
331 Architecture Building
P.O. Box 115701
Gainesville, FL 32611
TEL (352) 392-4836
www.dcp.ufl.edu
perspective@dcp.ufl.edu

Christopher Silver, Dean
Margaret Carr, Associate Dean
Paul D. Zwick, Associate Dean
William Tilson, Assistant Dean
Ann Baker, Director of Development

Managing Editor: Julie Frey
Editor: Ginny Lawrimore
Design: Chris Barnett, Tonya Gibbs and Kat Harlan

DCP Public Relations Committee:
Candy Carmel-Gilfilen, Tina Gurucharri, Ferdinand Lewis, Edward Minchin, Kim Stanley and Bradley Walters