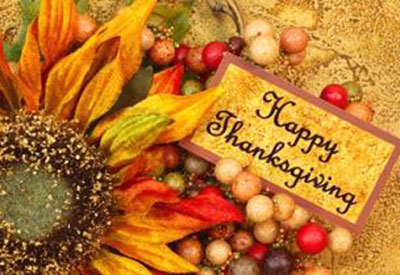 Happy Thanksgiving to you and your family from the UF College of Design, Construction and Planning!
During this Thanksgiving season, we would like to thank you for your support throughout the years and all you have done to help make DCP one of the premier design, construction and planning colleges in the country.
In addition, we gratefully acknowledge our donors, whose gifts continue to have a measurable impact on our students, faculty and programs:
DCP would also like to thank those whose support continues to make a difference in our college, including those who volunteer their time to serve on our advisory boards.

Lasting Legacy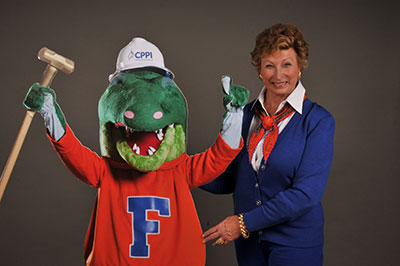 UF Today features Nancy Perry and her dedication to honor her husband Chuck Perry's, BBC 1960, lasting legacy of giving at the University of Florida.

MLA students work with Palatka community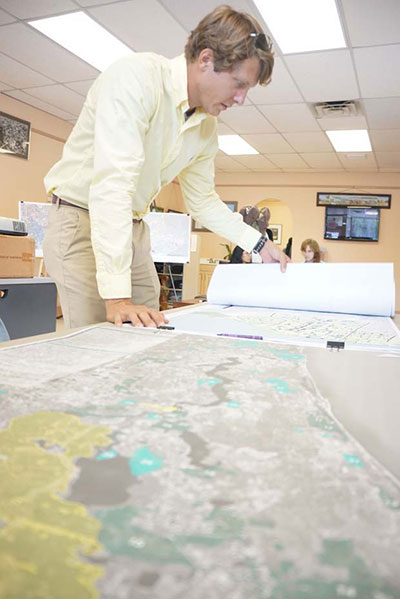 City of Palatka's manager Jonathan Griffith, BLA 2009, reviews the MLA studio 'homework,' summary of field research, during the first community workshop with downtown Palatka's Retail Association.
The MLA Studio, under the guidance of Dr. Mary G. Padua, landscape architecture associate professor, has been working with the Palatka community (two workshops to date) to develop a Community Greenprint, establishing a landscape strategy for revitalizing downtown that enhances Palatka's identity along the St. John's River.

BSSBE program introduces field trip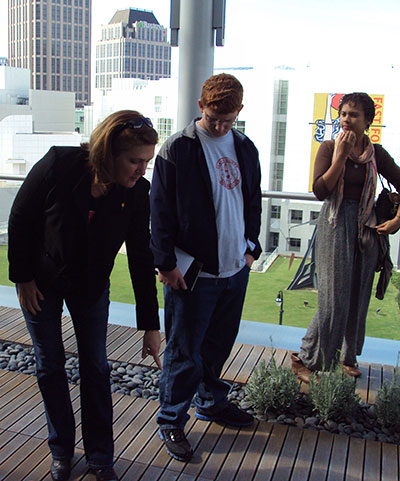 Paula Vaughan, lead corporate sustainability officer for Perkins+Will, one of the world's largest design firms, explains the draining system installed in their LEED Platinum Atlanta headquarters' terrace to BSSBE students Michael Stafford and Kaydrianne Young.
This past October, Peggy Carr, associate dean, and Maruja Torres, IND associate professor and BSSBE affiliate faculty, took 28 students enrolled in Sustainable Solutions in the Built Environment on a tour of sustainable communities in Georgia.
Won an award?
Have you won an award for one of your projects? Email us a photo of the project, along with the project and award details. In January, we will be featuring award-winning alumni projects. Send your photos and details to Katelyn Oropeza.
> View last year's awards gallery
Events
Save the date!
DCP Research Showcase
Friday, Feb. 1
BCN Construction
Hall of Fame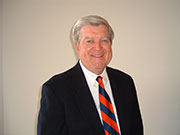 On Nov. 10, Robert P. Angle, BBC 1967, was inducted into the M.E. Rinker, Sr. School of Building Construction Hall of Fame.
After 10 years of significant work experience, Bob Angle and Jerry Schmid formed the firm Angle & Schmid, Inc. For 35 years, Angle served as President of the firm and guided the business as a well-respected member of the construction industry. The firm provides commercial general contracting services in the West Central Florida area with more than 400 completed projects for owners such as the U.S. Department of the Navy, U.S. Air Force, Stetson University and State of Florida school boards.
The Rinker School established the Construction Hall of Fame Award in 1980 to recognize the accomplishments of those distinguished leaders who have made a difference in our industry, the community and the University of Florida throughout their careers in construction. The inductees' names will be displayed on the "Hall of Fame Wall" of the School.
Alumni News
Have some news to share with fellow alumni? We want to hear from you! Share your news with us for a future issue of Perspective Online.
Javier Castano, BBC 2006, has recently relocated to the U.S. Embassy in Hanoi, Vietnam, from the U.S. Embassy in Kabul, Afghanistan, where he is working as a Foreign Service Officer specializing in contracts and cooperative agreements for development programs. This assignment will last through 2014 with an onward posting yet to be determined.
College of
Design, Construction & Planning
331 Architecture Building
P.O. Box 115701
Gainesville, FL 32611
TEL (352) 392-4836
www.dcp.ufl.edu
perspective@dcp.ufl.edu

Christopher Silver, Dean
Margaret Carr, Associate Dean
William Tilson, Assistant Dean
Ann Baker, Director of Development

Managing Editor: Julie Frey
Editor: Katelyn Oropeza
Design: Chris Barnett, Tonya Gibbs and Kat Harlan

DCP Public Relations Committee:
Candy Carmel-Gilfilen, Tina Gurucharri, Ferdinand Lewis,
Edward Minchin, Kim Stanley,
Bradley Walters and Ann Baker