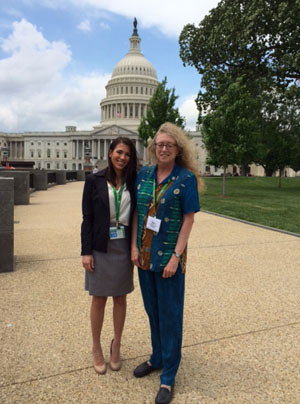 Laura Snider, BLA 2014, and Kay Williams, LAE associate professor,
pictured in front of Capitol Hill.
Advocacy day in Washington, D.C.
Each year, professional and student members of the ASLA join together in Washington, D.C. to raise awareness for the profession of landscape architecture as well as advocate for current legislation affecting the industry. This year, Laura Snider, BLA 2014, served as a student advocate and demonstrated the positive effects of landscape architecture through her own academic projects. Snider worked with other members of FLASLA, which included LAE associate professor Kay Williams, allied professionals throughout the state, and another student advocate from Florida International University.
All the advocacy members were given pieces of legislation that are currently being reviewed by the United States Congress. This year focused on transportation issues and how landscape architecture practices can provide beneficial alternatives and solutions to growing economic, social and environmental problems. Advocates met with staff as well as the senators and representatives of their own state and district, thereby making their experiences and issues more meaningful to the causes presented in the legislation. The varied backgrounds of all the advocates gave a sense to the legislators of how broad the landscape architecture profession can span and the benefits that education can bring to proposed policies.
Brooks + Scarpa Receives National Design Award for Architecture
Angela Brooks, BDes 1987, and Lawrence Scarpa, BDes 1981 and MArch 1987, of Brooks + Scarpa were recently selected as the recipients of the 2014 Smithsonian Cooper-Hewitt National Design Museum award in architecture for their high level of excellence, innovation and public impact of their body of work. The national design award recognizes excellence and innovation across a variety of disciplines.
First launched at the White House in 2000 as a project of the White House Millennium Council, the National Design Awards were established to promote design as a vital humanistic tool in shaping the world. The awards are accompanied each year by a variety of public education programs, including special events, panel discussions and workshops.


Kroll designated Fellow of the ASLA
Mike Kroll, BLA 1986 and UFLA Distinguished 2013 Alumni, was recently designated Fellow of the ASLA. This fellowship is among the highest honors the ASLA bestows on members and recognizes the contributions of these individuals to their profession and society at large based on their works, leadership and management, knowledge and service.
The designation of Fellow is conferred on individuals in recognition of exceptional accomplishments over a sustained period of time. Individuals considered for this distinction must be full members of ASLA in good standing for at least ten years and must be recommended to the Council of Fellows by the Executive Committee of their local chapter, the Executive Committee of ASLA or the Executive Committee of the Council of Fellows.
AIA Florida's People
Choice Award 2014
AIA Florida is running a People's Choice Contest leading up to this summer's conference. Congratulations to the many DCP alumni who have made the list. Vote for your favorite Florida building here.
If you're on the list, please let us know by emailing us at perspective@dcp.ufl.edu.
Meneely featured in Dean & Provost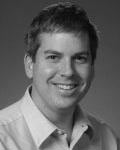 "At UF many faculty members want to teach in different ways," says Jason Meneely, IND associate professor, in a recent article published in Dean & Provost. In the article, Meneely discusses creating spaces that allow faculty members to teach in spaces that enable flexibility, outside of lecture halls and support learning goals.
Alumni News
Laurie Sheldon, BLA 2007, received the Green Palmetto Award for Service from the Florida Native Plant Society at its annual conference in May 2014.
Paula Reeves, MAURP 1995, is the President-Elect of the Washington Chapter of APA. Read the announcement.
Have some news to share with fellow alumni? We want to hear from you! Share your news with us for a future issue of Perspective Online.
College of
Design, Construction & Planning
331 Architecture Building
P.O. Box 115701
Gainesville, FL 32611
TEL (352) 392-4836
www.dcp.ufl.edu
perspective@dcp.ufl.edu

Christopher Silver, Dean
Margaret Carr, Associate Dean
William Tilson, Assistant Dean
Ann Baker, Director of Development

Managing Editor: Julie Frey
Editor: Katelyn Oropeza
Design: Chris Barnett, and Tonya Gibbs

DCP Public Relations Committee:
Candy Carmel-Gilfilen,
Tina Gurucharri,
Edward Minchin, Kim Stanley,
Bradley Walters and Ann Baker