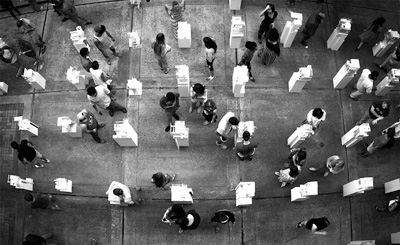 Design 3 students gather in the Architecture Building atrium with their Door/Window/Stair models, displaying their own projects and examining work done by classmates. This annual congregation is a chance for students to design parts of a structure without dealing with the complexity of designing a complete building.
> View this year's project image gallery

Department of URP ranked top in the country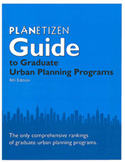 The Department of Urban and Regional Planning has been named one of the best graduate urban planning programs in the country by the Planetizen Guide to Graduate Planning Programs. The program is ranked 14th overall (up three spots) and third in the southeast. The ranking news was announced as the department was celebrating its 40th anniversary.
> Read the feature article in the Alligator


2015 College Career Fairs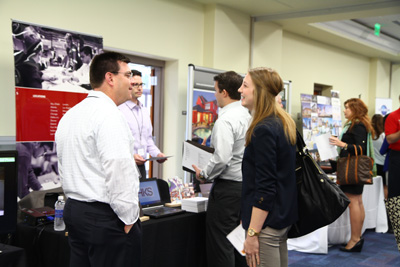 DCP Career Fair
Saturday, January 31
Looking to hire interns and entry-level professionals? DCP's career fair provides the opportunity to meet and interview students in the following disciplines: Architecture, Historic Preservation, Interior Design, Landscape Architecture and Urban and Regional Planning.


> Register here
> For more information

Rinker School Career Fair
Tuesday, February 10
Hiring construction managers? Mark your calendar to participate in the Rinker School of Construction Management's Spring Career Fair.
More information will be posted on the Rinker School Career Fair website in the coming weeks.
Thank you for celebrating with us!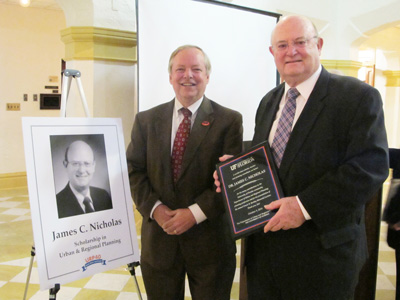 Pictured: Professor Emeritus Jim Nicholas and Dean Christopher Silver at URP40. Nicholas was this year's speaker at the Ernest R. Bartley Memorial Lecture.
Thank you to everyone who helped make URP40 a huge success, including all of our alumni and friends who joined us for the symposium and reunion weekend. Also, we'd like to especially say thanks to our event sponsors including, Bilzin Sumberg (Title Sponsor), Bell David Planning Group and The San Felasco Section of APA Florida. Additionally, thank you to AICP's Certification Maintenance Program for their support and providing CEU credits.
> View images from the Bartley lecture and symposium
> View images from the BBQ and tailgate
UIA 2014 World Congress Durban South Africa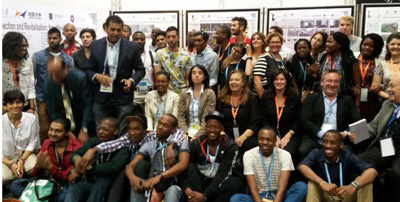 Pictured: Clark and Kohen visited the Durban University of Technology buildings, met with the new director and professors, and explored future cooperative collaborations.
SoA professors, Nancy Clark and Martha Kohen, attended the International Union of Architects UIA XXV World Congress Edition that was held Aug. 3 - 8 in the city of Durban in South Africa. The Congress was attended by more than 5000 delegates from around the world who presented, discussed and exhibited their ideas on the theme, "Architecture Otherwhere: Resilience, Ecology, Values."
Upcoming Events
BCN Atlanta Golf Tournament
Nov. 4
River Hills Country Club

HP National Trust Conference Reception
Nov. 13
Savannah, GA

Grand Guard Weekend
Nov. 20 – 22
University of Florida

International Education Week Exhibit
Nov. 17 – 21
Gallery in the Architecture Building

2015 DCP Career Fair
Saturday, Jan. 31
University of Florida

The Rinker School Spring Career Fair
Feb. 10
University of Florida

Save the date!
Edward D. Stone, Jr. Lecture Series
Feb. 20
University of Florida

DCP Spring Commencement
May 2
University of Florida

27th Annual Dean's Reception
May 7
Ft. Lauderdale, Fla.
Won an award?
Have you won an award for one of your projects? Email us a photo of the project, along with the project and award details. In January, we will be featuring award-winning alumni projects. Send your photos and details to Katelyn Weber.
> View last year's alumni awards
Alumni News
David W. Crawley, BLA 1995, is a Principal Landscape Architect for URS Corporation in Tampa. Since 2007, Crawley has served on the Board of Trustees for Keep Tampa Bay Beautiful. Recently, Crawley prepared the master plan and landscape plan for the Florida Learning Garden, a partnership between Keep Tampa Bay Beautiful and the Florida State Fair Authority. In October 2013, the Humana Communities Benefit Charitable Giving Program awarded a one-time $100,000 Signature Grant to Keep Tampa Bay Beautiful for the Florida Learning Garden project and educational programs. This award will enable the completion of the educational pavilion at the Florida Learning Garden.
RS&H's design of a pediatric room led by Michael Compton, MArch 2008, was selected as a top three finalist for the 2104 Family Centered Cancer Care Design Competition, sponsored by the Institute for Patient-Centered Design, Inc. Read more.
Have some news to share with fellow alumni? We want to hear from you! Share your news with us for a future issue of Perspective.
College of
Design, Construction & Planning
331 Architecture Building
P.O. Box 115701
Gainesville, FL 32611
TEL (352) 392-4836
www.dcp.ufl.edu
perspective@dcp.ufl.edu

Christopher Silver, Dean
Margaret Carr, Associate Dean
William Tilson, Assistant Dean
Andrew Wehle, Assistant Dean
Ann Baker, Director of Development

Managing Editor: Julie Frey
Editor: Katelyn Weber
Design: Chris Barnett, and Tonya Gibbs

DCP Public Relations Committee:
Candy Carmel-Gilfilen,
Tina Gurucharri,
Edward Minchin, Kim Stanley,
Bradley Walters and Ann Baker