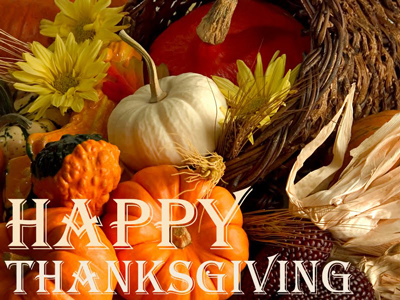 Happy Thanksgiving to you and your family from the UF College of Design, Construction and Planning!
During this Thanksgiving season, we would like to thank you for your support throughout the years and all you have done to help make DCP one of the premier design, construction and planning colleges in the country.
In addition, we gratefully acknowledge our donors, whose gifts continue to have a measurable impact on our students, faculty and programs:
DCP would also like to thank those whose support continues to make a difference in our college, including those who volunteer their time to serve on our advisory boards.
Construction Hall of Fame 2014 Inductees
| | | |
| --- | --- | --- |
| | | |
| Tom Miller | Harley Miller | Karl Watson, Sr. |

On Oct. 18, the M.E. Rinker, Sr. School of Construction Management inducted Tom Miller, Harley Miller and Karl Watson, Sr. into the Construction Hall of Fame.
Brothers, Tom Miller, BCN 1965, and Harley Miller, BCN 1969, established Miller Construction Company in 1973 in Fort Lauderdale, Florida. They have completed nearly 500 projects for private clients in the industrial, commercial, healthcare, education, manufacturing, multifamily, hospitality and mission critical sectors throughout South Florida. Today, Miller Construction is one of South Florida's most prestigious supporters of non-profit, community-focused organizations. The Miller brothers have served proudly as Advisory Council Members of the Rinker School. They continue their support and engagement with the school and college through their sponsorship of the Dean's reception in Broward County and recruiting at the school's career fairs. Miller Construction Company currently employs 11 UF graduates.
Karl Watson, Sr. was the President of Rinker Materials Corporation when the Rinker School was named in honor of Marshall E. "Doc" Rinker, and he was the founding chairman of the Executive Committee of the Advisory Council for the Rinker School. Watson retired in 2006 as the president and chief operating officer of Rinker Group Inc., a NYSE-listed company. Within the construction materials industry, Watson has served as chairman of Florida Concrete & Products Association and served as a board member of both the National Ready Mix Concrete Association and the Florida Transportation Builders Association.
The Rinker School established the Construction Hall of Fame Award in 1980 to recognize the accomplishments of those distinguished leaders who have made a difference in our industry, the community and UF throughout their careers in construction. The inductees' names will be displayed on the "Hall of Fame Wall" at the school.
DCP Career Fair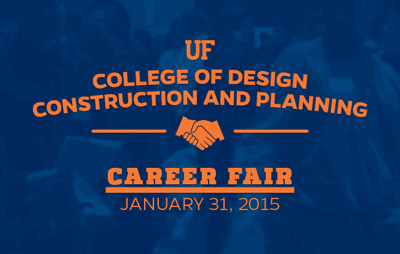 Saturday, January 31
Are you an employer looking to hire interns and entry-level professionals? Join us at our second annual DCP Career Fair on Saturday, Jan. 31. Our college career fair provides the opportunity to meet and interview students as well as connect with the university, college and other industry professionals from around the country.


Thank you to our Master Sponsor!


HP Program presents the Beinecke-Reeves Award
This year's recipient of the Beinecke-Reeves Award for Historic Preservation is the Nantucket Preservation Trust. The Nantucket Preservation Trust is a nonprofit, membership-based organization formed in 1997 with a focus on the preservation of Nantucket's historic architecture. The award was presented at the University of Florida and Florida Trust for Historic Preservation's cocktail reception held during the 2014 National Trust for Historic Preservation Annual Conference in Savannah, Georgia.
UF names new President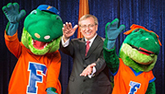 Dr. Kent Fuchs, provost of Cornell University, was named the 12th president of the University of Florida by the UF Board of Trustees. Fuchs is scheduled to begin his new appointment on Jan. 1, 2015. Fuchs brings 20 years of leadership at member institutions of the Association of American Universities, including the University of Illinois at Urbana-Champaign and Purdue University. He has served for the past 12 years as a dean and then provost at Cornell.
IND and Plum Creek collaborate on teaching/research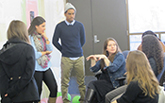 Since more than 90% of older adults seek to age in place in traditional neighborhoods, Dr. Nichole Campbell, IND assistant professor, conducted a study with the goal of helping them do just that. In collaboration with Plum Creek, a national timber and development company, Campbell's research investigated how to better design mainstream neighborhoods and in particular, their social centers (areas with pubs, restaurants and retail shops) to better support older adults' physical and social needs.
Rather than concluding the project after the study was completed, Campbell brought her research into the classroom. This fall, Campbell's junior interior design studio was tasked to conceptualize how these lively social cores might be designed, based on this new study's findings.
Won an award?
Have you won an award for one of your projects? Email us a photo of the project, along with the project and award details. In January, we will be featuring award-winning alumni projects. Send your photos and details to Katelyn Weber.
> View last year's alumni awards
Construction Hall of Fame recipients unveil new name for the Rinker School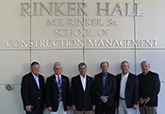 Construction Hall of Fame current and past inductees unveil the new name for the Rinker School of Construction Management. Pictured left to right are Construction Hall of Fame members: Karl Watson, Sr. (2014), Harley Miller (2014), Tom Miller (2014), Steve Palmer (2009), Chip Reid (2005) and Bob Angle (2012).

Alumni News
Jeffrey Huber, MArch 2004, joined the faculty at FAU SOA after nine years at the University of Arkansas Community Design Center.
Have some news to share with fellow alumni? We want to hear from you! Share your news with us for a future issue of Perspective.
College of
Design, Construction & Planning
331 Architecture Building
P.O. Box 115701
Gainesville, FL 32611
TEL (352) 392-4836
www.dcp.ufl.edu
perspective@dcp.ufl.edu

Christopher Silver, Dean
Margaret Carr, Associate Dean
William Tilson, Assistant Dean
Andrew Wehle, Assistant Dean
Ann Baker, Director of Development

Managing Editor: Julie Frey
Editor: Katelyn Weber
Design: Chris Barnett, and Tonya Gibbs

DCP Public Relations Committee:
Candy Carmel-Gilfilen,
Tina Gurucharri,
Edward Minchin, Kim Stanley,
Bradley Walters and Ann Baker