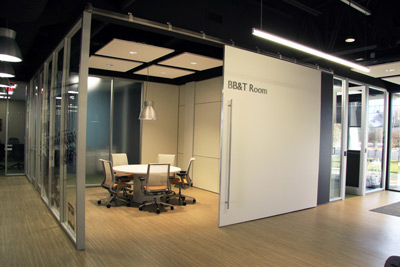 DCP Alumni Awards
This year proved to be successful for DCP alumni and supporters. View the award gallery to see examples of award-winning projects from the past year.
Pictured above: A project team for the Jacksonville Chamber of Commerce won a 2014 Associated Builders and Contractors Excellence in Construction Award. The project is also on track to receive LEED® Certification. This project is part of the concerted effort to reinvigorate downtown Jacksonville. The prominent position at the base of the Main Street Bridge allows this site to function as "downtown's new front door."
The project team included James Blythe, BDes 2002, MArch 2004, Jason Fisher, BDes 2001, MArch 2004, Marquis Halback, BLAE 2008, Steve Auld, BCN 1977, and Andrew Ade, BSCE 1999.
> Won an award recently? Email us your award-winning project.
Interdisciplinary UF team selected for AIA Research Consortium
An interdisciplinary team of faculty from the College of DCP and College of Public Health and Health Professions has been selected by the American Institute of Architects (AIA) to be a part of the first AIA Design & Health Research Consortium. The consortium will help fund basic research on how design affects public health through collaboration with local and national partnerships. The collaborative UF team will develop building performance metrics and measuring instruments for assessing health risks and benefits of occupants of residential buildings and environments, specifically targeting key health conditions associated with aging populations. The team is one of 11 teams that are charter members and is planning on holding a state and regional forum that will provide the opportunities for more collaboration among UF, industries and public health agencies.
The UF team consists of: Sherry Ahrentzen of the Shimberg Center for Housing Studies; Ruth Steiner of Department of Urban and Regional Planning; Ron Shorr of Department of Epidemiology and of the GREC Center of the Malcom Randall VA Medical Center; Jason Alread of the School of Architecture; Robert Ries of the Rinker School of Construction Management; Nichole Campbell of the Department of Interior Design; and Ferdinand Lewis of the School of Landscape Architecture and Planning.
Interested alumni and faculty should contact Dr. Sherry Ahrentzen at ahrentzen@ufl.edu for more information.
IND ProDay 2014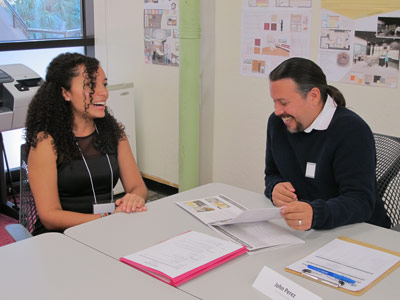 For interior design students, ProDay 2014 offered a unique opportunity to network with industry professionals. The event, held in December, drew interior designers from across Florida and throughout the Southeast to DCP to participate in a one-day event to enrich student learning and development. The event included networking opportunities, mock interviews, workshops and a panel discussion.

We're looking forward to our Career Fair!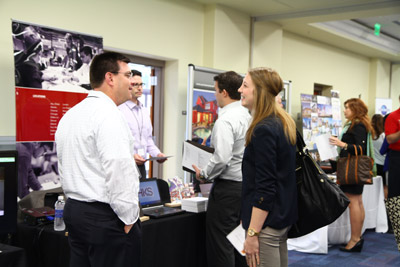 We are thrilled to announce that our Second Annual DCP Career Fair on Jan. 31 is anticipating more than 230+ students in attendance and we are at full capacity, as every vendor table spot is filled. We're looking forward to seeing those of you who will be joining us. Stay tuned for a recap and photo gallery of the event in next month's issue of the Perspective.
It's not too late to register for the Rinker School Career Fair on Feb. 10. Learn more
Upcoming Events
BCN Spring Career Fair
Feb. 10

Edward D. Stone, Jr. Lecture Series
Join us Friday, Feb. 20 to honor Edward D. Stone, Jr., who was a colleague, mentor, partner, and adviser.
> Register
> For more information

SoA Lecture Series
Feb. 11
Feb. 23
Feb. 25
March 13
March 23

DCP Spring Commencement
Saturday, May 2 at 3 p.m.
Phillips Center for the Performing Arts

Rinker School of Construction Management 80th Anniversary Celebration
More details and information coming soon!

BCN Grad Shares Success Story
Alex Skobel, BCN 2005, graduated at a time when things in the industry weren't at its best. He moved to Orlando to start a career working at a national homebuilder, but a year and a half later was laid off. Instead of looking for a new job, he decided to make one for himself. He came back to Gainesville and founded Skobel Homes.
Alumni News
Carl Abbot, MArch 1959, named Distinguished Architectural Alumnus in 1990, and recently taught as a visiting professor in the graduate program at SoA, has just published the book "IN/FORMED by the LAND: The Architecture of Carl Abbott." Abbott is a member of the "Sarasota School of Architecture" and his firm is one of the most highly awarded in the Florida / Caribbean region, as it holds the record for the highest number of "Test of Time" Awards given.
Jeffrey Huber, MArch 2004, received the following awards: 2014 American Architecture Award, 2014 American Society of Landscape Architects Award, 2014 National AIA Honor Award for Regional and Urban Design and an Honorable Mention in the 61st Progressive Architecture Awards for interdisciplinary work developed at the University of Arkansas Community Design Center.
Have some news to share with fellow alumni? We want to hear from you! Share your news with us for a future issue of Perspective Online.
College of
Design, Construction & Planning
331 Architecture Building
P.O. Box 115701
Gainesville, FL 32611
TEL (352) 392-4836
www.dcp.ufl.edu
perspective@dcp.ufl.edu

Christopher Silver, Dean
Margaret Carr, Associate Dean
William Tilson, Assistant Dean
Andrew Wehle, Assistant Dean
Ann Baker, Director of Development

Managing Editor: Julie Frey
Editor: Katelyn Weber
Design: Chris Barnett, and Tonya Gibbs

DCP Public Relations Committee:
Candy Carmel-Gilfilen,
Tina Gurucharri,
Edward Minchin, Kim Stanley,
Bradley Walters and Ann Baker