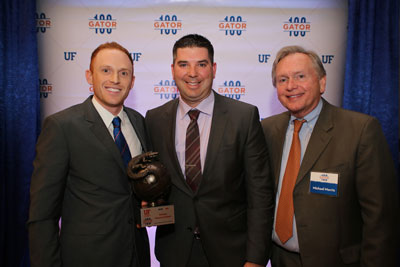 Kitchen Resource Direct ranked number 4 in the Gator100.
Fourteen DCP alumni named to inaugural Gator100 list
Fourteen UF College of Design, Construction and Planning alumni were recognized in February as one of the Gator100, the top 100 Gator-owned or Gator-led fastest-growing businesses around the world. Out of the 16 colleges at UF, 15 were represented and DCP was third on the list for the most alumni to be named Gator100.
Congratulations to the following alumni who were named Gator100: Chris Larsen, BDes 2004, Joseph Walker, BBC 1996 and MArch 1998, Don Ginsburg, BBC 1992, Michael Klimas, BBC 1981, Thomas Vianilos, BBC 1981, William Hassel, BBC 1999, Jonathan Antevy, BDes 1993 and MSBC 1994, Daniel Whiteman, BBC 1969, MSBC 1992, PHD 2002, Michael Kaufman, BBC 1981, Ray Dickert, BBC 2007, Bertin Karpinski, BDes 1987 and MSBC 1988, Carlina Womeldorph, MSBC 1996, David Grabosky, BBC 1984, and Louie Wise, BBC 1994.
> View the DCP Gator100 rankings
> For more information on Gator100
Employers seek students at DCP Career Fairs
The College of DCP and the Rinker School of Construction Management recently held their career fairs. Both events proved to be a huge success! Thank you to those of you who participated in either of the events.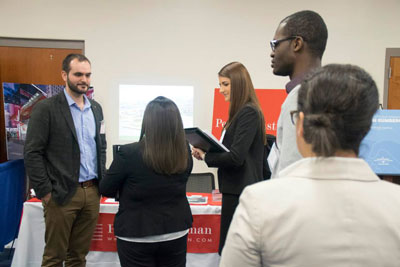 We were thrilled to welcome back several alumni including Ali Atabey, BDes 2011 and MArch 2013, of Perkins Eastman.
DCP Career Fair brings alums back to campus
Employers attending DCP's second annual Career Fair were impressed with the quality of students and are now interviewing several candidates for internships and positions within their firms. Some of the firm representatives were hired at last year's career fair, and this year, they were sitting on the other side of the table, recruiting for their firm.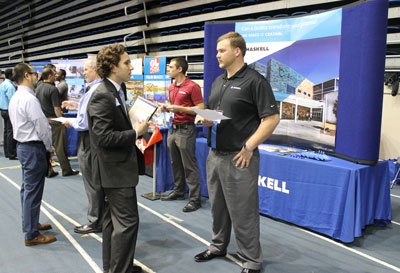 Pictured above: Alden Slemkewicz, BBC 2013, of Haskell talks with Austin Anderson, BCN junior student.
Rinker School Career Fair continues to be a success
On Feb. 10, the Rinker School held its 32nd Career Fair, attracting more than 100 employers to the O'Connell Center. Employers traveled from across the country to hire Rinker School students and graduates for internships and full-time positions. The Career Fair was a great way for the school to kick off its 80th anniversary.

DCP collaborative team places 3rd in national competition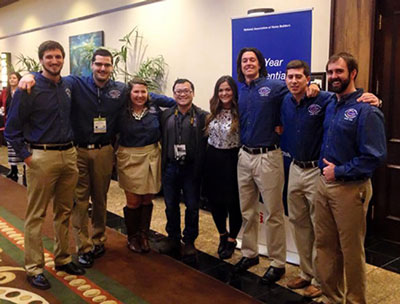 The UF NAHB Student Chapter won third place in the Four-Year College category of the National Association of Home Builders (NAHB) Residential Construction Management Competition (RCMC) held at the 2015 NAHB International Builders' Show in Las Vegas in January. More than 50 teams representing universities, community colleges, high schools and career technical schools across the U.S. participated in the annual competition.
The team was led by construction management faculty coaches Dr. Richard Smailes and Dr. Svetlana Olbina and included students from construction management, architecture and interior design.
Upcoming Events
Rinker School 80th Anniversary Luncheon
March 11
Tampa, Fla. at Jackson's Bistro

SoA Lecture Series
March 13
March 23

Rinker School 80th Anniversary Luncheon
March 18
Jacksonville, Fla. at Haskell Dining Room

Grad Program Open House
March 20

New Student Showcase
March 21

Rinker School 80th Anniversary Luncheon
March 25
Atlanta, GA at Buckhead Club Inc.

Orange & Blue Tailgate
April 12

BCN Tampa Golf Tournament
April 16
> View flyer

BCN Orlando Golf Tournament
April 23

DCP Spring Commencement
Saturday, May 2 at 3 p.m.
Phillips Center for the Performing Arts

Rinker School 80th Anniversary Luncheon
May 6
Miami/Ft. Lauderdale at YOLO

Rinker School 80th Anniversary Luncheon
May 8
West Palm Beach, Fla. at Bear Lakes Country Club

Rinker School 80th Anniversary Social
September 5
New York, NY

Rinker School 80th Anniversary Social
September 8
Washington, D.C.

IND student selected to participate in EDRA Conference
Last fall, Adriana Perez-Leyva, junior interior design student, was in studio working on a project when her professors, Nichole Campbell, IND Assistant Professor, and Jason Meneely, IND Associate Professor, selected her to submit an abstract of her project to EDRA, the Environmental Design Research Association. The abstract submission, a research-based design poster, would be considered to be one of the national conference poster presentations. The conference is usually only open exclusively to faculty and graduate students. However, in January Perez-Leyva found out that her abstract was accepted by EDRA and will be part of the Graduate Student Workshop.
Alumni News
Joe Dill, MAURP 1985, was awarded Board Certification in Construction Law by The Florida Bar in 2014.
Have some news to share with fellow alumni? We want to hear from you! Share your news with us for a future issue of Perspective Online.
College of
Design, Construction & Planning
331 Architecture Building
P.O. Box 115701
Gainesville, FL 32611
TEL (352) 392-4836
www.dcp.ufl.edu
perspective@dcp.ufl.edu

Christopher Silver, Dean
Margaret Carr, Associate Dean
William Tilson, Assistant Dean
Andrew Wehle, Assistant Dean
Ann Baker, Director of Development

Managing Editor: Julie Frey
Editor: Katelyn Weber
Design: Chris Barnett, and Tonya Gibbs

DCP Public Relations Committee:
Candy Carmel-Gilfilen,
Tina Gurucharri,
Edward Minchin, Kim Stanley,
Bradley Walters and Ann Baker