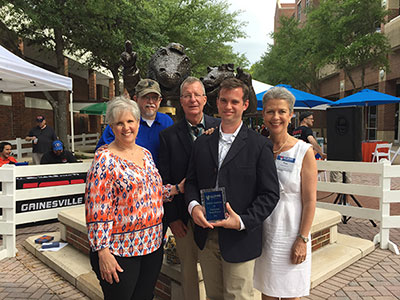 Jeremy Marquis, BLA 2008, recently received one of the University of Florida's Outstanding Young Alumni Awards.
BLA alumnus recognized with UF award
"It is a huge honor to receive this award," says Jeremy. "From my studio in St. Augustine, I will continue to work hard to demonstrate creative and sustainable design principles I learned at UF. My wife, Laura, and I love this university, and we're proud to represent Gator Nation on the First Coast!"

The Outstanding Young Alumni Award, established by UF's Alumni Association, recognizes alumni ages 35 or younger who have distinguished themselves in their profession and community.
Portillo named Fellow by the Interior Educators Council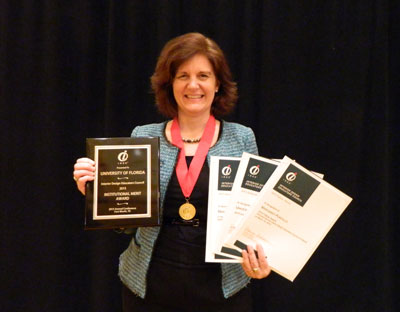 Margaret Portillo, professor and chair of the Department of IND, was named to the Council of Fellows by the Interior Design Educators Council (IDEC) at the organization's annual national conference. The title of Fellow is the highest honor bestowed on a member of IDEC and is given in recognition of outstanding and sustained service and contributions to the organization and to the field.
And this year's winner is …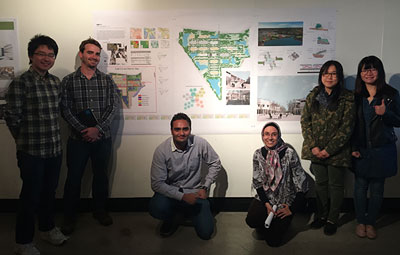 Four interdisciplinary teams competed March 27-29 for the 2015 Witters Competition. The 48-hour design charrette was led by Bill Whiteford, Ph.D. candidate and graduate research assistant, and the final presentations were judged by a panel including Martin Gold, architecture associate professor, Meg Portillo, chair of the Department of Interior Design, Michael Volk, research assistant professor for the Center for Landscape Conservation Planning, Tim Stanley, BBI Construction Management, and Erik Bredfeldt, City of Gainesville. This year's winning team included Shane LaMay, Architecture, Si-Ning Zhu, Landscape Architecture, Prateek Chitnis, Engineering, Sara Bayramzadeh, Interior Design, Jing Yu, Urban and Regional Planning, and Zheng Liu, Urban and Regional Planning.
Rinker School celebrates 80 years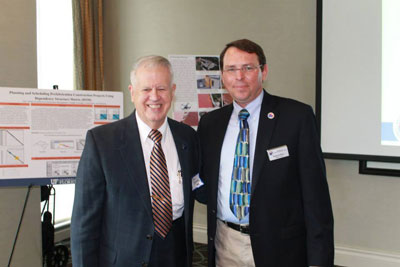 Pictured: William Squires, BCN 1962, and Dr. Robert Ries, director of the Rinker School of Construction Management, at the Atlanta luncheon. Squires was recognized for being the oldest graduate from the Rinker School at the luncheon.
During the month of March, faculty and staff from UF Rinker School of Construction Management traveled to Tampa, Jacksonville and Atlanta to reconnect with alums and celebrate the Rinker School's 80th Anniversary.
View more images:
>Atlanta luncheon
>Jacksonville luncheon
>Tampa luncheon


Upcoming Events
DCP Spring Commencement
Saturday, May 2 at 3 p.m.
Phillips Center for the Performing Arts

Rinker School 80th Anniversary Luncheon
May 6
Miami/Ft. Lauderdale at YOLO

DCP Dean's Reception
May 7
Ft. Lauderdale, FL at Riverside Hotel
5-7:30 p.m.

Rinker School 80th Anniversary Luncheon
May 8
West Palm Beach, Fla. at Bear Lakes Country Club

IND and CLAS team up for interdisciplinary collaboration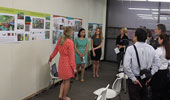 The Department of Interior Design and College of Liberal Arts and Sciences (CLAS) teamed up for an interdisciplinary collaboration and real-life experience. David Richardson, dean of CLAS, reached out to Meg Portillo, IND chair, about the idea to collaborate on the potential project for a New Life Sciences Building on UF's campus. The goal of the project was to focus on designing the heart of the building: a conservatory, research and theory labs, classroom and creative collision spaces. The process, a two-week charrette, involved designing these spaces that would serve 2,000 students, faculty and staff.
Alumni News
Lionel Kier, BCN 1974, is the new Executive Director of The Country Club of La Cholla, an upscale Senior Living Community, in Tucson, AZ.
Have some news to share with fellow alumni? We want to hear from you! Share your news with us for a future issue of Perspective Online.

Barnes attends reception with Orlando Mayor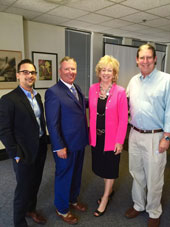 Pictured: City of Orlando Mayor Buddy Dyer (second from left) with Mennello Museum Board Members including Jeff Gitto, Suzanne Barnes and John Upperco.
As a thank you to her service on the Mennello Museum Board of Trustees, Suzanne Barnes, BDes 1982 and MArch 1985, was invited on behalf of the City of Orlando Mayor Buddy Dyer, to attend the Annual Volunteer Appreciation Reception.

College of
Design, Construction & Planning
331 Architecture Building
P.O. Box 115701
Gainesville, FL 32611
TEL (352) 392-4836
www.dcp.ufl.edu
perspective@dcp.ufl.edu

Christopher Silver, Dean
Margaret Carr, Associate Dean
William Tilson, Assistant Dean
Andrew Wehle, Assistant Dean
Ann Baker, Director of Development

Managing Editor: Julie Frey
Editor: Katelyn Weber
Design: Chris Barnett, and Tonya Gibbs

DCP Public Relations Committee:
Candy Carmel-Gilfilen,
Tina Gurucharri,
Edward Minchin, Kim Stanley,
Bradley Walters and Ann Baker