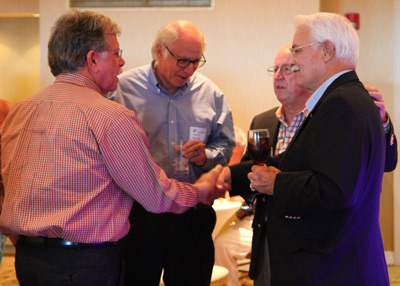 Host Jeff Falkanger talks with guests at the 27th Annual Dean's Reception
27th Annual Dean's Reception
More than 140 alumni and friends attended the 27th Annual Dean's Reception on May 7 at the Riverside Hotel in Ft. Lauderdale. DCP would like to thank all of the event sponsors.

> View the complete list of sponsors

DCP would especially like to thank Jeff Falkanger, president of Falkanger Snyder Martineau & Yates, who has organized, hosted and sponsored this event for the past 27 years.


Share your stories and photos with us!
As we prepare for our 90th Anniversary Celebration, November 7, 2015, we need your support! Help us start the celebration today by telling us stories from your time at DCP. What is your favorite memory? Who was your favorite professor or what was your favorite class? Did you meet your spouse at UF? Remember that time in studio when…

Write your story in an email or take a video telling the story. Share your stories and photos with us at dcp90@dcp.ufl.edu.

For more information and to RSVP to attend the festivities, visit dcp.ufl.edu/dcp90.



Check out this year's Architrave!
Check out the latest issue of Architrave, an interdisciplinary student-run publication produced by architecture students. Thank you to VOA Associates Incorporated for sponsoring this year's publication!

>View this year's Architrave
Upcoming Events
BCN Ft. Myers Fishing Tournament
July 17-18


School of Architecture
Alumni Reception - Florida AIA Convention
Saturday, August 1
5:30 - 6:30 p.m.
Boca Raton Resort and Club
> For more information


BCN Orlando Fishing Tournament
August 14


Washington, D.C. 80th Anniversary BCN Celebration
September 9


New York City 80th Anniversary BCN Celebration
September 10


Orlando 80th Anniversary BCN Celebration
September 17


Houston 80th Anniversary BCN Celebration
September 19

Alumni News
Christopher Benninger, BArch 1966, received his master's in ARCH at Harvard in 1967, received a Fulbright scholarship to India in 1968 and a teaching appointment as a tenured professor at the GSD in 1970. He completed his MCRP at MIT in 1971 and then moved to India as a Ford Foundation Consultant in late 1971. Benninger has lived in India where he founded the School of Planning at CEPT University in Ahmedabad and is currently on the University Board of Management. View Benninger's website
Shah Alam Zahiruddin, BArch 1965 and MArch 1965, is the chief architect of Bangladesh.

Earlier this year, Moshe Cosicher, BArch 1972, was part of a team that worked on the site of Panorama Tower, home to the largest single foundation in Florida's history, located in Miami, Fla. Read more at communitynewspapers.com
David Scott Goldsmith, MSBC 2008 and Ph.D. 2012, has been promoted to Assistant Professor of Practice at the Myers-Lawson School of Construction/Building Construction in the College of Architecture and Urban Studies at Virginia Tech.
Sarah Perch, MAURP 2011, and Jason Reynolds, MAURP 2006, have passed the AICP (American Institute of Certified Planners) exam in Spring 2015.
Glenda Puente, MArch 2011, is currently an Adjunct Professor at Florida International University School of Architecture.
Have some news to share with fellow alumni? We want to hear from you! Share your news with us for a future issue of Perspective Online..

College of
Design, Construction & Planning
331 Architecture Building
P.O. Box 115701
Gainesville, FL 32611
TEL (352) 392-4836
www.dcp.ufl.edu
perspective@dcp.ufl.edu

Christopher Silver, Dean
Margaret Carr, Associate Dean
William Tilson, Assistant Dean
Andrew Wehle, Assistant Dean
Ann Baker, Director of Development

Managing Editor: Julie Frey
Editor: Katelyn Weber
Design: Chris Barnett, and Tonya Gibbs

DCP Public Relations Committee:
Candy Carmel-Gilfilen,
Tina Gurucharri,
Edward Minchin, Kim Stanley,
Bradley Walters and Ann Baker