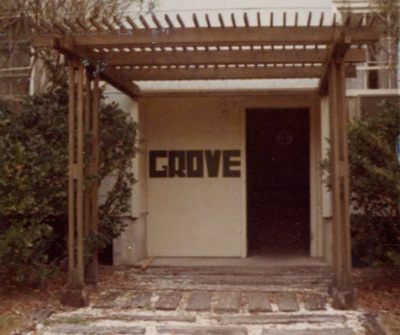 Photo courtesy of UF Archives
Take a trip down memory lane
Have you ever wondered what was here before the Architecture Building was built in the late 1970s? As we look forward to celebrating our 90th Anniversary this fall, DCP alumni reminisce through old memories and recall one particular building that was demolished several decades ago, but managed to leave behind a lifetime of memories.

Grove Hall was a two-story, wooden military building transported to campus from Camp Blanding in the late 1940s. The temporary structure was a dormitory for men and women on separate occasions until the early 1960s when the college moved in. By 1977, Grove Hall was razed in preparation for the construction of the new Architecture Building that stands today.

"Grove Hall was a unique place," said Pete Prugh, BArch 1971, a retired architecture professor who spent five decades associated with the college. "It was the center of our campus experience for all of us."
> View photos and read about Grove Hall

We'd love to hear stories of your time at DCP. Please complete the alumni survey listed below to share your stories.

DCP students travel for summer programs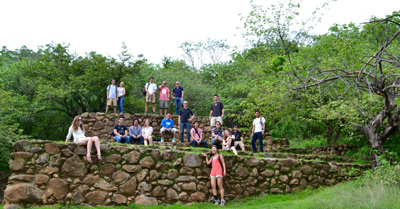 (Top row, from left to right) Alex Fernandez, Kate Fisher, Calvin Meyer, Craig Nightingale and Professor Alfonso Pérez-Méndez; (Middle row) Lindsay Wright, Brandon Wong, Bergman Umana, Kaylee Robertson, Wong Lok, Professor Emeritus William Tilson, Mason Ip, Liu Keshen (standing), Jin Xingyun (seated below Keshen), Sierra Eades, Wu Hao and Miguel Cardona; (Bottom row) Hung Hsiao-Tung; (Not pictured) Liu Chang; Photo courtesy of Professor William Tilson.
Architecture students traveled south for the summer during a traveling design studio and integrated seminar taught by Alfonso Pérez-Méndez and William Tilson, professors at the School of Architecture. As part of the program, graduate and undergraduate students visited eight UNESCO World Heritage Sites, including an archeological site of the Guachimontones, a pre-Columbian civilization near the town of Teuchitlán in Jalisco, Mexico. The program, an initiative of the Preservation Institute: Caribbean (PI:C- founded in 1982), has been offered in this format since 1996.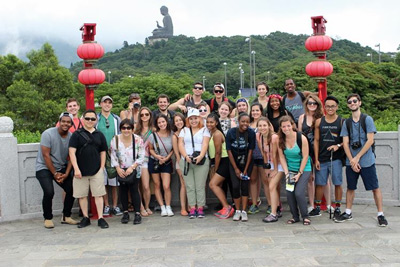 Students visit the Tian Tan Buddha on Lantau Island in Hong Kong. (Front row, from left to right) Eduardo Meneses, Professor Albertus Wang, Wang Ling, Jessica Philips, Ivy Savignon, Maria Jaramillo, Sofia Aguirre, Cami Cupples, Christina Graydon, Wendy Stradley, Blaire Davis, Victoria Welch, Adriana Urbistondo, Kinga Pabjan, Oluwabunmi Fayiga, Gabrielle Heffernan, Krista Farmer, Jesse Mantohac and Dana Shores; (Back row) Graham Nichols, Bernard Dioguardi, Jesse Jones, John Hampton, Luiz Franco, Philip Elmore, Dima Toma and Lindsley Etienne; (Not pictured) Professor Martin Gold, Mitchell Clarke and Hannah Ulloa; Photo courtesy of Wang Ling.
Students also visited East Asia this summer during a traveling seminar taught by Albertus Wang, a professor at the School of Architecture. The six-week traveling seminar took graduate and undergraduate students to Hong Kong, Beijing, Kyoto and Osaka, where they studied the different architectural, urban and rural spaces. Students spent the other half of their trip in Xi'an, China, collaborating with Xi'an University of Architecture and Technology students to research local sites.
Annual ranking survey due August 21
It's that time of year again! Did you receive the annual survey conducted by DesignIntelligence for America's Best Architecture & Design Schools?

If you are a person in your firm who hires architects, interior designers, landscape architects or industrial designers, you are invited to share your experiences and perspectives to strengthen design education. The responding party must be in a leadership position qualified to hire employees. Individual responses will be kept confidential but a listing of the responding firms will be published.

You may respond using the online surveys:
The surveys will close on August 21. If you have any questions or comments, you may contact DesignIntelligence Publisher Bob Fisher at bfisher@di.net.
Alumni News
Guy Peterson | Office for Architecture was honored with three design awards in the AIA Florida/Caribbean Honor and Design Awards. The firm was awarded the Honor Award for Historic Preservation/Restoration for the Center for Architecture | UF CityLab Sarasota, the Merit Award for Unbuilt Design for the Treehouse and the Merit Award for Masonry in Design for the Ferguson Alley House.
Guy W. Peterson, FAIA, M.Arch 1978, has released a monograph titled Naked: The Architecture of Guy Peterson that documents his architectural vision and sheds light into his unique process of creating authentic Florida architecture that maintains power in its simplicity. The work featured in his book will be exhibited at the Center for Architecture Sarasota starting September 1 with an accompanying book signing and lecture on September 10.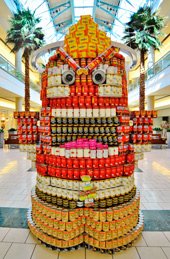 Ivan R. Gomez, RA LEED AP, M.Arch 2004, project manager at Currie Sowards Aguila Architects, received the Juror's Favorite Award when his office submitted in this year's Canstruction Competition. The office built the character Anger from the movie "Inside Out" using Revit, which helped count how many cans the team used and helped build the sculpture more quickly. Raymond Estrella, BDes 2003, was also a part of the winning team.
Have some news to share with fellow alumni? We want to hear from you! Share your news with us for a future issue of Perspective Online.

Upcoming Events
School of Architecture
Alumni Reception - Florida AIA Convention
Saturday, August 1
5:30 - 6:30 p.m.
Boca Raton Resort and Club
> For more information


BCN Orlando Fishing Tournament
August 14


BCN Jacksonville Social
August 27


Washington, D.C. 80th Anniversary BCN Celebration
September 9


New York City 80th Anniversary BCN Celebration
September 10


Orlando 80th Anniversary BCN Celebration
September 17


Houston 80th Anniversary BCN Celebration
September 19


BCN Atlanta Gold Tournament
October 20


BCN Tampa Fishing Tournament
October 23


BCN Major Donor Reception and Career Fair
October 26-27


BCN Jacksonville Golf Tournament
October 30


UF Homecoming
November 7

90th Anniversary Celebration



Share your stories and photos with us!

The 90th Anniversary Celebration will be held on November 7, 2015, and we want to hear from you! Help us start the celebration by sharing your stories from your time at DCP.
Complete the alumni survey or share your stories and photos with us at dcp90@dcp.ufl.edu.
For more information and to RSVP to attend the festivities, visit dcp.ufl.edu/dcp90.
Gator100 accepting nominaitons
The Gator100 is accepting nominations through September 15 for the 2016 Gator100. The program honors the 100 fastest-growing, Gator-owned, Gator-led businesses in the world. Last year, DCP alumni led 14 of the companies honored in the inaugural program.
College of
Design, Construction & Planning
331 Architecture Building
P.O. Box 115701
Gainesville, FL 32611
TEL (352) 392-4836
www.dcp.ufl.edu
perspective@dcp.ufl.edu

Christopher Silver, Dean
Andrew Wehle, Assistant Dean
Ann Baker, Director of Development

Managing Editor: Julie Frey
Editor: Emily Buchanan
Design: Chris Barnett, Tonya Gibbs and Ciara Orsi

DCP Public Relations Committee:
Candy Carmel-Gilfilen,
Tina Gurucharri,
Edward Minchin, Kim Stanley,
Bradley Walters and Ann Baker