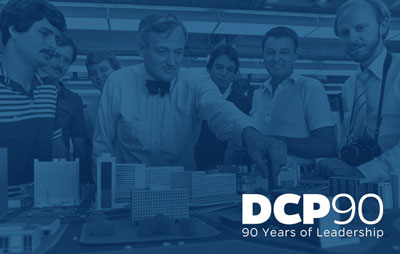 For nearly a century, DCP has grown drastically since starting as a school within a neighboring college. Ninety years later, we recount the intriguing stories and vital decisions made that established DCP's legacy of leadership. Stay tuned each week this fall as we share past stories leading up to the College's 90th Anniversary Celebration on November 7.
Join in and follow #UFDCP90 on Facebook, Twitter, and Instagram or visit our website.
Share your memories
We would love to include your stories and photos. Please email them to Emily Buchanan at dcp90@dcp.ufl.edu.
RSVP for DCP90 Celebration
Join us on November 7 for the DCP 90th Anniversary Celebration. Festivities begin at 9 a.m. and include: barbecue, gallery exhibit, open house and the Rinker School's Construction Hall of Fame ceremony.

Chapter 1: 1925 - The beginning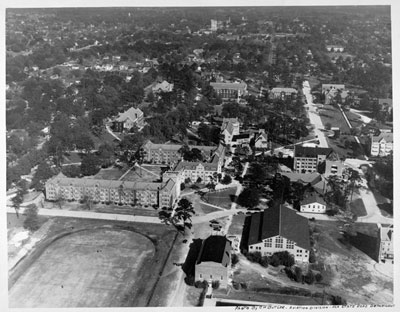 1920s aerial view of Buckman, Sledd, and Thomas Halls, New Gym (Bldg. R), Women's Gym and other buildings on the University of Florida campus. Photo courtesy of UF Archives.
The first time renowned architect Rudolph Weaver stepped on the UF campus, we can only imagine what his impression was. Weaver was recruited to the university to lead the newly established School of Architecture and to serve as architect for the university and the Florida Board of Control. Weaver not only made his mark on the UF campus, but also, built the foundation of architecture education for the university that would shape the built and natural environments throughout Florida.

From the UF's Historic Campus website: "Weaver's understanding of the importance of the continuity of the campus image may be seen in his inscription on the back of a photograph of his addition to the Library, 'This indicates my effort to carry out and maintain the character of another architect's work.'"
Gold appointed directer of new CityLab-Sarasota

Martin Gold, associate professor at the School of Architecture, has been appointed as the program director of CityLab-Sarasota, a newly established satellite Master of Architecture program located in Sarasota.
Gator100 nominations due Sept. 15
Do you know of any Gator-owned or Gator-led businesses? The Gator100 is accepting nominations through September 15 for the 100 fastest-growing companies led by Gators. Last year, DCP alumni led 14 of the companies honored in the inaugural program – Let's make it happen again!
>Learn more or submit nomination
Alumni News
Dylan Rinda, BDes 2011, coeditor-in-chief for PLAT 5.0: License, was awarded the Graham Foundation Grant 2015-2016. In alignment with his interest to engage the public in architecture, Rinda has served as instructor in architecture through Duke-TIP at Davidson College. Additionally, he has worked for several years at residential and institutional design firms in the Tampa Bay-area, with experience in roles from design development and programming to cost estimating and marketing.

Have some news to share with fellow alumni? We want to hear from you! Share your news with us for a future issue of Perspective Online.

Upcoming Events
Washington, D.C. 80th Anniversary BCN Celebration
September 9


New York City 80th Anniversary BCN Celebration
September 10


Orlando 80th Anniversary BCN Celebration
September 17


Houston 80th Anniversary BCN Celebration
September 19


BCN Atlanta Golf Tournament
October 20


BCN Tampa Fishing Tournament
October 23


BCN Major Donor Reception and Career Fair
October 26-27


BCN Jacksonville Golf Tournament
October 30


UF Homecoming/DCP 90th Anniversary Celebration
November 7


Save the date!
2016 DCP Career Fair
Saturday, Feb. 6, 2016
More details coming soon!

Recent UF grad wins AIA Design Award
Thomas Keiper, BDes 2010, M.Arch 2012, won a Design Award for his UF Master's Research Project. He won the award in the company of major firms of the AIA Washington Chapter in the 2014 Washington Unbuilt competition.
Professor emeritus book release this fall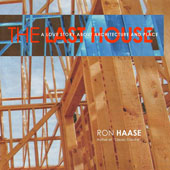 Ron Haase, FAIA, professor emeritus at SoA, has a new book coming out this fall about Florida architecture. His book, The Last House, tells the fictional story of a couple who builds four houses throughout the years of their marriage, each one in a different part of Florida. The book explores what Haase calls the "four faces of Florida," which include the North Florida cracker influence, Sarasota's regional modernism, the Art Deco qualities of South Florida and the Spanish Colonial in St. Augustine.
College of
Design, Construction & Planning
331 Architecture Building
P.O. Box 115701
Gainesville, FL 32611
TEL (352) 392-4836
www.dcp.ufl.edu
perspective@dcp.ufl.edu

Christopher Silver, Dean
Andrew Wehle, Assistant Dean
Ann Baker, Director of Development

Managing Editor: Julie Frey
Editor: Emily Buchanan
Design: Chris Barnett, Tonya Gibbs and Emily Peoples

DCP Public Relations Committee:
Candy Carmel-Gilfilen,
Tina Gurucharri,
Edward Minchin, Kim Stanley,
Bradley Walters and Ann Baker