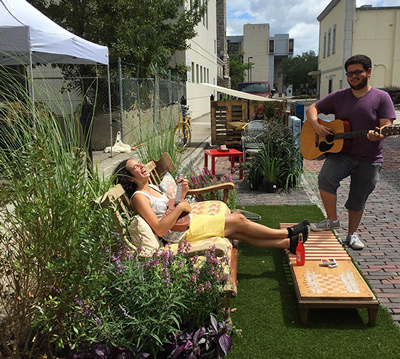 The UF Student Chapter of American Society of Landscape Architects (UF SCASLA) transformed three metered parking spaces into a temporary park to celebrate (PARK)ing Day, a global event aiming to recognize the need for more urban open spaces. Photo courtesy of UF SCASLA.
UF Student Chapter ASLA brings (PARK)ing Day to Downtown
>Read more about (PARK)ing Day
>Read the story published in The Alligator
'I was born a landscape architect'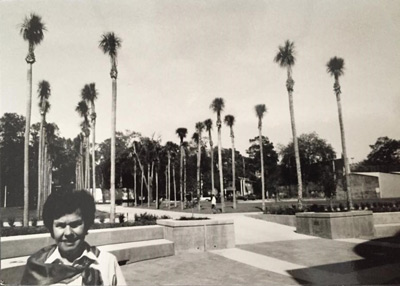 Gloria Mayberry chose the plant palette and consulted on the north end zone of the Ben Hill Griffin Stadium. Photo courtesy of Mayberry.
It was 1969 and Gloria Mayberry, who was 42 at the time, was eager to begin her collegiate career.

"The woman at the admissions office told me, 'they don't take women in the architecture program,'" Mayberry said. "I told the woman, 'I came up here from Miami to go to school and all my stuff is out in the car in the parking lot. I need to see the Architecture Building. I have a reservation with Herrick Smith.'"
>Read more of Mayberry's story
SoA "Celebrating Women in Architecture" lecture series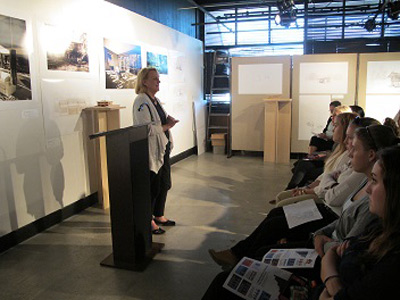 This fall, the School of Architecture hosted its first-ever "Celebrating Women in Architecture" lecture series that aims to increase the visibility of women leadership in design and to raise awareness about gender issues in the architectural practice, while discussing incredible work created by female architects. An opening discussion and reception was held in the School of Architecture Gallery, kicking-off the lecture series with topics such as the unspoken culture within architectural practices and education.
>Read more from the kick-off event
Alumni News
Kyle Abney, BDes 1999, MBC 2001, Vice President of Abney + Abney Green Solutions, was recently named a National Green Building Standard (NGBS) Green Partner of Excellence by the Home Innovation Research Labs.

DWY Landscape Architects, with Principal David W. Young, BLA 1991, received two awards in the category of Residential Design, which included an Award of Excellence for Thirty Oaks and an Award of Merit for Aquadisia from the Florida Chapter of the American Society of Landscape Architects (FLASLA).
David Smith, BBC 2008, completed MBA from UF Hough Graduate School of Business in May 2015.
Bryan Conner, BDes 2009, won a 2015 AIA Louisiana (New Orleans chapter) Merit Award in Unbuilt Architecture for a project he worked on at Trahan Architects in Tbilisi, Georgia (eastern European country). The project is a 600,000 sf mixed-use convention center on an existing 35-acre Soviet-Era site in the heart of the city.
Have some news to share with fellow alumni? We want to hear from you! Share your news with us for a future issue of Perspective Online.

Upcoming Events
SoA NYC Alumni Meet & Greet
October 2
Location: Club Room of the Bowery Bar & Grill
40 East 4th Street
New York, NY 10003
212-475-2220
Time: 5 - 8 p.m.
BCN Atlanta Golf Tournament
October 20


BCN Tampa Fishing Tournament
October 23


BCN Major Donor reception and Career Fair
October 26 - 27
Location: Hilton
1714 SW 34th Street
Gainesville
BCN Jacksonville Golf Tournament
October 30


UF Homecoming/DCP 90th Anniversary Celebration
November 7


Save the date!
2016 DCP Career Fair
Saturday, Feb. 6, 2016
More details coming soon!

Bosch among first-ever recipients of EDRA CORE awards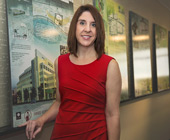 Sheila Bosch, an assistant professor in the Department of Interior Design, was among a group of recipients to receive the inaugural 2015 Certification of Research Excellence (CORE) awards from the Environmental Design Research Association (EDRA) for research aimed at understanding how reorienting patients' beds to reduce unwanted noise and increase patient privacy would affect actual and perceived noise reaching the patients' ears and patient falls at a hospital near Orlando.
The award will be presented to Bosch and her teammates during EDRA's Fall Transnational Research Symposium in October, for the category: Does Privacy Trump Visibility? Examining an Iconic Hospital's Radial Nursing Unit.
College of
Design, Construction & Planning
331 Architecture Building
P.O. Box 115701
Gainesville, FL 32611
TEL (352) 392-4836
www.dcp.ufl.edu
perspective@dcp.ufl.edu

Christopher Silver, Dean
Andrew Wehle, Assistant Dean
Ann Baker, Director of Development

Managing Editor: Julie Frey
Editor: Emily Buchanan
Design: Chris Barnett, Tonya Gibbs and Ciara Orsi

DCP Public Relations Committee:
Candy Carmel-Gilfilen,
Tina Gurucharri,
Edward Minchin, Kim Stanley,
Bradley Walters and Ann Baker