90th Anniversary Celebration
November 7, 2015
The College of Design, Construction and Planning's 90th Anniversary Celebration is only eight days away! Have you registered for the event yet? Registration closes on November 2.
In addition to the college's 90th Anniversary, we also are celebrating the Rinker School of Construction Management's 80th Anniversary.
DCP90 Festivities include:
9 a.m. - 1 p.m.: Open House in the Architecture Building and Rinker Hall
9 a.m. - 1 p.m.: Gallery Exhibit Opens
10 - 10:30 a.m.: Construction Hall of Fame Induction Ceremony & Dean's Welcome at Rinker Hall
10:30 a.m. - 1p.m.: Tailgate, which includes BBQ, beverages, games, face painting and giveaways
2016 College Career Fairs
DCP Career Fair
Saturday, February 6, 2016
Looking to hire interns and entry-level professionals? DCP's career fair provides the opportunity to meet and interview students in the following disciplines: Architecture, Historic Preservation, Interior Design, Landscape Architecture and Urban and Regional Planning.

Rinker School Career Fair
Hiring construction managers? Mark your calendar to participate in the Rinker School of Construction Management's Spring Career Fair.
More information will be posted on the Rinker School Career Fair website in the coming weeks.
Ernest R. Bartley Memorial Lecture Series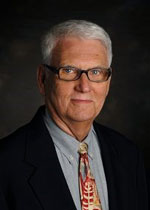 Julian C. Juergensmeyer
"Land Regulation for the mid-21st Century"
November 5 at 6:30 p.m.
The Department of Urban and Regional Planning will hold its annual Ernest R. Bartley Memorial Lecture at 6:30 p.m. on Thursday, November 5, with Julian C. Juergensmeyer as guest speaker. Juergensmeyer is Professor and Ben F. Johnson Chair in Law at Georgia State University and Director of the College of Law's Center for the Comparative Study of Metropolitan Growth.

The lecture, which is part of the DCP's 90th Anniversary Celebration, will take place at the Sweetwater Branch Inn (625 East University Avenue) in Gainesville and is open to the public.

The lecture series honors Ernest R. Bartley, who served as UF professor of Political Science and Urban and Regional Planning for almost a half century.
To RSVP for the event, please contact Melissa Martin.
Alumni News
Scott Mingonet, BLAE 1989, relocates from Charlotte to Orlando's Kimley-Horn office, where he has been integral in developing the firm's land planning and landscape architecture practice for 25 years. Since opening the firm's Miami Beach office in 1995 and then working in Washington, D.C. and in Charlotte, NC, he looks forward to being back in Florida.

Have some news to share with fellow alumni? We want to hear from you! Share your news with us for a future issue of Perspective Online.
Upcoming Events
BCN Jacksonville Golf Tournament
October 30

SoA Fall 2015 Lecture Series: Robert McCarter
November 2

Ernest R. Bartley Memorial Lecture Series
November 5

UF Homecoming/DCP 90th Anniversary Celebration
November 7

2016 DCP Career Fair
Saturday, Feb. 6, 2016

DCP90 Gallery Exhibition

Travel with us through time as we uncover the key moments of the college's history with displays and memorabilia dating back to the 1920s.

The 90th Anniversary Gallery Exhibition is an opportunity to learn more about DCP's history and to see firsthand how professionals in the classroom have developed and set the standards in preparing students to become leaders of our society.

Public viewing: October 27-30 and November 2-5, from 8 a.m.-4:30 p.m.
College of
Design, Construction & Planning
331 Architecture Building
P.O. Box 115701
Gainesville, FL 32611
TEL (352) 392-4836
www.dcp.ufl.edu
perspective@dcp.ufl.edu

Christopher Silver, Dean
Andrew Wehle, Assistant Dean

Managing Editor: Julie Frey
Editor: Emily Buchanan
Design: Chris Barnett, Tonya Gibbs and Taryn Bray

DCP Public Relations Committee:
Candy Carmel-Gilfilen,
Tina Gurucharri,
Edward Minchin, Kim Stanley,
Bradley Walters and Ann Baker