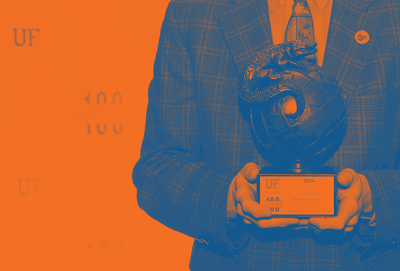 25 DCP alumni named as Gator100
Congratulations to the 25 DCP alumni that made the second annual Gator100, the list of the top 100 fastest-growing, Gator-owned or Gator-led businesses in the world. This year, the College of Design, Construction and Planning was third among all UF colleges in the number of alumni on the list. The Gator100, which recognizes and celebrates the achievements of leading UF alumni entrepreneurs, is produced by UF and the Entrepreneurship & Innovation Center at the Warrington College of Business.
Employers seek students at Career Fairs
The month of February brought numerous job opportunities to DCP students, as more than 100 companies from all over the country came to the college's career fairs. Thank you to all those who participated in this year's event, and we hope to see you again next year.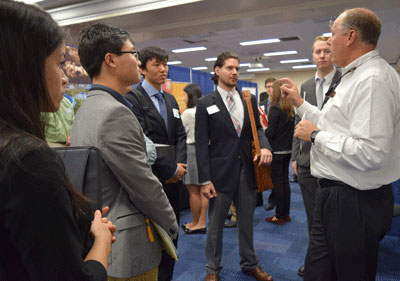 DCP's third annual Career Fair was sold out, producing record attendance as every available vendor table was filled with employers seeking students to fill internships and positions within their firms. We welcomed back several DCP alumni who served as firm representatives. Some were hired at previous career fairs and now were sitting on the other side of the table, recruiting students for their firm this year.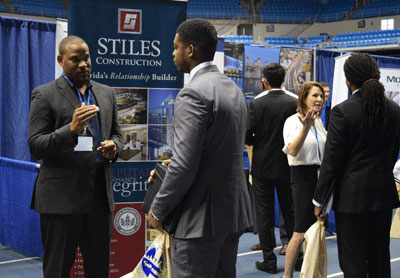 On February 16, the Rinker School held its 2016 Spring Career Fair, attracting more than 100 employers to the O'Connell Center. Employers traveled from across the country to hire Rinker School students and graduates for internships and full-time positions.
Edward D. Stone, Jr. Lecture Recap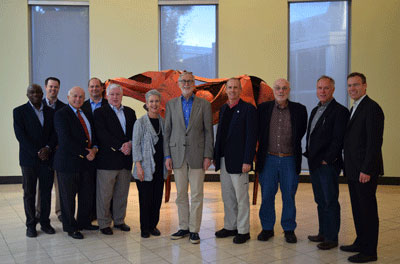 In remembrance of Edward D. Stone, Jr., the Department of Landscape Architecture held its annual lecture February 18. The event began with a plaque unveiling, commemorating Stone and featuring the donors who made the endowed lecture series possible. Afterwards, the 2016 featured speaker Laurie Olin presented his lecture at the Harn Museum.
Faculty research showcased in Florida Times Union article

The college's sea level rise planning projects in Northeast Florida, headed by Kathryn Frank, urban and regional planning assistant professor, was featured in the Florida Times Union newspaper.
Upcoming Events
SoA Spring Lecture Series
Guest lecturer: Aiden Koch
March 17
Gainesville Modern
March 18 – 20

SoA Spring Lecture Series
Guest lecturer: Kristen Murray
March 28
DCP Spring Commencement
Saturday, April 30 at 11 a.m.
Phillips Center for the Performing Arts

Faculty Awards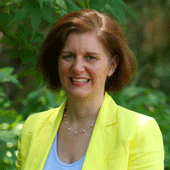 Margaret Portillo, interim associate dean for research and graduate studies, has been honored with the Keith Hooks Volunteer Excellence Award in recognition of her many outstanding contributions to the Council for Interior Design Accreditation. CIDA established the Keith Hooks Volunteer Excellence Award as a legacy to former Director Keith Hooks whose 20+ years of volunteer leadership immeasurably impacted thousands of students in CIDA-accredited programs.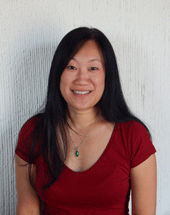 Lisa Huang, assistant professor in the School of Architecture, won a 2016 American of Collegiate Schools of Architecture New Faculty Teaching Award. Each year, ACSA honors architectural educators for exemplary work in areas such as building design, community collaborations, scholarships and service. Award winners inspire and challenge students, contribute to the profession's knowledge base and extend their work beyond the borders of academy into practice and the public sector.
Alumni News
Content Architecture + Interiors, with Principals James Blythe and Jason Fisher, M.Arch 2004, hired Betsy Hibbard, M.Arch 2012, as its newest graduate architect. Hibbard previously worked in New York City for Allen + Killcoyne Architects before coming to Content. Content Architecture + Interiors, previously Content Design Group, was founded in 2004 and has offices in Jacksonville and Gainesville.
Matt Demers, Ph.D. 2013, will be presenting research, "Contestation and Extension: ANT Analysis of Nek Chand's Rock Garden in Chandigarh," at the University of Kent Writing Buildings Conference in July 2016.
Katie Soven, B.Des 2008, recently received the AIA Illinois Buckminster Fuller Honor Award for Social Good for a mentorship program called Field Notes, which she co-founded in 2013 as a series of exchanges between Chicago-area architecture students and design professionals to share their experiences as a way to broaden perceptions of the professional architect in current culture.
Have some news to share with fellow alumni? We want to hear from you! Share your news with us for a future issue of Perspective.

%%Member_Busname%%
331 Architecture Building
%%Member_Addr%%
%%Member_City%%, %%Member_State%% %%Member_PostalCode%%
TEL (352) 392-4836
www.dcp.ufl.edu
alumni@dcp.ufl.edu

Christopher Silver, Dean
Margaret Portillo, Associate Dean
Andrew Wehle, Assistant Dean
Managing Editor: Julie Frey
Editor: Emily Buchanan
Design: Chris Barnett, Tonya Gibbs and Isabella Llano

DCP Public Relations Committee:
Candy Carmel-Gilfilen,
Tina Gurucharri,
Edward Minchin, Kim Stanley,
and Bradley Walters