Anumba announced as DCP Dean

Join us in congratulating Dr. Chimay Anumba, who has been appointed by the University of Florida as the next Dean of the College of Design, Construction and Planning beginning in August.

Anumba currently serves as professor and was the head of the Department of Architectural Engineering at Pennsylvania State University for the past eight years.

Prior to Penn State, he served as Director of the Centre for Innovative and Collaborative Engineering and Director of Research in the Department of Civil and Building Engineering at Loughborough University.

Anumba's research interests are in the fields of construction engineering and management, advanced engineering informatics, collaborative approaches to project delivery, knowledge management, integrated systems and distributed communications.
>Read the article from UF News
ARCH alum recognized with UF award

Quilian Riano, B.Des 2004, founder and principal of DSGN AGNC, has recently been named as one of the University of Florida Alumni Association's Outstanding Young Alumni (OYA) recipients. This annual award was established to recognize alumni who have graduated within the past 10 years whose achievements positively reflect the Gator Nation. Riano is an architectural and urban designer, researcher, writer and educator working out of Brooklyn, New York.
Four SBE, NROTC students make greener impacts on the future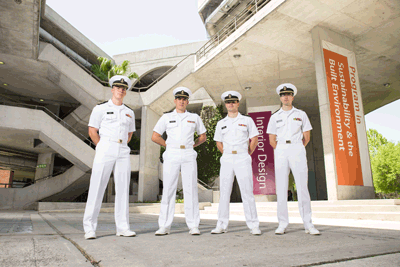 With commencement right around the corner, four soon-to-be graduates of DCP's Program in Sustainability and the Built Environment take their degrees to the sea – and beyond – as they begin active duty in the United States Navy.
Upcoming Events
DCP Spring Commencement
Saturday, April 30 at 11 a.m.
Phillips Center for the Performing Arts
DCP Dean's Reception
Thursday, May 5
Ft. Lauderdale, FL
Student Awards
Daniel Rodriguez, BLA student, has been named as one of the recipients of the 2016 ASLA Council of Fellows Scholarship.
Elizabeth Calienes, DCP doctoral student, received national recognition for outstanding research using an innovative multi-methods design in her study entitled: "What Elements of the Retail Store Environment Keep the Millennial Shopper Engaged?" This research was presented at the 2016 Interior Design Educators Council (IDEC) conference in Portland, Oregon.
Alumni News
James Golden, B.Des 1978, M.Arch 1980, was named by AIA Florida to the "Citizen Architect" Class of 2015 for years of public service to the community.
Jessica Leonard, M.URP 2016, is looking forward to walking with her fellow Gators as they become the graduating Class of 2016.
Have some news to share with fellow alumni? We want to hear from you! Share your news with us for a future issue of Perspective.

%%Member_Busname%%
331 Architecture Building
%%Member_Addr%%
%%Member_City%%, %%Member_State%% %%Member_PostalCode%%
TEL (352) 392-4836
www.dcp.ufl.edu
alumni@dcp.ufl.edu

Christopher Silver, Dean
Margaret Portillo, Interim Associate Dean
Andrew Wehle, Assistant Dean
Managing Editor: Julie Frey
Editor: Emily Buchanan
Design: Chris Barnett, Tonya Gibbs and Taryn Bray

DCP Public Relations Committee:
Candy Carmel-Gilfilen,
Tina Gurucharri,
Edward Minchin, Kim Stanley,
and Bradley Walters