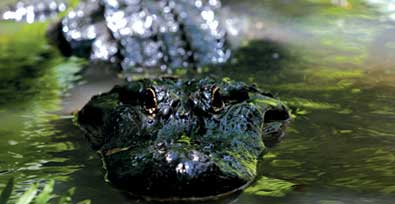 YOU'RE INVITED
Public Interest Environmental Conference March 1-3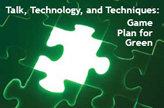 Sustainability is a concept that is sweeping the nation—from hybrid vehicles to green buildings—but as a movement it is still in its emerging stage. Finding ways to help organizations discover solutions that are both sustainable and cost-effective is the focus of the thirteenth annual University of Florida Public Interest Environmental Conference, to be held March 1-3 at UF's Levin College of Law. Co-sponsored by The Florida Bar Environmental and Land Use Law Section and UF Student Government, this year's PIEC embraces the theme "Talk, Technology and Techniques: Game Plan for Green," and addresses the movement toward sustainable "green" design, institutions, and infrastructure. The conference is free for students in Florida and CLE credits are available for attorneys who attend (13 General CLE, including 2.5 Ethics). For more information, go to http://www.law.ufl.edu/piec.
Read More >>
Judge Rosemary Barkett to Deliver Dunwody Lecture March 23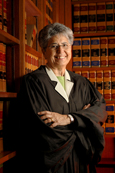 United States Circuit Judge Rosemary Barkett of the Eleventh Circuit Court of Appeals will deliver the 2007 Dunwody Distinguished Lecture in Law at 11 a.m. March 23 in the Chesterfield Smith Ceremonial Classroom at the UF Levin College of Law. The title of her lecture is "Judicial Discretion and Judicious Deliberation." Judge Barkett, who earned her J.D. from UF Law in 1970, was the first woman justice on the Florida Supreme Court, sitting as an associate justice from 1985 until 1992, when she was chosen by her colleagues to become the state's first woman chief justice of that court. The Florida Law Review Dunwody Distinguished Lecture in Law series was established by U.S. Sugar Corporation and the law firms of Dunwody, White, & Landon, P.A. and Mershon, Sawyer, Johnston, Dunwody & Cole in honor of UF Law graduates Elliot and Atwood Dunwody. For more information, contact Florida Law Review at 352-273-0670.
Professionalism Symposium at UF Law March 30
Prominent alumni, faculty and law students will gather at the Levin College of Law
Friday, March 30, for this year's Professionalism Symposium, sponsored by a generous gift from attorney David B. Mishael of Miami and co-hosted by the Eighth Judicial Circuit Bar Association and UF Law. The symposium gives students the chance to discuss issues of professionalism, ethics and integrity in the law with judges and practitioners. The event typically draws over 100 students and dozens of local attorneys, who can earn CLE credits by participating. This year's keynote presentation will be delivered by Lawrence S. Krieger, clinical professor and director of Clinical Externship Programs at Florida State University College of Law, who earned his J.D. from UF Law in 1978. Krieger will discuss how values and principles intersect with the qualities of an ideal professional. Local judges, lawyers and faculty members will offer their advice on a variety of topics. The symposium begins at 9 a.m. in the Chesterfield Smith Ceremonial Classroom and refreshments will be available.

Center for the Study of Race & Race Relations Spring Lecture April 3

Ian F. Haney López, professor of law at the University of California Berkeley School of Law, will deliver the Center for the Study of Race & Race Relations Spring 2007 Lecture at noon April 3 in the UF Levin College of Law's Chesterfield Smith Ceremonial Classroom. The title of his lecture is "A Nation of Minorities: Race, Ethnicity, and Reactionary Colorblindness." A prolific writer on race relations and law, Haney López's most recent book, Racism on Trial: The Chicano Fight for Justice (Belknap/Harvard, 2003), uses the legal history of the Mexican-American civil rights struggle in Los Angeles to explore the relationship between legal violence and self-conceptions of racial identity. For more information, contact Melissa Bamba in CSRRR at 352-273-0614 or email bamba@law.ufl.edu.

UF Law Alumni Reception at The Florida Bar Annual Meeting in Orlando June 28
The Levin College of Law will hold a UF Law Alumni Reception at The Florida Bar 2007 Annual Meeting at 6:30 p.m. on Thursday, June 28, at the Orlando World Center Marriott. This reception, open to all UF Law alumni, will provide graduates of the college with the opportunity to network and reconnect with friends and colleagues from all around the state, and hear from Dean Robert Jerry, who will update those attending with the latest news from the college. More information will be available at a later date, but please mark your calendars now.
RECENT NEWS
Conservation Clinic Partners with Extension Service on Growth Issues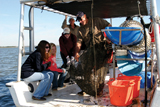 Finding realistic and equitable legal solutions to a wide range of important growth management issues—especially those that affect agriculture, green space, water resources and energy—is easier thanks to a new partnership between the University of Florida's Extension Service and UF's Levin College of Law. The Extension Service is now working closely with the Conservation Clinic, housed in the law college's Center for Governmental Responsibility, to promote smart growth and sustainability solutions throughout the state.
Read more >>

Panel Explores Battle of iTunes vs. MediaPlayer in EU
"Facing the Music? Microsoft, Apple and International Antitrust Law in the EU," a panel discussion about international businesses and antitrust issues in the European Union, was held Thursday, Feb. 22, in the Chesterfield Smith Ceremonial Classroom (HOL 180) at the Levin College of Law. Students and other members of the UF community took part in the event, sponsored by the Center for International Business Education and Research (CIBER), the UF College of Journalism and Mass Communication, and the Center for Governmental Responsibility in the Levin College of Law. The conversation explored recent EU antitrust cases involving competition issues between U.S.-based companies Microsoft and Apple concerning Windows MediaPlayer and iTunes software.
Read more >>
Moot Court Takes First Place in Washington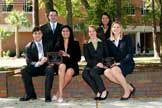 The Justice Campbell Thornal Moot Court team sent two teams to the Henry G. Manne Moot Court Competition for Law & Economics at the George Mason University School of Law in Washington, D.C. Feb. 3. The team of Jacqueline Antonious and Joe Licandro took first place overall, and the team of Dina Finkel and Elizabeth Frock won Best Brief.
Read More >>
Gift Establishes Endowment to Honor Former UF President Criser


In a tribute to former University of Florida President Marshall Criser (UF BA '49, UF Law JD '51), fellow UF Levin College of Law alumnus Lewis Schott (UF BA '43, UF Law LLB '46) of Palm Beach, Fla., has given $600,000 to the university to create a permanent lecture series. The gift will be used to establish an endowment fund for the series to be named the Marshall M. Criser Distinguished Lecture Series at UF's Levin College of Law. "The goal of the speaker series is to host two prestigious national and international speakers annually on topics of particular interest to law students," said Robert Jerry, dean of the law school.
Read more >>
Leonard Riskin Brings Mindfulness to Teaching of Dispute Resolution

After more than 20 years at the University of Missouri School of Law, where he worked as director of the Center for the Study of Dispute Resolution (CSDR), Leonard L.
Riskin has relocated to Gainesville to become the Chesterfield Smith Professor. A noted authority in alternative dispute resolution, Riskin began teaching his first classes at UF Law in January. He teaches the course "Negotiation, Mediation, and Other Dispute Resolution Processes," and a one-credit pass/fail lab course attached to that course on "Mindfulness."
Read More >>
BLSA Trial Team Advances to National Competition in Atlanta March 20-25

After an intense competition, the Black Law Students Association (BLSA) Trial
Team at the University of Florida Levin College of Law placed first runner-up at the Southern Regional Black Law Student Association (SRBLSA) Convention in Miami, Jan. 17-21.Team members Camille Warren (3L), Michael Bolden (2L), Alicia Philip (2L), and Jessica Anderson (3L) defeated 28 southeastern teams, including Vanderbilt, Duke, Tulane, Emory and the University of Miami, among many others. Along with first place winners Georgia State University, the team now advances to the national competition, to be held March 20-25 at the National Black Law Student Association (NBLSA) convention in Atlanta.
Read More >>
Law Students on Florida Blue Key Executive Board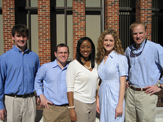 Andrew Comiter is another in a long line of University of Florida law students to serve as president of Florida Blue Key, the oldest and most prestigious leadership honorary within the state of Florida. Among the new projects Comiter has tackled is the formation of the Stephen C. O'Connell Society. Named for the famed UF Law alumnus, the society will provide a link between alumni and FBK students through chapters throughout the state. Comiter's agenda also includes diversification in FBK programming through Legal Day and Health Professions Day, improved recruitment and tapping, and increased sponsorship for Gator Growl and homecoming. He is joined by an executive board comprised almost entirely of UF Law students. Pictured above from left are Tyler Parramore, assistant treasurer; Comiter; Suzette Maylor, vice president; Kristin Carpenter, historian; and Josh Webb, treasurer.
Read More >>
A Series of Unfortunate Events? UF Law Forum Takes a Look at Race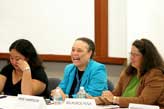 A series of several high-profile incidents in recent months—from Mel Gibson's anti-Semitic meltdown to more serious cases involving the fatal undercover police killings of groom-to-be Sean Bell and an 88-year-old grandmother, Kathryn Johnston—have again brought attention to the subject of racial issues and served as the launching point for discussion at a forum entitled "A Series of Unfortunate Events? A Look at Race" Feb. 26 at the UF Levin College of Law. The event was sponsored by the Center for the Study of Race and Race Relations (CSRRR). For more information, go to http://www.law.ufl.edu/centers/csrrr/events.shtml.
Read More>>
Fifth Annual UF Music Law Conference Draws Record Numbers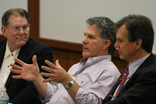 In its fifth year of connecting musicians, lawyers, students, academics, policy makers, and entertainment executives, this year's University of Florida Music Law Conference drew its largest number of attendees ever to the Levin College of Law's Chesterfield Smith Ceremonial Classroom Feb. 10 for a day of panel discussions examining the music business. The conference also featured a live music showcase Feb. 9 at Common Grounds in downtown Gainesville. The theme of this year's conference was "Beyond the CD," centering discussion around the music business as it relates to film, television, video games, new distribution and emerging technologies.
Read More >>
Congratulations to UF's Judicial Law Clerks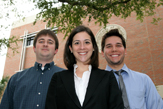 Congratulations to the UF Law students and grads who have secured judicial clerkships. They include John Rains, who will clerk for Judge Edward Carnes, U.S. Eleventh Circuit Court of Appeals in Montgomery, Alabama; Christine Menendez, who will clerk for Judge Susan Cawthon Bucklew, U.S. District Court for the Middle District of Florida in Tampa; Derek Dilberian, who will clerk for Judge Kevin Thomas Duffy, U.S. District Court for the Southern District of New York in Manhattan; Susan Warner, who will clerk for Judge Virginia Hernandez Covington, U.S. District Court for the Middle District of Florida in Jacksonville; Joshua Curry, who will clerk for Magistrate Judge Elizabeth Timothy, U.S. District Court for the Northern District of Florida in Pensacola; and Yelizaveta (Liz) Batres, who will clerk for Judge Barry J. Stone, Fourth District Court of Appeal in West Palm Beach.
Read More >>
Nelson Symposium Explores Legal Implications of Golf Course Conversions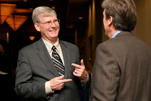 The Sixth Annual Richard E. Nelson Symposium drew a large audience on Feb. 2 to the UF Hilton Conference Center, where an unprecedented panel of experts assembled to discuss the legal aspects of a growing real estate development phenomenon in Florida and throughout the nation—the conversion of existing golf courses into more intensive land uses. The symposium honors Richard E. Nelson—who served with distinction as
Sarasota County attorney for 30 years—and Jane Nelson, two UF alumni who gave more than $1 million to establish the Richard E. Nelson Chair in Local Government Law, which sponsors the annual event.
Read More >>
CGR Symposium on Privacy Law Provides Lively Discussion

The First Annual Center for Governmental Responsibility Symposium, "Privacy Law: Perspectives of National Security, the First Amendment, the Media, and the Individual," provided for a lively discussion in the law school's Chesterfield Smith Ceremonial Classroom Feb. 23. Speakers included Mike Foley, master lecturer, Hugh Cunningham Professor in Journalism Excellence, College of Journalism & Communications, University of Florida; Gregg D. Thomas, Thomas & LoCicero, Tampa; Judge Jacqueline Griffin, Fifth District Court of Appeals of Florida; Judge Anne C. Conway, U.S. District Judge for the Middle District of Florida; and Fletcher N. Baldwin, Jr., Chesterfield Smith
Professor of Law, director, Centre for International Financial Crime Studies. Jon Mills, dean emeritus, professor of law, Levin College of Law, and founding director, Center for Governmental Responsibility, served as moderator for the discussion. The symposium can be viewed online at http://www.law.ufl.edu/cgr/.
Read More >>
Fall 2006 Class Commencement

There were smiles all around at the Levin College of Law's Fall 2006 Class Commencement Ceremony on Dec. 22. Albert the Alligator made an appearance during Professor Michael Allan Wolf's faculty exhortation; Oshia Gainer and Will Sexton, co-chairs of the Fall 2006 Class Gift Committee, presented a check for $48,801 to Dean Robert Jerry and Law Alumni Council President Mark Klingensmith; and Cecily McLeod delivered the student address.
Read More >>
Alumni Serving in Iraq Win National Championship Photo Contest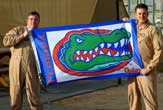 The winner of our National Championship photo contest is UF Law graduate Captain Peter J. Jennison, class of 2004, who sent in photos taken in Iraq at 8 a.m. on Tuesday, Jan. 9, the morning after the University of Florida Gators football team defeated the Ohio State University Buckeyes 41-14. "The game was aired on Armed Forces Network and started at 4 a.m., but we all watched the whole thing," Jennison wrote in an email. In the top photo, Jennison is pictured at right with Major Charlie VanZant, whom Jennison described as "a second-generation Florida Alum" and also the chairman of the Clay County School Board. "What a day it was! We are all so proud of the Gators and watching the game here really made us feel like we were at home, if even just for a little while." To view all the national championship photos sent in by UF Law alumni go to http://www.law.ufl.edu/alumni/natchampphoto.shtml.
Read More >>
News from UF Law Alumni Affairs
The Office of Development & Alumni Affairs welcomes Victoria Rudd as the new Assistant Director of Development. Victoria comes to us from the development operation at the Environmental Law Institute in Washington D.C. She earned her B.S. from York College of Pennsylvania and her graduate degree is from Seton Hall University. Victoria will be raising money to build the annual fund and work with the Law Alumni Council. For information on online giving, go to https://www.uff.ufl.edu/OnlineGiving/Law.asp
March 2007
VOLUME VIII, ISSUE 3
Content
Events
Contacts
Contact Us
UF Law E-News is produced by the Levin College of Law Communications Office.

Editor: Jim Hellegaard
Photography: Kristen Hines

Please let us know what you think by sending an email to the eNews editor, Jim Hellegaard, at hellegaard@law.ufl.edu.
Send submissions and/or suggestions to flalaw@law.ufl.edu or
352-273-0650.
For recent alumni and faculty news, read UF LAW magazine, or FlaLaw, the law schools weekly newsletter.
This message has been sent by the Levin College of Law to:
%%emailaddr%%.
To unsubscribe send a blank email to %%email.unsub%%

Mail Tools