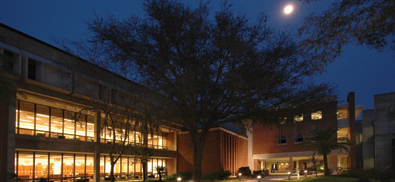 YOU'RE INVITED
Annual Holiday Party for Local Alumni Dec. 13

Dean Robert and Lisa Jerry are hosting the Levin College of Law's annual holiday party at their home on Thursday, Dec. 13, at 5:30 p.m. Alumni and friends of the college will receive information via mail in the near future. If you would like additional information, please contact Sara Grimm at grimms@law.ufl.edu or 352-273-0640. We hope to see you there.

New York City Alumni Breakfast Jan. 4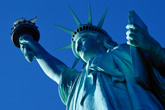 UF Law Dean Robert Jerry will be hosting New York City alumni for a breakfast on Friday, Jan. 4, from 7:30 am to 8:30 a.m. at the Sheraton New York Hotel & Towers. Please contact Jennifer Koepfinger in the Alumni Office at (352) 273-0642 or koepfinger@law.ufl.edu for more information.
The Florida Bar Midyear Meeting Alumni Reception January 17 in Miami

Join UF Law alumni and friends on Thursday, Jan. 17, 6:30-8 p.m., at the Hyatt Regency Miami for the annual alumni reception at The Florida Bar Midyear Meeting. Enjoy food, drinks and the chance to connect with other law alumni at this annual event. If you would like to sponsor this reception or RSVP, please contact Victoria Rudd at 352-273-0640 or ruddv@law.ufl.edu. Sponsorship levels are $250 for individuals and $1,000 for firms. We hope to see you in January.

RECENT NEWS
Florida Lt. Gov. Jeff Kottkamp (JD 87) to Speak at Fall 2007 Commencement Ceremony
Florida Lieutenant Governor Jeff Kottkamp, a 1987 UF Law graduate, will address Fall 2007 graduates at the University of Florida Levin College of Law's commencement at 2 p.m. Friday, Dec. 21, at the Phillips Center for the Performing Arts. Before becoming an elected official, Kottkamp served as a law clerk for two U.S. District Court Judges in Miami. He then returned home to Southwest Florida to practice law. Kottkamp first ran for public office in 2000, when he was elected to the Florida House of Representatives. He was subsequently re-elected in 2002 and 2004. There will be a reception to follow at the Levin College of Law Marcia Schott Courtyard. Read more>>
UF Trial Team Brings Home Title in St. John's University National Civil Rights Trial Competition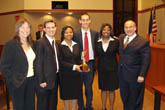 The University of Florida Trial Team brought home a national title at the St. John's University National Civil Rights Trial Competition in Jamaica, NY. After an intense three-day competition Oct. 18-20, team members Jessica Anderson (3L), Frank Gaulden (3L), Alicia Philip (3L), and Justin Stevens (3L) defeated 15 teams from across the country including Pace, Arizona State, and Emory, among others. The team was coached by Stacy Scott, Esq. (JD 95), and the Hon. David Gersten (JD 75), chief judge of Florida's Third District Court of Appeal in Miami. Presenting the plaintiff's case Gaulden and Stevens defeated Temple University in the semifinals and presenting the defense's case Anderson and Philip defeated Washburn University School of Law (Topeka, KS) in the final round. Read more>>

UF Landscape Architecture Students Submit Design Ideas for Law School Woods Project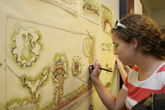 A landscape architecture design studio comprised of 32 students under the direction of Professors Tina Gurucharri and Kevin Thompson gathered in the UF Law Faculty Dining Room Oct. 19 to brainstorm design concepts for the environmental restoration of the law school woods that are consistent with the area's campus master plan status as a "conservation area." The project is managed by third-year law student Ashley Henry under a grant to the Environmental and Land Use Law Society from UF Student Government and the UF Office of Facilities and Planning. A final plan will be selected by representatives of the law school, Golfview Neighborhood Association, Baby Gator and others, and submitted to the Office of Facilities and Planning. Read more>>

Florida Bar President Francisco Angones Shares Views With UF Law Students


As part of SALSA's Hispanic Heritage month, the University of Florida welcomed Florida Bar President Francisco R. Angones (pictured right) on his first visit to the Levin College of Law Thursday, Oct. 18. Angones met with students, faculty and staff as he shared his views on professionalism and diversity within the legal profession, as well as his love for his country, his appreciation for his Cuban heritage and his pride in being a legal practitioner in the state of Florida. After sharing stories on his childhood, his upbringing, his motivations for pursuing a legal career and his passion and utmost respect for the legal profession, Angones answered questions and attended a reception in his honor. Read more>>

Judges Rule in Favor of Jones and Haughee as Best Team in UF Law Moot Court Final Four Competition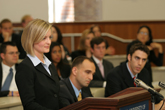 Jennifer Jones and Tim Haughee were awarded Best Team honors at this year's University of Florida Justice Campbell Thornal Moot Court Team Final Four Oct. 12 in the Chesterfield Smith Ceremonial Classroom. Shawn Taylor, who teamed with Dante Trevisani in the Final Four, was named Best Oralist. Andrew Hoffman won Best Brief for earning the best overall brief score during intramural competition, and Best Overall went to Jones for having the best overall combined brief score and oral arguments scores during intramural competition. The Final Four Competition is sponsored by Zimmerman, Kiser & Sutcliffe, P.A. Read more>>

Kailey Evans and Nicole Mouakar Take Best Team Honors at UF Trial Team Final Four Competition

Nicole Mouakar and Kailey Evans were named Best Team in the University of Florida Trial Team's bi-annual Final Four Competition Oct. 5. This year's case was the State of Lone Star v. Tony Grubb. The defendant in the case was charged with the burglary of an elderly woman's home. Mouakar and Evans were named Best Team as they represented the defendant Tony Grubb. Evans (pictured above) was also named Best Advocate. Other members of the team included Maulik Sharma and Kerri McGovern as witnesses and researchers. The team was coached by Molly Cox and Jim Clements. Elvis Santiago and Jason Pill represented the State of Lone Star. Elizabeth Manno and Connie Jones served as witnesses and researchers for the competition. The team was coached by Roger Hatfield and Lori Lustrin. This semester's competition was sponsored by Rumberger, Kirk & Caldwell, a litigation firm with offices in Florida and Alabama. Read more>>

Federal Student Loan Forgiveness Law Helps Public Service Lawyers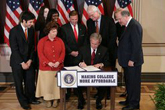 On Sept. 27, President George W. Bush signed the College Cost Reduction and Access Act. This act helps public service lawyers by lowering monthly student loan payments on federally guaranteed student loans (Income Based Repayment or IBR), and cancelling remaining debt after 10 years of income-based repayment (public service forgiveness). This exciting legislation is for those of you with a desire to enter public service, but who are also wondering how a public service salary can be stretched to pay not only your basic living expenses but also your student loan payments. To find out how this new law can help you, Equal Justice Works has prepared the following useful summary: Read More>>

Professor Slobogin Says It's Hard to Find Reason to Celebrate the Fourth Amendment These Days


Two hundred years after the signing of the Constitution of the United States of America, it's hard to find reason to celebrate what's been called the most important part of the Bill of Rights, the Fourth Amendment, University of Florida Law Professor Christopher Slobogin said in a presentation at the law school on Sept. 19. In his presentation in the Chesterfield Smith Ceremonial Classroom, part of the UF's Constitution Day activities, Slobogin spoke on "The Constitution and Surveillance by the Government." Read more>>
Professor Seigel Testifies on Legislation to Limit Federal Prosecutors' Ability to Pressure Companies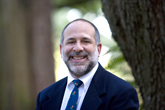 UF Law Professor Michael Seigel testified Tuesday, Sept. 18, before the U.S. Senate Committee on the Judiciary on legislation that would limit federal prosecutors' ability to pressure cooperation from companies under investigation for corporate fraud. Seigel testified at a hearing on "Examining Approaches to Corporate Fraud Prosecutions and the Attorney-Client Privilege Under the McNulty Memorandum." Read more about what UF Law professors have been saying recently in the media and writing about in scholarly publications by reading the weekly updates in FlaLaw Online.
Prominent Alumni Featured in UF Law Magazine

Each issue of UF Law magazine features prominent alumni who are making their mark on the legal profession. The Winter 2008 issue, due out in December, will include profiles of David Roth (JD 68) and Leslie Lott (JD 74). If you would like to suggest a fellow UF Law alumnus to be profiled in a future issue of the magazine, please send an email to Director of Communications Debra Amirin at amirin@law.ufl.edu.

Year-End Charitable Giving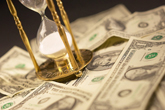 If you have not yet made your gift to the annual fund, please consider the law school in your year-end giving plans. The annual fund is critical to the college as it provides immediate spendable funds. This is especially important in light of recent state budget cuts that are directly affecting UF. Please contact the Office of Development & Alumni Affairs for more information at 352-273-0640, or make a gift online now. Remember, gifts to endowments do not count in our annual spendable dollars, so please consider making this very important investment in your law school this year.

Start thinking now about IRA Gifts Under the Pension Protection Act

The IRA rollover provision provides tax incentives for donors age 70 ½ and older to contribute IRA (Individual Retirement Account) assets to educational institutions and other non-profits. Donors may now exclude from their adjusted gross income the amount of qualified charitable distributions up to $100,000 per year from regular or Roth IRAs. The provision is currently set to expire on Dec. 31. For further information, please contact Vince PremDas at 352-273-0640 or visit the UF Foundation website.


Book Award Sponsorship Costs Rising

Many of our alumni support the annual fund by sponsoring student book awards. After Dec. 31, 2007, the sponsorship cost for new book awards will be $12,500 ($2,500 annually). The current cost of $10,000 ($2,000 annually) will be honored until Dec. 31 simply by signing a pledge form. If you have been thinking about making this wonderful commitment, you may want to consider doing so before year-end. Also, current book award sponsors may renew at the $10,000 rate for another five-year period through January 31, 2008. This would simply be an extension on your current pledge. Please contact Sara Grimm at grimms@law.ufl.edu or 352-273-0640 if you are interested in a either a new book award sponsorship or an extension at current levels.
November 2007
VOLUME IX, ISSUE 2
Content
Events
Contacts
Contact Us
UF Law E-News is produced by the Levin College of Law Communications Office.

Communications Director: Debra Amirin
Editor: Jim Hellegaard
Photography: Tristan Harper
Online Communications Coordinator: Hedda Prochaska
Web Editor: Katie Blasewitz
Editorial Assistant: Aline Baker

Please let us know what you think by sending an email to the eNews editor, Jim Hellegaard, at hellegaard@law.ufl.edu.
Send submissions and/or suggestions to flalaw@law.ufl.edu or
352-273-0650.
For recent alumni and faculty news, read UF LAW magazine, or FlaLaw, the law schools weekly newsletter.
This message has been sent by the Levin College of Law to:
%%emailaddr%%.
To unsubscribe send a blank email to %%email.unsub%%

Mail Tools