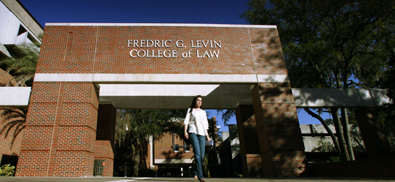 To view this newsletter in color and formatted with photographs and graphics, choose the html view in your email viewer or go online to
http://info.uff.ufl.edu/Law/Newsletter/200802.htm
For recent alumni and faculty news, read UF LAW magazine, available online at: http://www.law.ufl.edu/news/magazine.shtml or FlaLaw Online, the law school's weekly electronic newsletter, at http://www.law.ufl.edu/flalawonline/.
Please let us know what you think by sending an email to UF Law eNews editor Jim Hellegaard at hellegaard@law.ufl.edu.

YOU'RE INVITED
First Annual Wolf Family Lecture in the American Law of Real Property Feb. 22

Columbia University Law Professor Thomas W. Merrill will deliver the first annual Wolf Family Lecture in the American Law of Real Property at 11 a.m. Friday, Feb. 22, in 285B Holland Hall at the University of Florida Levin College of Law. A reception will follow Merrill's lecture. This event is free and open to the public. The title of Merrill's lecture is "Populism and Public Use."
Read more>>
Students Compete in CSRRR Griot Race, Law & Justice Oral Competition Feb. 23

Ten teams of students will compete in the Center for the Study of Raceand Race Relations' Griot Race, Law & Justice Oral Competition on Saturday, Feb. 23, 9 a.m.-3 p.m., in the Chesterfield Smith Ceremonial Classroom (180 Holland Hall) at the University of Florida Levin College of Law. The Griot Oral Competition is designed to support the development of legal oratory and research skills in defense of racial equality and justice. The team finishing in first place will be awarded $2,500, with $1,500 going to the second place team and $1,000 to third place. Breakfast and lunch will be provided, and you are encouraged to come and support these teams of students. For more information contact the CSRRR at: csrrr@law.ufl.edu or 352-273-0614. To download a pdf of the competition flyer, click here.

Public Interest Environmental Conference Looks at Florida's Role In Global Issues

The University of Florida Levin College of Law's 14th Annual Public Interest Environmental Conference (PIEC) will be held Feb. 28- Mar. 1, 2008, on the UF Law campus. The theme of this year's conference is "Reducing Florida's Footprint: Stepping Up to the Global Challenge." The conference will focus on Florida's role in global issues on energy, land use, biodiversity, and water. The PIEC will take place in conjunction with the 1st Annual University of Florida Water Symposium - "Sustainable Water Resources: Florida Challenges, Global Solutions." On the evening of Wednesday, Feb. 27, the PIEC opens with a pre-conference keynote speech by Sheila Watt-Cloutier, an Inuit climate change and human rights activist and 2007 Nobel Peace Prize nominee. The speech will be held at the Reitz Union Ballroom and is free and open to the public. Doors open at 7 p.m. Co-sponsored by UF Office of Sustainability, the conference is free for all UF students, faculty and staff. The PIEC pre-registration fee is $85, and on-site registration is $100. Both fees include all program activities except the banquet, which is an additional $35 for conference attendees. The post-mark deadline for pre-registration is Feb. 22.
Read more>>

UF Law Alumni Happy Hour at Orlando's UrbanThink! Bookstore Feb. 28

The University of Florida Law Alumni Council would like to invite all Central Florida area alumni, students and friends of the UF Levin College of Law to a happy hour on Thursday, Feb. 28, 6-8 p.m., at the UrbanThink! Bookstore, 625 East Central Blvd., Orlando (http://www.urbanthinkorlando.com). In addition to our usual festivities and Gator camaraderie, we will be launching a new fundraising initiative for our Central Florida Region. Our goal is to raise $50,000 for the college's Annual Fund, and another $50,000 for a special scholarship endowment just for law students who are either from Central Florida, or who want to work in Central Florida after they graduate. Donations can be in the form of gifts or 5-year pledges. For more information or to RSVP, contact Sarah Rumpf at srumpf@cfl.rr.com.

Black Law Student Association Alumni Reunion March 29 at Universal Studios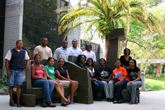 The Black Law Student Association plays host to fellow black alumni at its annual reunion weekend beginning Saturday, March 29. This year's theme is "Celebrating Family & Friendships." The reunion features guest speakers, seminars, CLE presentations, and recreational and social events that begin with an address from Dean Robert Jerry and end with a night of partying at Universal City Walk's Bob Marley's and City Jazz Clubs. Enjoy special hotel rates at Loews Portofino Bay Hotel at Universal as well as special pricing for entry tickets into Universal Studios and Islands of Adventure. BLSA provides a voice for students of color within the law school and strengthens the bond between the administration, faculty and students. Members hold weekly meetings and conduct numerous events each year, including mentor and tutorial programs, Black History Month activities and the Virgil Hawkins Awards Gala. Details are available on the website at http://www.law.ufl.edu/BLSA/ARW/. For registration or other information, contact Daniel Jean-Baptiste at djeanbap@ufl.edu.

RECENT NEWS
Government Surveillance Puts Privacy at Risk, Professor Christopher Slobogin Writes in New Book

Acts of surveillance by the United States government, from the increasing use of closed-circuit televisions and global positioning systems to a wide array of sophisticated technologies that can access records about our activities, represent an insidious assault on the freedom of Americans that the law has failed to respond to, according to a new book from University of Florida Levin College of Law Professor Christopher Slobogin. In his book, Privacy at Risk: The New Government Surveillance and the Fourth Amendment (University of Chicago Press), Slobogin writes, "The assault comes from government monitoring of our communications, actions, and transactions. The failure results from the inability or unwillingness of courts and legislatures to recognize how pervasive and routine this government surveillance has become." Read more >>


Music Law Conference Hits The Right Note With Musicians, Attorneys and Business Executives


When Brian Mencher (JD 02) organized the inaugural Music Law Conference, he was just like any other law student trying to make a difference. After being rejected three times from UF Law, he made a promise to himself that he would graduate in the top 3 percent of his class and leave his mark with the school. Well, he accomplished both of these goals and set the foundation for one of the largest conferences held at the Levin College of Law. The 6th Annual UF Music Law Conference, held on Feb. 16 in the Chesterfield Ceremonial classroom, explored 360 degrees of the music industry and how the music business is integrated with everything from film, television and changing technologies to music sharing and merchandising. Read more >>


Nelson Symposium Explores Many Implications of Going Green for Local Governments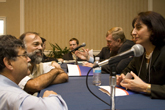 UF Law students and faculty, state and local government agency representatives and building contractors gathered to discuss the many implications of "Going Green" to improve the environmental landscape for future generations. The Seventh Annual Richard E. Nelson Symposium featured a diverse panel of speakers from law and related fields to explore the construction of green building, its positive impact on the environment and its implications for state and local governments. The conference, entitled "Green Building: Prospects and Pitfalls for Local Governments," examined topics including the legal landscape of Green Building, Leadership in Energy and Environmental Design (LEED) and other certification programs, the state of Florida's climate change initiatives and private environmental lawmaking. Read more >>


Allen and Wilson Take Top Honors at UF Trial Team Final Four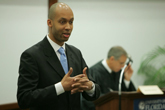 Jeffrey Wilson and Ranaldo Allen took best team honors over Nickisha Webb and Dave Mitchell at the University of Florida Trial Team Final Four Competition Friday, Feb. 15, in the Chesterfield Smith Ceremonial Classroom. Allen (pictured left) was named best advocate in the competition. The trial was a murder case in which defendant Tyler Ryan was accused of murdering his twin brother, Jamie Ryan (Allen and Wilson represented the defendant, while Webb and Mitchell represented the State of Sparta). Thirty-seven second-year law students began the competition in the first round on Jan. 28. The competition was presided over by Judge Paul C. Huck, a U.S. District Court judge and UF Law graduate. As a result of the intramural competition, the Trial Team announced the addition of the following new members: Allen, Shylie Armon, Matthew Belisle, Michael Bradenham, Andrew Kwan, Caroline McCrae, Mitchell, Hannah Purkey, Webb, and Wilson. Read more >>


UF Law Professor Berta E. Hernández-Truyol Wins 2008 Clyde Ferguson Award
University of Florida Law Professor Berta E. Hernández-Truyol has been awarded the 16th annual Clyde Ferguson Award from the Minority Law Section of the Association of American Law Schools (AALS). The honor, named for one of the first African-American tenured professors at Harvard Law School, is "granted to an outstanding law teacher who in the course of his or her career has achieved excellence in the areas of public service, teaching and scholarship," according to the AALS. Hernández-Truyol, who was honored along with University of California, Berkeley, Law Professor Angela Harris, received the award at the AALS annual meeting in New York Jan. 2-6, 2008. The honor recognizes Hernández-Truyol for her dedication to scholarship, teaching and public service. She is the second UF law professor to win the award in recent years, joining Kenneth Nunn, who was honored in 2001.
Read more>>
Running For Catherine: Honoring a Classmate One Mile at a Time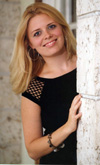 When 22-year-old Catherine Barclift was killed while training for the Feb. 24 Five Points of Life Half Marathon, her classmates at the University of Florida's Levin College of Law were left both stunned and filled with grief. Now a group of more than 50 of her classmates and friends have signed on to run in her honor in that same race that's sponsored by LifeSouth Community Blood Centers, with an effort they've dubbed "I'm Running for Catherine." Alex Perrin and Justin Leak, who are both first-year law students and were classmates of Barclift, have helped organize the effort. Leak says he didn't know Catherine—Cat to her friends—personally, but he could see the impact her death on Nov. 6 had on his fellow students. Barclift was struck and critically injured as she was running home to her apartment and died the following day. "I was out for a run and I thought we needed to do something to honor her," Leak says. "I thought 'She was preparing for a half-marathon, why don't we run in her honor'."
Read more>>

Conservation Clinic Students Work With Graham on Water Bill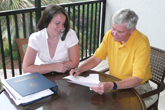 Conservation Clinic student Kim Koleos (pictured left) goes over the clinic's draft Water Resources Restoration Act bill with former U.S. Senator Bob Graham (pictured right) at a recent meeting of the Everglades Coalition on Captiva Island in South Florida. Koleos and recent UF Law graduate Ashley Murphy have been working with Graham to develop a policy justification and bill draft that would remove water restoration projects like the Everglades from the Federal Water Resources Development Act (WRDA), which also funds controversial navigation and flood control projects. Graham announced the initiative during his keynote address at the annual meeting of the Everglades Coalition in early January. Center for Governmental Responsibility water law expert Richard Hamann has been advising the clinic on the project.
Read more>>

Late UF Law Student Eric Gold Strived to Conquer Despite Medical Challenges


When Eric Gold faced a serious medical challenge in his life, he turned it into a crusade to help others. Diagnosed with diabetes at age 7, he went on to help develop a summer camp for kids with that disease. After coming down with a lung disease five years ago and later having a double lung transplant, he ran a half-marathon and became a speaker on behalf of organ and tissue donation. On Sunday, Jan. 20, Gold died in a Gainesville hospital of pneumonia related to his most recent medical battle, this time with cancer. He turned 26 just six days earlier. A remembrance service for Gold will be held at 5 p.m. Wednesday, Feb. 13, in the Levin College of Law's Chesterfield Smith Ceremonial Classroom (180 Holland Hall).
Read more>>

Faculty Among Most Cited Law Professors in the Country, According to Leiter Rankings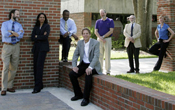 Several UF Levin College of Law professors are among those recognized as the most cited in the country in the latest rankings from University of Texas Law Professor Brian Leiter. Leiter's ranking of Most Cited Law Professors by Specialty, 2000-2007 includes the following members of the UF Law faculty: Professor Jerold Israel, Ed Rood Eminent Scholar in Trial Advocacy & Procedure, who is 25th in Criminal Law & Procedure; Professor Lawrence Lokken, Hugh F. Culverhouse Eminent Scholar in Taxation, who is 9th in Tax; Cone Wagner Nugent Johnson, Hazouri and Roth Professor Juan Perea, who is 24th in Critical Theories; and Professor Christopher Slobogin, Stephen C. O'Connell Chair, who is 11th in Criminal Law & Procedure. Earlier this fall, Leiter ranked the UF Law faculty among the Top 35 Law Faculties Based on Scholarly Impact for 2007.

Winter 2008 Issue of UF Law Magazine Features Prominent Alumni


Each issue of UF Law magazine features prominent alumni who are making their mark on the legal profession. The Winter 2008 issue includes profiles of Charlie Douglas (JD 06), David Roth (JD 68) and Leslie Lott (JD 74). The magazine, which was mailed in December, can also be viewed online at http://www.law.ufl.edu/news/pdf/ magazine_winter08.pdf. If you would like to suggest a fellow UF Law alumnus to be profiled in a future issue of the magazine or have another news or story idea, please send an email to UF Law Magazine Editor Lindy Brounley at brounley@law.ufl.edu. Lindy joined the UF Law Communications Office in December as associate director and editor of UF Law magazine. She came to the law school from the UF College of Dentistry, where she served as director of communications.
Annual Fund: Please Remember to Make Your Donation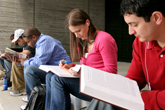 One is a powerful number. One person who donates to the law school annual fund who then asks another to donate becomes a significant number. As we enter 2008, the number of donors to the Annual Fund is down compared to last year's donors. Please remember that each of you can make a difference in the lives of our students, faculty and staff. Your donation to the annual fund touches on a vast number of programs and people; in short it is the lifeblood of our college. Please donate today by giving online or calling the Alumni Affairs & Development Office at 352-273-0640. Thank you for your support.
February 2008
VOLUME IX, ISSUE 3
Content
Events
Contacts
Contact Us
UF Law eNews is produced by the Levin College of Law Communications Office.

Communications Director: Debra Amirin
Associate Director, UF Law Magazine Editor: Lindy Brounley
Editor: Jim Hellegaard
Photography: Tristan Harper
Photography: Chen Wang
Online Communications Coordinator: Hedda Prochaska
Web Editor: Katie Blasewitz
Editorial Assistant: Aline Baker

Please let us know what you think by sending an email to the eNews editor, Jim Hellegaard, at hellegaard@law.ufl.edu.
Send submissions and/or suggestions to flalaw@law.ufl.edu or
352-273-0650.
For recent alumni and faculty news, read UF LAW magazine, or FlaLaw, the law schools weekly newsletter.
This message has been sent by the Levin College of Law to:
%%emailaddr%%.
To unsubscribe send a blank email to %%email.unsub%%

Mail Tools