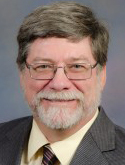 Greetings from the University of Florida School of Physician Assistant Studies and welcome to the first edition of our e-newsletter.  You may know that I was named Associate Dean and Director of the UF PA School in January, 2011. I succeeded Wayne Bottom, whose lifelong passion was the pursuit of excellence in advancing the PA profession locally, regionally, and nationally.  Under his management, the UF PA program moved from the College of Allied Health Professions to the College of Medicine in 1993; doubled in enrollment in 1996; and earned School status just a few years ago. This move ensured that the UF PA School Director would enjoy the same rights and privileges as those granted to all other chairs in the UF College of Medicine. I am very grateful for the solid foundation laid by Wayne which clearly built our program's strong stature today.
Speaking of our strong stature, I thought you might want to know that last year's graduating class had a 100% pass rate on the Physician Assistant National Certifying Exam (PANCE). Each year, UF PA graduates exceed the national average for their scores on this exam, another indicator of the strength of our program. 
Until a few years ago, the University of Florida boasted the only PA program in the state. Clinical training sites were numerous and relatively easy to find. There are now nine accredited programs with three more in various stages of development. This increase has led to greater demands for clinical rotation sites. In fact, one of our current students will spend her rotation in Australia later this year, and although such extensive travel for a rotation is an anomaly, it does point to how important clinical locations are to our program.
Over the past year, we have had a number of clinical rotation sites inform us that they can no longer accept UF PA students. These decisions are not due to the quality of our students or any aspect of our program, but rather pressure from outside forces.  The situation is reaching a critical state and we are asking your help on several fronts.
Please consider becoming a clinical preceptor for our students. We have a special need for preceptors and clinical rotations in Women's Health, Pediatrics, Psychiatry/Behavioral Medicine, and Emergency Medicine.  Even if you work in another specialty, we encourage you to consider the opportunity to give back to your profession and alma mater by letting other PAs know of this need. We need your help to train future generations of Gator Physician Assistants.
Please contact me, Randy Mahoney or Peggy Cissna at the UF School of Physician Assistant Studies to convey your interest or if we can answer any questions. I hope to hear from you soon and please pass this on to anyone else who may be in a position to help.
Ralph Rice, DHSc, PA-C
Associate Dean & Director