CVM Alumnae Named UF Distinguished Alumnus

The UF President's Office has named Dr. Dale Kaplan-Stein, '81, a UF Distinguished Alumnus. She will receive this award at the UF Commencement Ceremony on Friday, December 18. Dr. Kaplan-Stein is the first vet med graduate to receive this award. She previously received the CVM Alumni Achievement award in May 2009.
The UF CVM Alumni Council held its fall meeting Saturday, November 7 prior to the homecoming celebration. Dr. Dan Martin, '98, is the Alumni Council chair and Dr. Destiny Prezzano, '05 is chair-elect.

The minutes, department reports, and list of class reps are posted on the alumni affairs Web site. The Alumni Council spring meeting date will be announced shortly. Elections will be held in the spring for chair and chair-elect. All class reps are encouraged to attend.

The UF CVM Alumni Council meets 2 times a year – fall and spring. Each graduating class selects a rep or 2 to serve on the council. The class rep's job is to attend meetings and pass along pertinent info to your class. As class rep, you receive a contact list of your classmates with whom to communicate. We are currently trying to replace class reps who have not attended the past 4 meetings.

New class reps are: Moody McCall, '86, Mark Gendzier, '87, Clint Greene, '92, Thomas MacNicholas, '94, Chris Sanchez, '95, Claudia Valderrama, '95, Lynne Moraghan, '97, Jeff Clarke, '01, Liz Olson, '02, Allison Sateren, '02, and Vince and Lisa Centonze, '03.

If you would like to get involved with the college and serve on alumni council, contact Jo Ann Winn.
Distinguished Awards nominations period closed
The annual Distinguished Awards nominations period closed November 15. The nominees will be presented to the Distinguished Awards Selection Committee in January 2010. The four categories include, Alumni Achievement, Distinguished Service Award, Special Service Award and Outstanding Young Alumni Award. Previous award winners are posted on the alumni affairs Web site.
Team VetMed rocks again
Congratulations to Team VetMed for raising more than $44,800 for the Kevin Anderson Team VetMed Scholarship fund for 2009. Fifty-five riders participated in the Horse Farm Hundred bicycle ride on October 25, 2009 to raise money for DVM Scholarships. See TVM web site http://team.vetmed.ufl.edu.
UF CVM Homecoming Celebration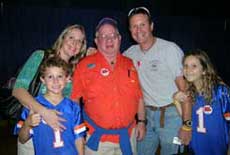 A super big "thanks" to all alumni who came to the Homecoming Celebration on Nov. 7. We had a great time at the BBQ in the Florida Gym and short walk to the stadium for a Gator victory! See Homecoming web site for list of attendees. Hope you will join us next year! Date to be determined.

Find us on Facebook
Public Relations director Sarah Carey designed a Facebook page for the UF CVM. You can find the college (and many friends) at www.facebook.com/ufvetmed. In the short time this page has existed, the college was gained over 1,475 friends.
Hospital construction cam
The construction continues on the new small animal hospital. You can view the construction progress through the construction cam located on the vet med web site front page.
It is with great sadness we share the news of two alumni who passed away recently.
Trudi Marie Dam, DVM, Class of 1992
Dr. Dam passed away September 19, 2009 at her sister's home in North Carolina. Dr. Dam had lived in Wadesboro, North Carolina, and practiced medicine with St. Francis Companion Animal Hospital. She previously practiced medicine in the Haines City, FL, area and specialized in exotic bird medicine.
Cards and acknowledgements may be sent to her sister, Lisa Thacker and Family, at 1412 Morven Road, Wadesboro, North Carolina 28170-3136.
Linda Lee-Ambrose, CVM LACS Bio-Scientist
On October 30, 2009, Linda Lee-Ambrose passed away after a lengthy and courageous battle with ovarian cancer. She leaves behind her husband, John Ambrose, a son, Chris Lee Ambrose and a yellow lab, TJ, all of Gainesville, and her vet med family.
Lee-Ambrose conducted research for UF and CVM for over 25 years. She served in labs for Dr. Art Kimura, Dr. Roger Clemmons and most recently, Dr. Rob Mackay. Lee-Ambrose was very active is TNAVC by providing wet-labs for many years during the annual conferences.
In lieu of flowers, donations can be made to the Leiomyosarcoma Direct Research Foundation or the American Cancer Society.
The family of Andrew Mozlin has established a web site in his memory. Classmates may post photos or notes on this site. In Loving Memory of Andrew Mozlin
Our thoughts are with these families at this time.
The UF CVM maintains a career center Web site for alumni and new grads seeking jobs. Hospitals and clinics are also urged to post job opportunities. It's a win-win situation. More info is posted on the Web site.
Class reps for 1980, 1985, 1990, 1995, 2000, and 2005, should start talking about class reunions for 2010.
The UF Spring Weekend is planned for April 10, 2010. The Class of 1985 will celebrate its 25th graduation anniversary on that date. For more information, contact Dr. Nanette Parratto-Wagner or Dr. Diane Lewis, class reps.

For assistance with planning a class reunion, contact Jo Ann Winn. Individual class reunion plans will be posted on the Web.