Recent News and Events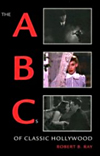 Wonderful things are going on here at the UF English Department!
Roger Beebe again organized FLEX, the annual Florida Experimental Film/Video Festival. FLEX alternates a biennial curated (invitational) festival with a biennial competitive (open) festival, bringing the best and most innovative artists to Gainesville.
Our graduates this year went on to explore many career choices, including publishing in London, law school at Harvard, and medical school right here in Florida.

The English Graduate Organization (EGO) hosted the eighth annual Interdisciplinary Conference, "Cultural Currency and Literary Exchange: Cultivating Texts as Commodity."
A look at the Department's recent publications again demonstrates why the Department was ranked eighth in the nation among all graduate English faculties surveyed in the 2005 Faculty Scholarly Productivity Index. Recent works include Jill Cement's Heroic Measures; Sid Dobrin's Ecosee: Image, Rhetoric, Nature; Robert Ray's The ABCs of Classical Hollywood (right); and Phil Wegner's Life Between Two Deaths, 1989–2001: U.S. Culture in the Long Nineties (right), among many others.
Highlighted Books

Sidney Homan's A Fish in the Moonlight: Growing Up in the Bone Marrow Unit received an Honorable Mention in the annual New England Book Festival awards. In the book, Homan tells tales of growing up in Philadelphia in the 1940s and 50s – accounts of Bruzzy the Bully, of Leslie Doober and his rotten banana. His eager listeners are children caught in unreal world of the UF Shands bone marrow unit. Homan forges friendships with children coping with the challenges of disease, and the storyteller becomes an actor to draw the patients into his world.

Post-colonial scholarship addresses literatures and cultures in English speaking communities around the world, and the relations of power that pertain to them. Malini Johar Schueller's new book, Locating Race: Global Sites of Post-Colonial Citizenship, critiques theories and fictions of globalization. Schueller argues that we need to focus on local understandings of different racial groups in the U.S. In the writings of Black Nationalists, Native American activists, and groups like Partido Nacional La Raza Unida, the author finds a form of post-colonial citizenship based on a race- and place-based activism with global implications.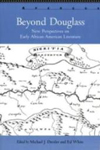 When we think of African-American Studies, we think of such figures as Phillis Wheatley, Olaudah Equiano, Harriet Jacobs, and Fredrick Douglass. But what if we were to look beyond these now-familiar figures? The exciting Beyond Douglass: New Perspectives on Early African-American Literature, co-edited volume by UF's very own Ed White and Michael Drexler of Bucknell University, brings together essays that introduce both newly recovered texts and new scholarly approaches to early African American literature.
Mary Robison's, One DOA, One On The Way and Jill Ciment's Heroic Measures have been showcased as best new novels by Oprah.
English majors helping English majors: Support the Department
The UF Department of English depends upon gifts from alumni and friends to fund student and faculty travel, research, and lecture series. If you would like to support the program, please consider making your gift today. The University of Florida Foundation, Inc. is the steward of all private support of the University of Florida, and all donations may be eligible for a charitable income tax deduction. > Give A Gift Online
For more information contact Zoe Seale, CLAS Sr. Director of Development by E-mail or 352.392.5474.
Alumni Spotlight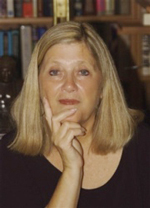 UF English alumna Dorothy Smiljanich (BA 1969, MA 1971)
Dorothy Smiljanich is fond of the English program at UF for many reasons. For one, she met her husband, Terry, while both were undergrad English majors – and they've now been married for forty years. Gainesville is also where she began her successful career in journalism. After graduating with an MA in English, Dorothy got a job at the Gainesville Sun as a proofreader in the classified department, while Terry continued at UF's law school. She soon parlayed her critical talent into a job writing film reviews for the Clearwater Sun in her home town of Clearwater, FL. From there, she went on to become the film and theater critic for the St. Petersburg Times, and then the theater critic for the Tampa Tribune. Eventually she became the Tribune's travel editor, writing much about Florida, but also ranging as far as Jordan, China, Japan, and Costa Rica. The Smiljanichs currently live in Clearwater, though they have a cabin in Hawthorne, and visit Gainesville often.
Dorothy is an enthusiastic supporter of the annual Writers' Festival put on by MFA@FLA. She has remained an active participant in UF's vibrant literary community since her school days, when she saw visiting well-known writers such as W.H. Auden, and Allen Ginsberg. Though her writing these days tends to be nonfiction, she took undergrad and graduate classes from creative writing professors Smith Kirkpatrick and Harry Crews. Her most recent book, published in 2007, is the award-winning Then Sings My Soul: The Scott Kelly Story, about the charismatic candidate for Florida governor in the mid-60s. Kelly himself was a Gator, and played football at UF before going into politics and then on to a career as an influential real estate developer.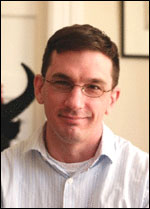 Chris Adrian, one of Esquire's "Best and Brightest of 2007"
There was a time—not-so-long-ago—when pediatrician, novelist, and theologian, Chris Adrian roamed the halls of Turlington. As an undergraduate, Chris was already tending to his gift for storytelling, penning fiction in creative writing classes with Padgett Powell, whom he unhesitatingly declares "the best teacher I ever had in my life." Chris received his Bachelor's degree in English in 1993, the first of the many diplomas to come. On top of an MFA in fiction writing from the prestigious Iowa Writer's Workshop, Chris also has an MD from Eastern Virginia Medical School. He completed a pediatric residency at the University of California in San Francisco, and is now in the throes of pursuit a Ph.D. at Harvard Divinity School.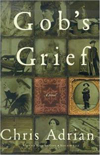 This penchant for writing his self-dubbed "goofy fiction"—first cultivated at UF—has indeed emerged as a unique and rare talent.  Chris is now a writer known for his "deep-veined intellect." His short stories have appeared in numerous magazines and literary journals, including The New Yorker, Zoetrope All-Story, Ploughshares, The Paris Review, and McSweeney' .  His work has been anthologized in the Best American series. His first novel, Gob's Grief, was published in 2001 and critically hailed as "remarkable," "utterly different," and "impressive."  Not bad for a first novel.
His interests in medicine and theology converged in the writing of his second novel, The Children's Hospital. Published by McSweeney's in 2006, The Children's Hospital is an apocalyptic tale: After a catastrophic world flood, only a children's hospital is preserved afloat. In the New York Times Book Review, Myla Goldberg remarked: "To read Chris Adrian is to take part in the exciting process of watching a talented and original writer gain mastery of his powerful gifts."

Chris Adrian's latest book, A Better Angel, is a collection of short stories published in fall 2008. The Boston Globe has called it "[Chris Adrian's] best work yet." S. Kirk Walsh in The New York Times wrote: "Unspeakable grief and the innate will to survive create opposing forces in these stories, producing a universe bursting with humor and life."
> visit Esquire's Web site
> Listen to an interview with Michael Silverblatt on KCRW's Bookworm