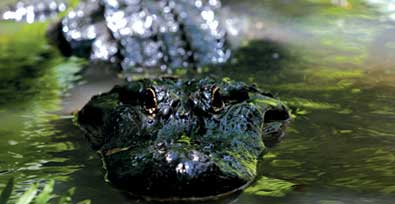 YOU'RE INVITED
UF Law Alumni Reception at the Florida Bar 2007 Midyear Meeting Jan. 18
The Levin College of Law will hold its annual UF Law Alumni Reception at the Florida Bar 2007 Midyear Meeting on Thursday, Jan. 18, 2007, 6:30 - 8 p.m., at the Hyatt Regency Miami. This reception, open to all UF Law alumni, will provide graduates of the college with the opportunity to network and reconnect with friends and colleagues from all around the state, and hear from Dean Robert Jerry, who will update those attending with the latest news from the college. Alumni interested in attending should RSVP online at: www.law.ufl.edu/alumni/rsvp/flabar or email Jennifer Koepfinger at koepfinger@law.ufl.edu. Questions about the reception and sponsorship opportunities available should be directed to Andrea Shirey at shirey@law.ufl.edu or 352-273-0640.
Even After 42 Years, Justice Wells Continues to Learn About the Law

Florida Supreme Court Justice Charles T. Wells still remembers the words of the commencement speaker when he graduated from law school at the University of Florida in 1964. The speaker was Chesterfield Smith, a prominent UF Law alumnus who was then president of The Florida Bar. "I remember that his theme was 'I love being a lawyer,'" he said. "And he described the ingredients of someone growing to love being a lawyer, that it's not something that comes naturally." Justice Wells, who will address Fall 2006 graduates at the Levin College of Law's commencement Dec. 22, said that even 42 years after he graduated from law school, the thing that he has come to recognize with each passing year "is just how much there is to continue to learn about the law and the practice of law." Read More>>
From Fairways to Driveways: Legal Implications of Golf Course Conversions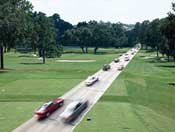 The Sixth Annual Richard E. Nelson Symposium, to be held Feb. 2, 2007, at the UF Hilton Conference Center in Gainesville, will assemble an unprecedented panel of experts to discuss the legal aspects of a growing real estate development phenomenon in Florida and throughout the nation — the conversion of existing golf courses into more intensive land uses. In many communities experiencing intense growth pressures and contain a shrinking inventory of developable parcels, golf courses are being targeted for residential, commercial, and mixed-use projects. This is the sixth symposium honoring Richard E. Nelson, who served with distinction as Sarasota County attorney for 30 years, and Jane Nelson, two loyal UF alumni who gave more than $1 million to establish the Richard E. Nelson Chair in Local Government Law, which sponsors the annual event. Their support of the Levin College of Law's Environmental and Land Use Program has been key to the program's success and national recognition for excellence. Read More>>
Inaugural CGR Symposium Kicks Off Series of Events This Spring
Plans are being finalized for the inaugural Center for Governmental Responsibility Symposium, scheduled for Jan. 23, 2007. The topic for this year's symposium is "Privacy Law: Perspectives of National Security, the First Amendment, the Media, and the Individual." The 2007 Symposium will feature a panel discussion focusing on two major issues in privacy law: the intersection of privacy and national security; and the intersection of privacy and media law. Other conferences planned for Spring 2006 include the Fifth Annual UF Music Law Conference, Feb. 10; the 13th Annual Public Interest Environmental Conference on "Talk, Technology and Technique: Game Plan for Green," March 1-3; the Dunwody Lecture with speaker U.S. Eleventh Circuit Court of Appeals Judge Rosemary Barkett, March 23; and a Professionalism Symposium, in partnership with the Eighth Judicial Circuit, March 30. Read More>>
RECENT NEWS
Leonard Riskin Joins UF Law Faculty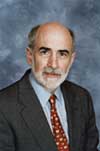 The UF Law faculty will be bolstered by the addition of two new professors in January. Leonard L. Riskin, a noted authority in alternative dispute resolution, comes to UF from the University of Missouri School of Law, where he was C.A. Leedy Professor of Law and served as director of the Center for the Study of Dispute Resolution from 1984 to 2002, and again from Summer 2004 to Summer 2006. Riskin has written several books and numerous articles on alternative dispute resolution, articles on law and medicine and torts, and essays for popular magazines. In recent years, he has written about the benefits of mindfulness meditation for lawyers and mediators. He also has been chair of the sections on Law and Medicine and Dispute Resolution of the Association of American Law Schools.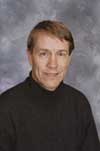 Rodney J. Uphoff joins the faculty as a visiting professor and interim director of clinical and skills programs. He also comes to UF from the University of Missouri School of Law, where he was Elwood Thomas Missouri Endowed Professor of Law and director of the University of Missouri South Africa Educational Program. Before joining the Missouri faculty in 2001, Uphoff taught at the University of Oklahoma for 11 years, where he served as their director of clinical education for three years. Uphoff also was one of the lawyers appointed to defend Terry Nichols in the Oklahoma bombing case.
Professor Richardson Bids Farewell After 22 Years at Grad Tax Program

Twenty-two years ago Professor David Richardson came to the University of Florida tax program on a whim. In a telephone conversation with Professor Jack Freeland, Richardson not only learned of an opening for the position as director of the Graduate Tax Program, he realized applications were due the next day. He met the deadline and got the job. He served in that position for the next four years and remained a professor for the next 18. During his time at UF, Richardson has been at the forefront of the Graduate Tax Program, now one of the most highly rated in the country. Richardson, who is retiring this month, is fulfilled by the success of the LL.M. students. "The thing that gives me the most satisfaction is that our students are in demand across the country, in private practice, as corporate counsel and in the government. Our graduates carry the college's banner proudly and enhance the college's reputation." Read More >>
Book Award Recipients Honored
Students, faculty and friends of the law school gathered in the Chesterfield Smith Ceremonial Classroom Nov. 17 to honor Book Award recipients for the spring and summer semesters. Presented every semester, Book Awards recognize the top performers in each class, and give alumni a chance to support academic excellence at the Levin College of Law. More than 100 students were honored for their performance in classes over the past two semesters. Read More >>
Fredric G. Levin Talks with UF Trial Team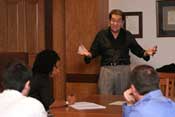 Pensacola attorney Fredric G. Levin, pictured right, paid a visit to the law school that bears his name on Nov. 16 to participate in a roundtable discussion with the UF Trial Team and kickoff its Litigation Enrichment Series. UF Law Dean Robert Jerry, along with Trial Team President Cecily J. McLeod, a former Levin, Papantonio law firm project leader, arranged for Levin to participate in this series with the goal of providing students interested in litigation access to the school's renonowed litigators. Read More >>
Wrongly Imprisoned for Murder, Author Asks Law Students to be Fair

"My name is Joyce Ann Brown and I spent nine years, five months and 24 days in prison," she said, "for a crime that I did not commit." Born and raised in Texas, Brown's unforgettable journey through the criminal justice system drew a rapt audience that filled room 355 B of Holland Hall with a respectful silence on Nov. 8. In her lecture, co-sponsored by the Center for the Study of Race and Race Relations, the Black Law Students Association and the Criminal Law Association, Brown told the story of how, in 1980, she was accused of being involved in a robbery that led to the murder of a store owner in Dallas. She, however, was at work with her co-workers when the crime happened, as she would have on any other day. Three days after the murder, Brown was contacted by her mother and informed that the police were looking for her. Read More >>
Voting Rights Chief Shares Stories of a Life Spent on the Front Lines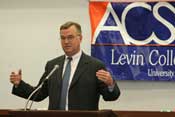 As a teenager growing up in Birmingham, Alabama, in the 1960s, John Tanner found himself in the middle of the battleground over civil rights in America. "That was what was happening in Birmingham, it was sort of the center of the world," said Tanner, who is now chief of the Voting Rights Section of the United States Department of Justice's Civil Rights Division, in a Nov. 9 speech in the Chesterfield Smith Ceremonial Classroom, sponsored by the American Constitution Society. "Civil rights in Birmingham, Alabama in the 1960s was everything. That's what everyone talked about all the time. You were pretty much on one side or the other. And I was on the other."

Tanner, who is white, said he became involved in the civil rights movement "as a result of how I was brought up and a certain recklessness in my character." Read More >>
'Corporate Jets' Win Bragging Rights in Kickball Tourney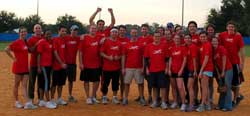 It was a beautiful fall afternoon Friday, Nov. 10, when four law school teams met on the field of battle to establish their dominance in the sport of kings — kickball. This semiannual battle of the brawn, held at the S.W. Recreation Center fields, slated the "Testatritts" (Professor Lee-ford Tritt's Estates & Trusts class) against the "Corporate Jets" (Professor Michael Siebecker's Corporations class), and the Tritt All-Stars (alumni from Professor Tritt's former classes) against the Siebecker All-Stars (alumni from Professor Siebecker's former classes). In addition to the large number of students who turned out to play for their respective teams, the bleachers were packed to capacity with fans. All in all, over 100 students turned out to watch law school history in the making. Read More >>
Gordon and Jones Among Faculty Awarded Fulbright Scholar Grants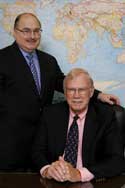 Levin College of Law Professor Michael W. Gordon and Clifford Jones, associate in law research and lecturer in the school's Center for Governmental Responsibility, are among seven University of Florida faculty members who have been awarded Fulbright Scholar grants to lecture or conduct research in other countries during the 2006-07 academic year. Gordon, the John H. and Mary Lou Dasburg Professor, will be going to the Portuguese Catholic University in Portugal, while Jones heads off to Germany to teach at the Max Planck Institute for Intellectual Property. They are among about 800 U.S. faculty and professionals who will travel abroad as part of the program sponsored by the U.S. Department of State to build mutual understanding between residents of the United States and the rest of the world. Read More >>
Historic Preservation Enhances Quality of Life in Florida, New Study Finds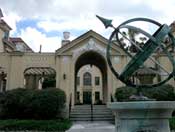 Historic preservation enhances the quality of life of Floridians through economic and cultural contributions to an improved sense of place, according to a new study from the Center for Governmental Responsibility at the Levin College of Law and the Department of Urban and Regional Planning, both at the University of Florida. "Determining a specific dollar value for quality of life is a challenging undertaking," said project co-director Timothy McLendon, staff attorney at the Center for Governmental Responsibility. "Therefore, we offered local decision makers a number of options for protecting historically valuable assets that contribute to the community." Read More >>
Inaugural Weyrauch Lecture Focuses on Race in Child Placement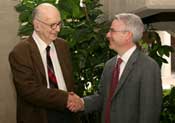 The inaugural Weyrauch Distinguished Lecture in Family Law, presented by the Center on Children and Families, drew a standing-room-only crowd to the Chesterfield Smith Ceremonial Classroom on Nov. 2. Named in honor of Professor Walter O. Weyrauch, internationally known for his work in foreign and family law, this year's lecture featured speaker David Meyer of the University of Illinois, a leading scholar in family law and constitutional law. Meyer's lecture was titled "Palmore Comes of Age: The Place of Race in the Placement of Children." Read More >>
UF Moot Court Team Defeats Georgia for Third Straight Year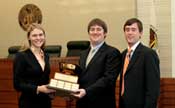 The University of Florida's Levin College of Law Moot Court Team took home the trophy for the third consecutive year in the annual Florida-Georgia Hulsey-Kimbrell Moot Court Competition with the University of Georgia School of Law, held on Friday, Oct. 27, in the Court of Appeals at the Federal Courthouse in Jacksonville. UF Law students Gretchen Lehman and John Rains defeated Georgia Law students Chad Armstrong and Shalanna Pirtle. Lehman and Rains were coached by fellow moot court team members, Mike Hargett and Scott Bowman. "I feel wonderful," Lehman said afterward. "We were up against a very formidable opponent. Georgia was excellent, and we're very proud of what we did." Read More >>
Trial Team Continues Success in National Civil Rights Competition
The University of Florida Trial Team continued its success at the St. John's University Polestino Trial Advocacy Institute National Civil Rights Trial Competition, taking second place. UF has dominated the competition over the last four years, twice taking first place honors and finishing second the other two years. The UF team consisted of Scott Barnes and Shanese Rivera (for the plaintiffs) and Oshia Gainer and Kemay Jackson (for the defense). They were coached by Stacy Scott and Josh Silverman. Read More >>
Students' Analysis of Proposed Constitutional Amendments Online

A group of Levin College of Law students under the direction of former Florida Supreme Court Justice Ben F. Overton prepared an analysis of six proposed amendments to the state's constitution and made the results of their work available online. The 16 students are enrolled in the Florida Constitutional Law Seminar course taught by Overton, who retired as chief justice after 25 years on the state's highest court and is now an adjunct professor at the law school. Read More >>
He Shoots, He Scores! Florida Basketball Ad Shot at UF's Levin College of Law
University of Florida basketball players Lee Humphrey and Sha Brooks recently brought their game to the Rare Book Room at the Levin College of Law to shoot a commercial that aired on local television stations. The commercial begins with Humphrey and Brooks dutifully doing their homework. Brooks then reaches over to her notebook and rips out a piece of paper. Quickly crumpling the paper into a ball, Brooks shows off her basketball shooting form and sinks it into a nearby garbage can. Spying her, Humphrey takes the challenge and responds by making a shot one of his own. A shooting battle ensues. Read More >>
Conservation Clinic Reports on UF's Sustainability Curriculum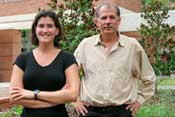 The UF Law Conservation Clinic was commissioned by the Office of the Provost to conduct a university-wide review of UF's sustainability curriculum, including courses, academic programs and centers and institutes. Third-year law student Brenda Appledorn conducted the review under the supervision of clinic Director Tom Ankersen. The review concluded that "[a]lthough there are significant curricular gaps, the University of Florida already has a rich curriculum in courses that is based in sustainability theory or relates to sustainability principles, and that rivals the curricula at peer and other institutions which have formalized their sustainability curricula into interdisciplinary programs, including graduate and undergraduate degree programs, certificates and minors. Read More >>
Faist, Spoont, and McIntyre Take Top Honors at Final Four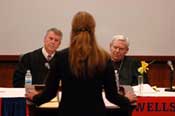 UF Law students Josh Spoont and Elizabeth Faist took home best team honors at the Moot Court Team's biannual Final Four on Friday, Oct. 6. Spoont was also named best oralist in the competition, and took the prize for best brief. Jesse McIntyre was named best overall competitor. The competitors presented oral arguments in front of justices from the Florida Supreme Court, including Justices Harry Lee Anstead, Charles T. Wells, Barbara J. Pariente, and Peggy A. Quince, as well as retired Chief Justice Ben F. Overton, an adjunct UF law professor. The Fall Final Four is sponsored by the Orlando law firm of Zimmerman, Kiser & Sutcliffe, and is the culmination of a five-week try-out competition, which requires interested students to write an appellate brief and then present two oral arguments before a panel of judges. Read More >>
Dean Robert Jerry Co-Authors Piece Calling for National Catastrophe Policy
In an article published in the Fall 2006 issue of the Wake Forest Law Review, UF Law Dean Robert H. Jerry and his co-author, UF Law alumnus Steven E. Roberts, professorial lecturer in law at The George Washington University Law School in Washington, D.C and an attorney in the Washington, D.C. office of Alston & Bird, write that now is the time for Congress to create a comprehensive natural catastrophe policy. Read More >>
UF Law Accepts Invitation to Participate in Teach for America
The Levin College of Law has accepted an invitation from the Teach for America program to become a participating college. The mission of the program is "building a highly selective national corps of outstanding recent college graduates — of all academic majors and career interests — who commit two years to teach in urban and rural public schools in our nation's lowest-income communities and become lifelong leaders for expanding educational opportunity." At present, 31 law schools participate in the program, including Columbia, Cornell, Michigan, Emory, Northwestern, Virginia, Stanford, Penn, Texas, Cal-Berkeley, Harvard, Yale, Washington-St. Louis, NYU, Duke, and Iowa. The law school is the second college on the UF campus to be invited to participate, joining the College of Medicine, which is already affiliated with the program. Read More >>
Web Site Links Gators Around the World

Accessing the Gator Nation is now a whole lot easier. University of Florida alumni, students and friends of the university can upload their own personal video and photos related to their experiences at UF via goGatorNation.com, a new website that aims to highlight interesting facts about the university and its alumni in a fun and engaging way.
"GoGatorNation.com is designed to be a social network and to work in conjunction with the activities of the UF Alumni Association," said Joe Hice, associate vice president of marketing and public relations. "It's basically a Gator Facebook." The site is an expansion of the Gator Nation campaign introduced a year ago to highlight a broad range of the university's academic and research accomplishments, Hice said. "We were looking for a way to get alumni and members of the Gator Nation even more involved in the campaign," he said. Read More >>
Winter 2007 Issue of UF Law Magazine Now Out

If you haven't received the latest issue of UF Law magazine, just out, please contact us and we will make sure to add you to our mailing list. In addition, if you have ideas for future articles in the magazine, editor Kathy Fleming would like to hear from you at fleming@law.ufl.edu. In particular, she would like to hear from you about your law school memories, whether happy, touching or humorous. Read More >>
Important Information on 2006 Year-end Charitable Giving from Alumni Affairs
If you have not already made your gift to the law school, please consider doing so before the end of the year. The guidelines below will help to ensure your gift is tax-deductible in the 2006 calendar year. For specific instructions or assistance, call Alumni Affairs at 352.273.0640 or the UF Foundation at 352.392.1691.
To give online now, please visit:
https://www.uff.ufl.edu/OnlineGiving/Law.asp
Checks: Must be postmarked by Dec. 31. Please send U.S. Postal Service only. Do not send via Federal Express, UPS or other courier services, or your gift may not be credited for the 2006 tax year.
Credit cards:

Online web charges must be made by midnight on Dec. 28. (recommended) https://www.uff.ufl.edu/OnlineGiving/Law.asp
You may call the UF Foundation and make a credit card charge before 5 p.m. on Dec. 28.
We do not recommend mailing information to charge a gift to your credit card from this point forward. If you choose this option, it must be received by our office no later than Dec. 21.

Securities: Must be received by the UF Foundation via electronic transfer on or before Dec. 31. For wire transfer instructions, please call Alumni Affairs or go to http://www.law.ufl.edu/alumni/securities.shtml.
Other: For gifts of property, trusts or annuities, or mutual funds, call Alumni Affairs or the UF Foundation for specific instructions.
Mailing Addresses:
To make your annual gift to the law school, please send your check payable to:
Law Center Association
P.O. Box 117620
Gainesville, FL 32611-7620

To make a pledge payment or gift for any building fund or any endowment please send your check payable to:
UF Foundation
P.O. Box 14425
Gainesville, FL 32604
Pension Protection Act of 2006:
Congress has enacted legislation as part of the Pension Protection Act of 2006, which offers you a golden opportunity to make a gift from your IRA and exclude the amount of your gift from gross income. For more information, visit: https://www.uff.ufl.edu/PlannedGiving/IRA_Gifts_PPA.asp If you plan to take advantage of this opportunity, we encourage you to act quickly. Also, please be sure to include some message with your gift to designate the funds to the College of Law.
December 2006
VOLUME VIII, ISSUE 2
Content
Events
Contacts
Contact Us
UF Law E-News is produced by the Levin College of Law Communications Office.

Editor: Jim Hellegaard
Photography: Kristen Hines

Please let us know what you think by sending an email to the eNews editor, Jim Hellegaard, at hellegaard@law.ufl.edu.
Send submissions and/or suggestions to flalaw@law.ufl.edu or
352-273-0650.
For recent alumni and faculty news, read UF LAW magazine, or FlaLaw, the law schools weekly newsletter.
This message has been sent by the Levin College of Law to:
%%emailaddr%%.
To unsubscribe send a blank email to %%email.unsub%%

Mail Tools